We want to provide ideas, inspiration, and information for moms everywhere as we look at the world around us through MomColoredGlasses...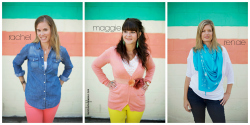 Popular Posts
Be Inspired
Not Found
Sorry, but you are looking for something that isn't here.
Be Whole
Not Found
Sorry, but you are looking for something that isn't here.
Be Informed
Not Found
Sorry, but you are looking for something that isn't here.
It is the middle of summer vacation around here, which means that school supplies are starting to pop up in the grocery store aisles. I actually bought a few packs of markers today, which my children found very distressing. They are not ready to give up their lazy afternoons at the pool and wild jumping sessions on the trampoline, and frankly, neither am I.
But it did give me the idea to dig up some educational and fun apps for the kids to check out, just to start to tip their minds back towards school. My oldest daughter is in a three-week science camp right now, so it seemed like the right subject to focus my search. Here is what I found…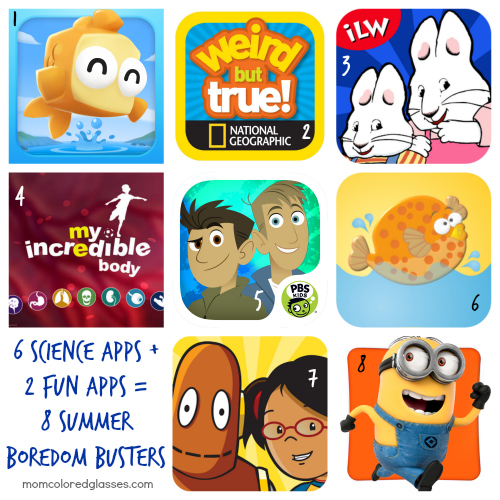 1. Fish Out of Water (Free for Apple & Android Devices): While this was one of the "game" apps I found, it actually has a lot to do with simple mechanics, as you carefully choose the right fish to launch out into the water and watch how many times they "skip". We all had fun with this one, dodging jellyfish and fighting giant waves to get a perfect "10"!
2. Weird but True Facts (Free for Apple & Windows Devices): This little app from National Geographic Kids provides fun facts and wacky facts for your curious kids to absorb. You know, things like "A U.S. ice-cream shop sold insect-flavored ice cream". The perfect nuggets of weirdness for those elementary school age kids. You get one fact pack for free, and can add on more with in-app purchases.
3. Max & Ruby! Science App (Free for Apple Devices): Perfect for the 5 and under crowd, this app focuses on Physical Science with their educational games. Connect the correct water pipes in Water Blast! and adjust ball trajectory with Ball-O-Rama! My almost-kindergartner loves this game. My one complaint…you get five levels for free, but I would have to cough up $3.99 for the full learning games.
4. My Incredible Body ($4,99 for Android, Apple & Windows Devices): I know…five bucks, right? But if your kids are at all interested in anatomy, this is THE app. It has amazing features like being able to zoom inside a 3-D view of an organ to see how it works and animated rides through the systems to see how blood flows or how lungs look while you are breathing. It is fascinating, engaging, and educational!
5. Wild Kratts World Adventure ($2.99 for Apple Devices): Designed for kids ages 4 – 8 (and 8 is probably a little too old), this app hits the life sciences with games in habitats around the globe. Woodpeckers hunt for beetles, dolphins clean up trash, and orangutans swing through the trees. Lots of animal facts, fun stickers, and NO in-app purchases round out the experience. I don't think my kids will go back to the app over and over, but it's a good, solid stand-by.
6. Sink or Float? (Free for Apple & Android Devices): All I have to say about this app is that my Mom and the kids spent a good half an hour cackling over this game. It's simple…decide if the item (cupcake, scissors, eggplant) will sink or float, and then send it into the water. It doesn't sound like it would be captivating, but somehow it is! We downloaded the free version, but you can buy the complete version for 99 cents.
7. Brain Pop Jr. (Free for Apple & Google Play Devices): We have had  the grown-up version of Brain Pop for a while; this version sports kid-sized characters in short animated videos on a variety of topics, ranging from Science to Art to Technology to Health and much more. A new video is available each week, along with quiz questions and activities. My 9-year-old is probably too old for it, but it is perfect for my younger two.
8. Despicable Me: Minion Rush (Free for Apple & Android Devices): This had to make the "fun" list, because my kids are obsessed with playing this "temple-run-ish" game and I am horrible at it. Doesn't that make it the quintessential kid game? When your parents can't figure it out…or they think finding the "fluffy unicorn" is ridiculous? My only beef with the game is that they really want you to spend money to upgrade your minion, and I have had to say "no"…loud and often.
Enjoy the rest of your summer…because fall is coming sooner than we think!