We want to provide ideas, inspiration, and information for moms everywhere as we look at the world around us through MomColoredGlasses...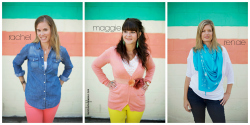 Popular Posts
Be Inspired
Not Found
Sorry, but you are looking for something that isn't here.
Be Whole
Not Found
Sorry, but you are looking for something that isn't here.
Be Informed
Not Found
Sorry, but you are looking for something that isn't here.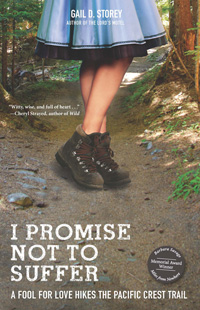 Eye to eye with a mountain lion. Endless switchbacks up the frozen face of a mountain. Bone-chilling gusts of wind. Torn, sprained, and aching muscles. Soggy clothes by day and frozen socks by night. Exhaustion. Hunger.

And she promises not to suffer? As I read Gail Storey's account of "thru-hiking" the Pacific Crest Trail with her husband in the book I Promise Not to Suffer, with injury and pain around every turn, it seemed like the definition of suffering. I was incredulous at how many times they rolled ankles, bruised shoulders, and blistered toes, but still kept plodding along. About halfway through their trip, she reflected on her definition of suffering by saying  "I was learning that pain wasn't the same as suffering – I could hurt and still be okay." Interesting perspective, don't you think?
I also believe that the other ingredient that made their goal to hike 2,663 miles a possibility was the love she had for her husband Porter. He initially envisioned the trip as a vision quest, a way for him to re-imagine his life and career after quitting his job as a hospice physician. Gail, on the other hand, insisted on joining him because she couldn't stomach the idea of him leaving for six months. I'm not sure that my love would stretch that far, especially when she described her bathing as wiping down with a 7-inch square antiseptic wipe three times a day. I might have just said, "Honey, have a great trip! Send me a postcard when you stop to resupply!"
A much stronger woman than I, Gail stuck it out for much of the journey. Along the way, they reflected on why they were there, the flaws in their relationship, the type of parent Porter wanted to be to his son, and what it meant to Gail to have a mom who was close to death.
In fact, I expected the book to be a success story because they finished their 2,663 mile hike. Instead, it was much more about the transformation that took place in their lives during the hike that became the center of the story. The hike that started as a journey from Mexico to Canada turned into a journey to the inner core of their souls. It was a compelling story, one full of courage and strength.
Two quick caviats to my thoughts. There is some language in the book. Frankly, if I was dragging myself up a rocky hillside by my hiking poles while the wind threatens to throw me around like a rag doll, I might curse too, but just a warning that it is sprinkled throughout the book. Secondly, it does deal with the technical aspects of thru-hiking. The gear, the food, the logistics, and the culture is all explained in some detail. It even includes a section in the back that lists all the specifics about their food and gear. Some of it I skipped over because I'm not a hiker, but if you were – you would probably find it much more fascinating than I did.
Regardless…it was a story that I wanted…needed to finish. I was surprised by the ending, but as I reflected on it over the next few days, I couldn't think of another way that it could have ended. That's the best kind of adventure.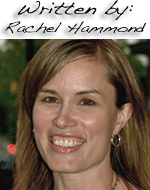 I was selected for this opportunity as a member of Clever Girls Collective and the content and opinions expressed here are all my own.