We want to provide ideas, inspiration, and information for moms everywhere as we look at the world around us through MomColoredGlasses...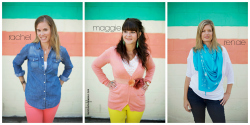 Popular Posts
Be Inspired
Not Found
Sorry, but you are looking for something that isn't here.
Be Whole
Not Found
Sorry, but you are looking for something that isn't here.
Be Informed
Not Found
Sorry, but you are looking for something that isn't here.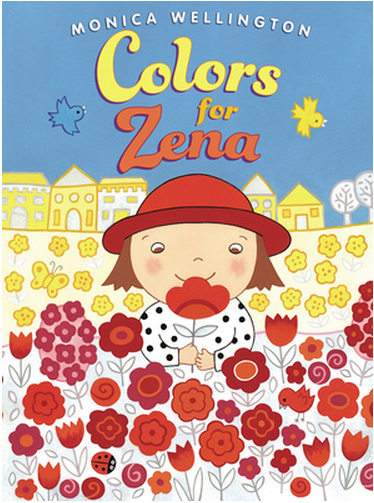 Two years ago, we had the pleasure to showcase Monica Wellington's book, Gabby and Grandma Go Green along with a reusable bag tutorial and an interview with Monica. It was a lot of fun, so I was excited to see that her creative juices had struck again with a new book, Colors for Zena
. Reminiscent of books such as Mouse Paint, her charming heroine turns her colorless world into a vibrant masterpiece as she travels around town gathering and mixing colors along the way. Isn't Zena cute?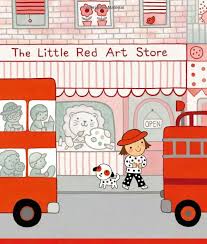 I also wanted to know what was going on in Monica's head as she mixed and blended Zena's world, but I had no idea that she had some thrilling news up her sleeve about one of my all-time favorite kid's books…read on!
************************
What keeps your creative juices flowing as you work on new children's book ideas?
The stage I love best when I am working on a book is painting the final pictures in full color. But the preparation before that is very lengthy and takes a lot of effort: organizing the book, sketching out all the pages, figuring out solutions for the problems that come up. What keeps me going through all that is the anticipation of painting in color.

What comes first – the idea for the story or the idea for the illustrations?
The two are very intertwined but probably illustrations come first. When I have an idea for a book, I have to make sure that it is going to give me opportunities to do pictures that I'm excited to paint!
Do you collaborate with anyone as you work?
Yes, with my editor. We have worked together since my first book was published in 1988. My editor helps me from start to finish with her insights, problem solving, encouragement, support and friendship.
Here is a picture of my cat who thinks she is collaborating with me!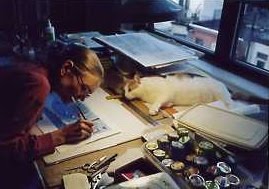 What was your inspiration for Colors for Zena? Why colors?
It is hard to say where a book begins – probably always in some way from my own childhood: we lived in Switzerland and I remember so well how special it was to get a giant box of new American crayons filled with the most wonderful colors. "Colors for Zena", at least partly, came from color games my daughter and I played when she was little. Walking down the street in the busy city, we would pick out everything that we saw that was red – as if we were wearing "red colored glasses" for a moment! and then yellow, and so on… Back at home she loved discovering how colors worked – there was always an abundance of paint!
Do you have any tips or a favorite activity for moms as they encourage their kids to experiment with art?
I think the best thing is to simply provide plenty of good art materials, readily available all the time. And I think it is great to always carry a notebook and color pencils for spontaneous projects when you are out and about. If you possibly can, go to museums and let your children lead the way to the artworks that appeal them. Follow them and pull out those notebooks and color pencils and encourage them to draw in front of their favorite paintings.
What is your favorite color?
Blue. It is a peaceful color. I love its range from green-blue to purple-blue.
Any exciting projects on the horizon?
I am making one of my favorite older books, "Crepes by Suzette", now out-of-print, into an app. I'm bringing it back to life in digital form! The illustrations were mixed media collages of photos and all sorts of things I had collected from France. It has been so much fun to expand the concept of collage and to add a lot of new content. I went to Paris and collected wonderful sounds, voices, and music, from carousels, markets, playgrounds, streets…. I used my great little digital recorder. There will be short videos, showing Paris and of course crepe making. You will hear French people speaking – for a little French lesson! All Suzette's customers are out of famous French paintings and I have been able to add much more about that in the app as well. Hopefully the project will be ready soon!
Learn more about Monica's work at her website, www.monicawellington.com, and blog, http://monicawellington.blogspot.com.