We want to provide ideas, inspiration, and information for moms everywhere as we look at the world around us through MomColoredGlasses...

Fall means a lot of great things; pumpkins, candles, cozy houses, boots, sweaters, piles of leaves, and a fresh start.  As far as kids go though it can also mean playing indoors a lot more because it's rainy and chilly–not every kids favorite venue for playtime.  Here's an idea to make indoor pretend play a bit more fun…….and realistic.
Like a lot of kids, both girls and boys, my daughter Georgia has a play kitchen that is also over-flowing with play food and dishes.  We play restaurant a lot.  But how do you really play restaurant if you don't have menu's to order off of?  A menu in a restaurant holds Georgia's attention for a good ten to fifteen minutes so why wouldn't a play one work the same way?
This is a very simple and cheap DIY.  Your kids can get involved in making it and it would be an awesome accompaniment to a gift for someone that involved play dishes or play food……or a play kitchen if you're a big spender!
Here's what you need:
Old magazines that have pictures of food that you don't mind cutting up=FREE
Glue=I'm going to say FREE here…….because I believe most people have this laying around
A few pieces of scrap-book paper=I'm also going to say FREE on this one….because if you're like me you never really use what you buy so there is always extra of this floating around
Contact paper or lamination=About $4.00 for a roll of contact paper if you don't already have some
Step 1:
Cut out pictures of food.  Make sure to snip a good variety; breakfasts, sides, entrees, desserts, and drinks (this is a full service diner after all!). You'll also want them to be fairly small images.  My personal favorite magazine to use for this project is Martha Stewart's Everyday Food–hundreds of unique pictures and easy-to-find small ones. This is also the part that your kids can get involved in.  My two year old sat on the floor with me while I flipped through pictures and told me which ones she liked.  She looked long and hard for a perfect picture of pizza–her personal favorite.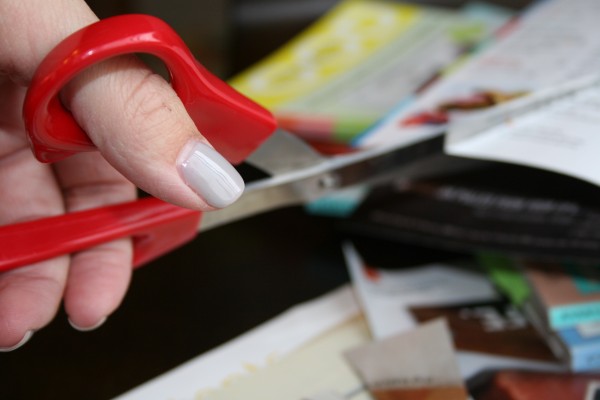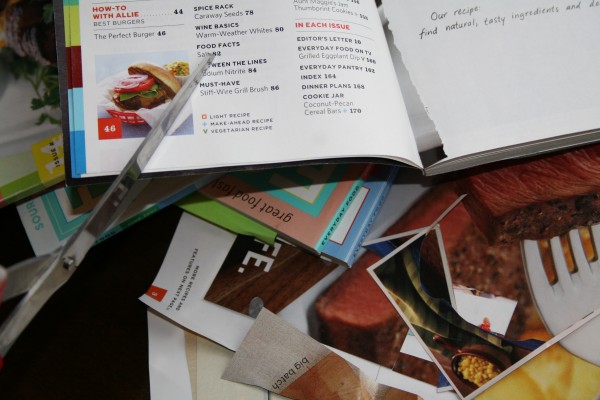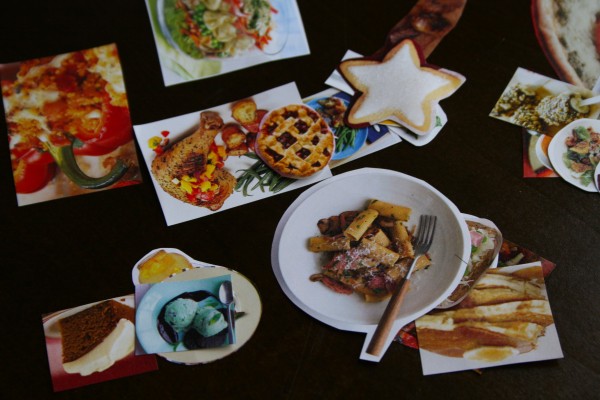 Step 2:
Come up with a great name for your make-believe restaurant.  My mom made my sister and I menus like this when we were younger; she called it Magellen's Cafe (Maggie + Ellen).  I'm calling Georgia's restaurant The Peach………..after all she is our little Georgia Peach.
Step 3:
On the scrapbook paper begin laying out your food items.  Organize them in the same way that you find food on a 'real' menu but make it visually interesting.  And don't forget to leave room at the top of your paper to add the name of your establishment.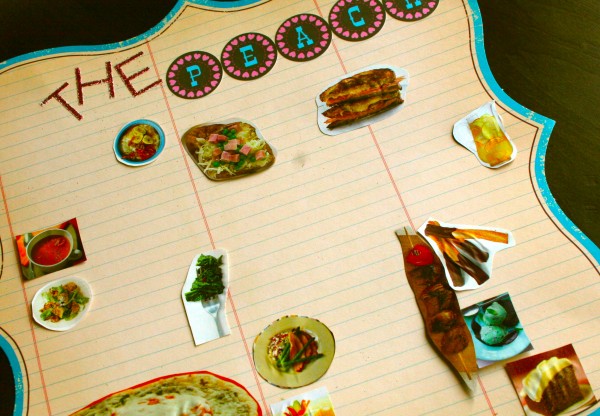 Step 4:
Once your food items are glued onto your paper fill in the menu with descriptions of what you can order at your restaurant.  I hand-wrote mine.  This is supposed to be an easy DIY so don't feel the pressure to make a big production of it by typing it all out.  Make sure to give your food prices too (this is a great opportunity to pave the way for a little math lesson as your kids get older and are still playing with their menus).  Laminate your menus and you're ready to order!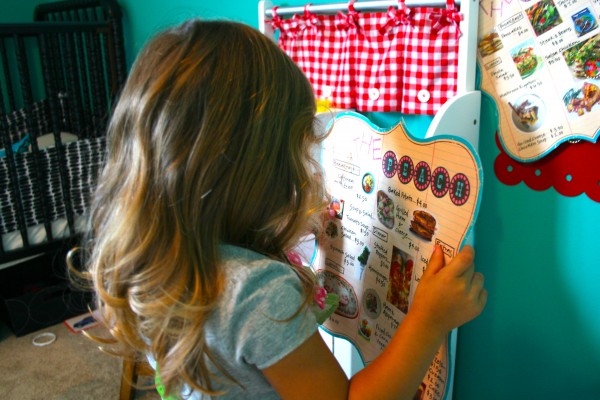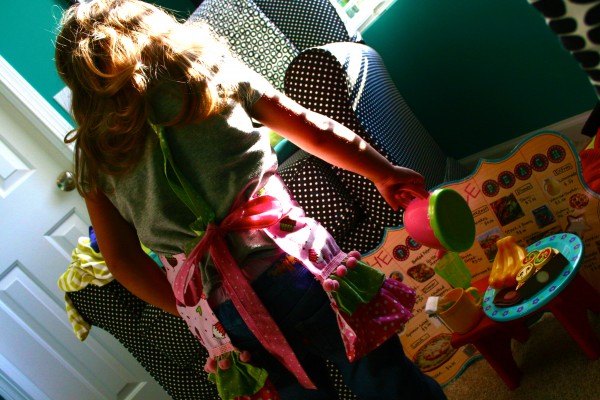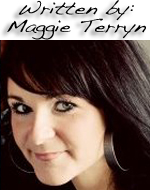 Visit my other online home at apairofpinkshoes.blogspot.com