We want to provide ideas, inspiration, and information for moms everywhere as we look at the world around us through MomColoredGlasses...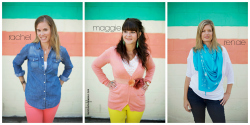 Popular Posts
Be Inspired
Not Found
Sorry, but you are looking for something that isn't here.
Be Whole
Not Found
Sorry, but you are looking for something that isn't here.
Be Informed
Not Found
Sorry, but you are looking for something that isn't here.
I enjoy cooking….I HATE meal planning! Every week I drag out my stack of cookbooks, agonize over what we should eat for the week, jot down the ingredients I need and write the meal schedule on my grocery list which ends up getting lost somewhere along the way (thus I completely forgot what I was supposed to make with the lonely bunch of asparagus in my fridge right now). I've been wanting to streamline this process for awhile and came up with this meal planning menu board in the wee hours one morning while I was suffering from a pregnancy-induced episode of insomnia. Plus, this idea fit perfectly with our theme of organization this month along with the recent three-post series on Reclaiming Family Dinner. (Check out these posts here, here and here) This is what I came up with….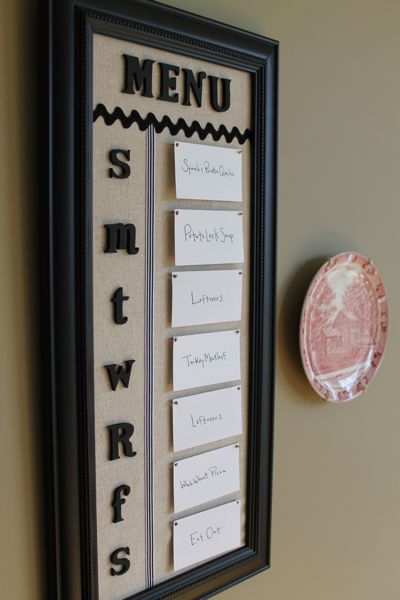 Here was my criteria for this board: #1-Easy to Make/Use, #2 Time Saving, #3 Will help with family communication regarding the meal schedule (ie. hubby knows what to start making for dinner if I'm not home yet), #4 Will look cute enough to hang on my kitchen wall. I'm happy to say that the end product fits all four! If you want to make your own…here's how….
Supplies:
Picture frame with glass and back removed. I chose a frame with an 8 x 20 inch opening but you can use whatever size fits your design and space
1/4 inch wood board that either fits or can be cut to fit the inside of the frame (you can find these at Michael's in the wood crafting area)
Fabric of your choice for covering the wood board
Ribbon, I chose two different styles for added interest
Wood letters (also found in the wood crafting area)
Acrylic paint for painting the wood letters and a paint brush
Fabric glue
1/2 inch nails or wire pins
Hammer
Blank business cards
Pen or marker
Three ring binder
Clear plastic business card holders to fit three ring binder
Hole punch
First, cut the wood board to fit the frame if needed. I traced around the frame back (which I removed) to ensure a proper fit. My husband cut the board for me manually using a hack saw (we don't have a very large collection of power tools). Thanks honey!
Cut the fabric so it is at least 1/2 inch larger than the wood board. I chose a very plain, natural-looking fabric as it goes with my decor and I also wanted to ensure that the letters showed up clearly….something to think about when you're choosing your fabric style.
Use fabric glue to attach the fabric to the board.
Paint the wooden letters the color of your choice with the acrylic paint.
Once the letters dry (acrylic paint is very fast-drying so you won't have to wait very long!), arrange the letters, ribbon and business cards onto the board. (The fabric-covered board fits nice and snugly into the back of my frame so I didn't need to attach it to the frame. If yours is loose, you could probably use duct tape to secure it down….not so pretty but who's going to see the back!)
Use the fabric glue to attach in place.
And….it's daytime now so suddenly the lighting makes my photographs look much better…  🙂
Punch holes in the business cards, arrange onto the board and mark the fabric lightly where the nails need to be secured.
Now for the fun part….hitting things with a hammer! I started out with 1 inch wire pins but found these 1/2 inch brass escutcheon pins (no idea what they are actually supposed to be used for) as they look nicer and don't stick out quite as much.
Now it's time to write out the menu cards! By using printable business card sheets you also have the option to type these out if you would like. I decided to write by hand so I can easily make new ones if I add a new recipe to my collection.
Now flip the card over to write the ingredient list and also title and page number of the cookbook that it comes from.
Place all the recipe cards into the clear business card holder sheets. These can be organized in a way that makes most sense to you. The beauty of this idea? Now, I only need to grab ONE book off the shelf when I go to make my weekly menu plan and I have the ingredient lists right in front of me! I plan to fill the binder with meals that are in heavy rotation and can always add to it if I find a new great recipe that I will make frequently.
I placed a stack of blank business cards in the front binder pocket.
And the stack of "to try" recipes that I've printed or cut out from magazines in the back pocket.
It looks pretty darn cute! This also makes it easy for an older child to help with the task of weekly meal planning and lets the family know what to expect for family dinners if it is displayed in a prominent place.
Happy cooking…and planning!