We want to provide ideas, inspiration, and information for moms everywhere as we look at the world around us through MomColoredGlasses...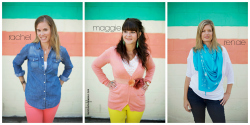 Popular Posts
Be Inspired
Not Found
Sorry, but you are looking for something that isn't here.
Be Whole
Not Found
Sorry, but you are looking for something that isn't here.
Be Informed
Not Found
Sorry, but you are looking for something that isn't here.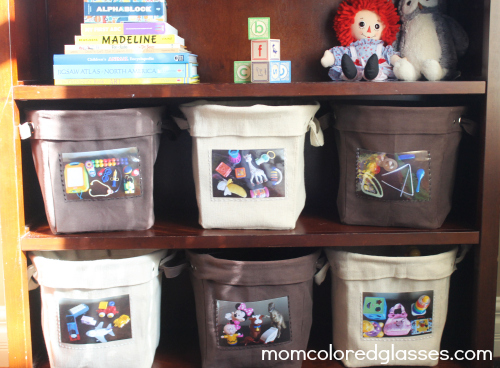 I've been purging. Yes, recently I was that mean mom who raked through the playroom while the kids were sleeping and filled up two donation boxes of toys and sent them away never to be seen again. So far, no one (meaning the four-year-old) has noticed that anything is missing. But, we still had a ridiculous toy organization problem that needed to be solved.
When my older one was born I found this shelf/canvas basket storage combo at pottery barn on major markdown because there was a small scratch on the top. I loved the fact that it wasn't plastic primary colors and it could still be a useful and pretty piece of furniture once the kids outgrew their toys. Canvas baskets and bags are great for toy storage because they're durable, look nice and hide toys that would otherwise be taking over the living room….(but who am I kidding? it happens anyway, right?) BUT, they're also annoying because the kids can't see what's in them so the toys are often neglected (thus the two boxes of giveaway toys that weren't missed) and at the end of the day all the toys just get randomly dumped into them. I'm not an organization nazi by any means, but it is annoying when your kid wants you to play restaurant or have car races or do a finger puppet show and it takes 30 minutes to find the appropriate toys.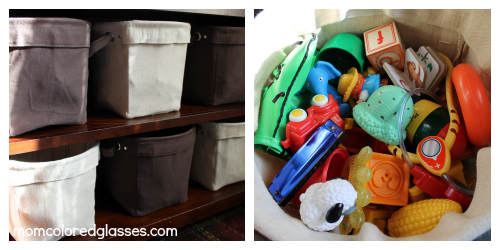 So, I decided to create some sort of visual that would show a kid what's in the basket and also where the toys are supposed to go when it's clean-up time. I staged a little toy photo shoot with my iphone one morning and was able to order them immediately using the Walgreens photo app; so easy to order photo prints from my phone now!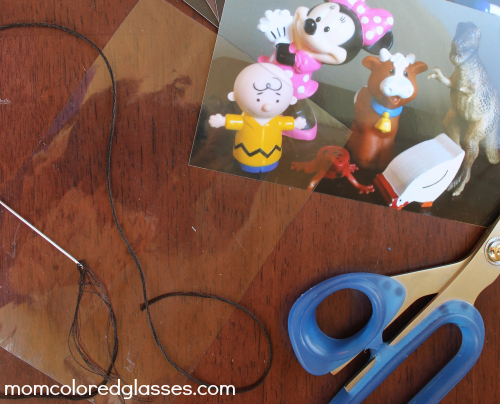 Materials:
Toy photos (choose a group that is representative of what's in the basket or if there are fewer larger toys go with that)
Clear vinyl fabric (can be found by the printed vinyl tablecloth fabric at JoAnn's)
Large needle
Thread (I used embroidery floss)
Scissors
This is really super easy. Just cut a piece of vinyl slightly larger than a 4×6 photo and sew a simple running stitch along the outside to attach it to the canvas basket. A lot of canvas baskets have a cardboard layer between the canvas but I think this technique would still work….it would just take a little more effort to push the needle through.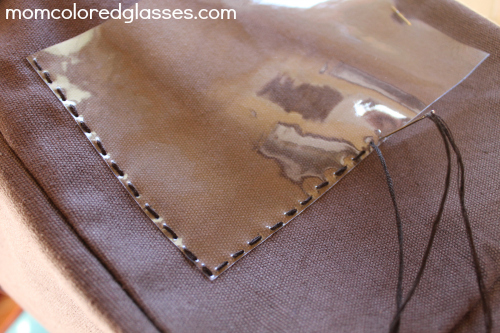 Insert the photos inside and voila! It's not the classiest look but really, if I want to impress the neighbors I can always turn the baskets around. Also, the stitching can easily be removed with minimal if any damage to the fabric down the road. Another great thing is that the photos can easily be swapped out for new photos once the kids grow into different toys. I also may add word labels to each basket for my 4-year-old who's starting to sound out letters and simple words.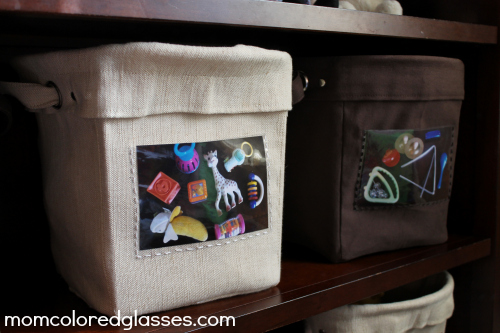 I also have to report that my cleaning up strategy worked! Elliot (the 4-year-old) has been really excited about matching the toys to the photos and cleaning up in general. I'm hoping this is an organizational effort that will actually last!