We want to provide ideas, inspiration, and information for moms everywhere as we look at the world around us through MomColoredGlasses...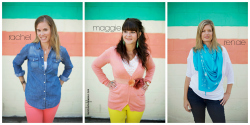 Popular Posts
Be Inspired
Not Found
Sorry, but you are looking for something that isn't here.
Be Whole
Not Found
Sorry, but you are looking for something that isn't here.
Be Informed
Not Found
Sorry, but you are looking for something that isn't here.
Photographing life's most memorable moments is a common past-time for many moms, including myself. My son, who is only a few months shy of his second birthday, is the subject of over a thousand photos saved on my computer! Whether I wanted it or not, I acquired the title of "amateur photographer" once that little bundle of joy was placed in my arms. The problem was, I didn't really like taking pictures of him. My cheap compact digital camera was really getting me down – mostly because it was SLOW, which is definitely not toddler-picture-taking friendly! How can you capture that fleeting smile or adorable dance move with a SLOW camera? Plus, the picture quality was mediocre at best and the battery always ran out at the most inopportune times (my son's first time crawling?…dead battery). Time for an upgrade!
After a little research, I decided to get a digital SLR (Single Lens Reflex) camera for a few different reasons:
They are FAST! I am not going to get into a technical discussion regarding pentaprisms (I'm not an expert; I will probably get it wrong), but due to the quick release of the shutter mechanism when you press the button, you get near immediate capture of the photograph. Solution to my toddler photography problem!
They take high quality photos, even in low light. No more grainy photos of my son in the bathtub on Grandma's fridge.
You can change the lens. If I decide to quit my day job and become a wildlife photographer, well…there's a lens for that!
You've got control. You can ditch the "automatic setting" and get artsy by adjusting the settings or using accessories such as a filter or external flash.
Many DSLR cameras have high quality video capability. Sick of carrying around the regular camera and the video camera? Get one camera to do both!
Is there any reason not to get a digital SLR camera? Probably the two biggest reasons are cost (more pricey than their compact counterparts) and size (larger and heavier). For me, the ability to preserve beautiful photographic memories was worth the extra cost and the extra bulk. So, I saved my money and went shopping!
For an amateur, the process of choosing a digital SLR camera was intimidating. In the end, I chose a Canon EOS Rebel T3. I've had this camera for 3 months and so far I love it! Here are my reasons for loving this camera. (Please remember I'm not a camera expert…just a mom who wants to take great pictures of my family. I will list some links to professional reviews at the bottom of this post.)
Why I love my Canon EOS Rebel T3:
It's FAST! I wanted a fast camera and this exceeded my expectations! Now I LOVE taking photos of my son and click away to my heart's content.
It takes beautiful photos! …and high quality video! I have been extremely pleased with the quality of photos I have taken, even without getting too fancy with settings and lenses. The video is surprisingly crisp and much better quality compared to the video camera we already had.
It's an affordable, entry-level digital SLR. As a beginner, I definitely didn't want to buy more than what I needed and this was in the right price-range.
It feels comfortable in my hands. The feel of this camera was noticeably more comfortable when compared to others in the store.
It is smaller and lighter than I expected. A friend made the same comment when she was checking it out.
It's easy to use. I always thought "those cameras with the big lenses" were for professionals only and thus, complicated. After a brief read through the user manual, taking photos has been surprisingly easy.
It has a long battery life. I've gone weeks without needing to charge the battery, even with heavy use.
It's got potential. I'm looking forward to discovering all the things I can do with this camera!
Here are some helpful links:
The Digital SLR Guide: An easy-to-understand guide about choosing a digital SLR camera.
cnet.com: Another SLR guide which includes professional product reviews.
Canon website: If you want to know all the specific camera specs.
Here are some photos I've taken with my Canon EOS Rebel T3…Enjoy!