We want to provide ideas, inspiration, and information for moms everywhere as we look at the world around us through MomColoredGlasses...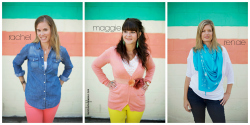 Popular Posts
Be Inspired
Not Found
Sorry, but you are looking for something that isn't here.
Be Whole
Not Found
Sorry, but you are looking for something that isn't here.
Be Informed
Not Found
Sorry, but you are looking for something that isn't here.
When my kids and I have some time together, we will often sit down for a "family meeting" where I ask them what they want to do. The two things that always make the list are Chuck E. Cheese and watching a kids movie. Without fail. No existential educational activities, just pure silly fun.

We were able to combine the two with the recently released Thanksgiving-themed kids movie, "Free Birds". It stars two turkeys, Jake and Reggie whose mission is to…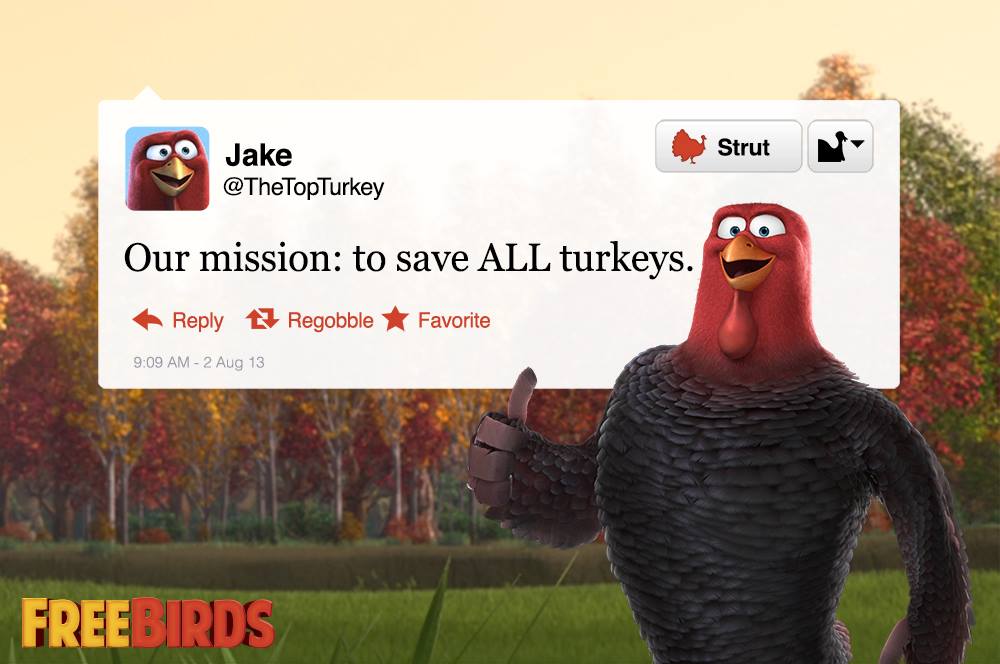 Yep, that's right. Two turkeys who time travel back to Pilgrim times to get turkey off the menu for good. Madi explains it this way:
"You might think this movie is a horror movie at the beginning about killing turkeys, but really, it's an action packed adventure movie. The turkeys seek serious revenge against the Pilgrims for trying to make them part of the upcoming feast. Why can't they just use corn? I liked how the story involved time machines and also simple pumpkin fireballs!"
Maggie and I took the kids up on a cold, rainy Sunday to check it out. Do you think they were excited?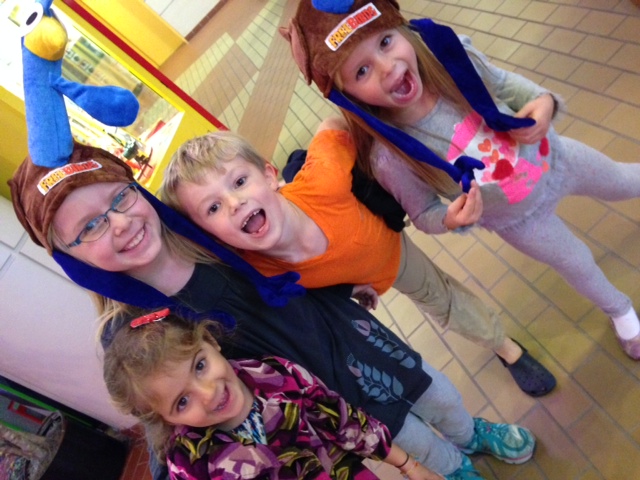 It was what you might expect. Silly gags, ridiculous jokes, and lots of turkey moments. Madi and Parker giggled their way through it, I got a stomachache from too much popcorn, and Fiona kept asking me when it was going to be over. (90 minutes is too long for a 4-year-old.) A typical day at the movie theater with kids, right?
It is rated PG, probably for the scary factor of the Pilgrims hunting down the turkey flock and some of the language/humor. They seemed to say "idiot" quite a bit, which seems to be the word of choice in kids movies these days. I'm not a fan…why can't they just leave it out completely? There was the obligatory "parent moments", like the not so veiled comparison of the turkey herd to the Native Americans in their fight for freedom from the Pilgrims. These things went over my kid's heads, mainly because they preferred gags like the President's daughter saying, "I'm tired now" and immediately collapsing into a deep sleep. Now that's funny to a six-year-old.
And then there is the Chuck E. Cheese connection. They are a a major sponsor of this movie, as evidenced by the obvious product placement throughout the movie. (See if you can spot it.) They have Rock-N-Wristbands that kids can collect with any pizza purchase deal at Chuck E. Cheese, Free Birds activity sheets like this reward calendars where kids can earn 10 tokens for Saying Thanks.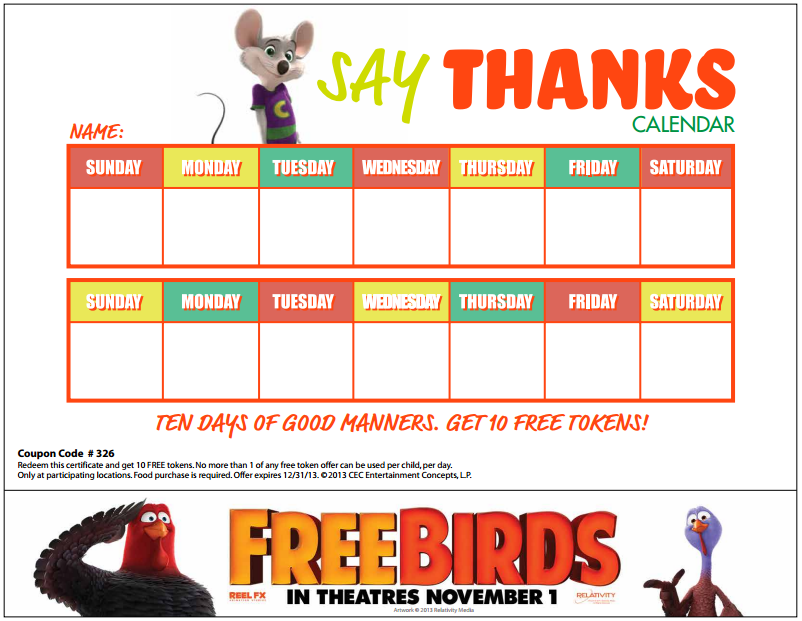 My kids adore going to Chuck E. Cheese, and I don't mind it either. We can go, spend about 20 bucks, and we eat pizza, play games, and they have one of the best entrance/exit safety procedures around. I could do without having to deal with the tickets and prizes before we leave (it kind of makes me want to kick a wall), but the kids have good, silly fun. They can run around, dance, watch television while they eat, and well….just be a kid.
And sometimes that's just what we need to let them do. Watch silly movies….eat pizza….and play Whack-A-Mole.
So….what are your kids doing over Thanksgiving? You might just see us up at Chuck E. Cheese!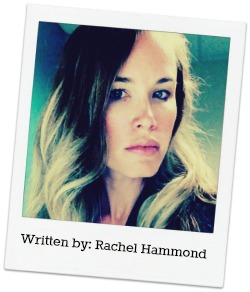 Disclosure: We were provided with movie tickets to go check out Free Birds, but my opinions are my own.