We want to provide ideas, inspiration, and information for moms everywhere as we look at the world around us through MomColoredGlasses...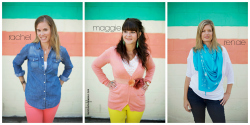 Popular Posts
Be Inspired
Not Found
Sorry, but you are looking for something that isn't here.
Be Whole
Not Found
Sorry, but you are looking for something that isn't here.
Be Informed
Not Found
Sorry, but you are looking for something that isn't here.
My Mom has to travel to the Mayo Clinic in Minnesota on a pretty regular basis for doctor appointments and treatments, so it was inevitable that one of those visits would fall on a major holiday at some point. Last year, it was over Christmas, so my sisters and our families travelled out to spend the holiday with my parents in a hotel. It was definitely an unique experience, kids running between the Presidential suite and the Concierge-level food supply, a surprise visit from "Santa" (aka – my husband), Christmas caroling to the twangs of my brother-in-law's ukelele, lots of Carcassonne playing, and way too many Christmas cookies.
It was a Christmas to remember, and at the end of our visit, my sisters and I huddled up to figure out the age-old question…
"How do we share our pictures?"
All three of us had been snapping pictures throughout the week, but being able to share them…easily? That's a problem. We came up with a solution, but not the best solution. I wanted something simple that would let me pull pictures from vacations, events and celebrations AND allow other people to easily contribute pictures and videos no matter where they are accessing it.
Enter Seahorse. It's my wish turned into reality…seriously.
I'm envisioning field trips where all the parents chip in a few pictures from the day. I'm picturing a girl's night out where everyone shares their pictures and you might even get a picture of yourself in there. I'm dreaming of holidays where I don't have to send 10 emails to share my pictures, just upload them to a Scene.
I'm getting ahead of myself.
First, I had to sync my pictures. This pulled in everything from all my devices, but you can also import pictures from other sources, such as Facebook, Instagram, Dropbox, Flickr, and Google/Picasa.
Then, I was ready to create a "Scene", which is what Seahorse calls an event, celebration or any special day where you want to share pictures. I decided to make a Scene about our trip to Chicago this summer to visit my sister. I knew my other sister had visited as well, so I added both of them to the Scene.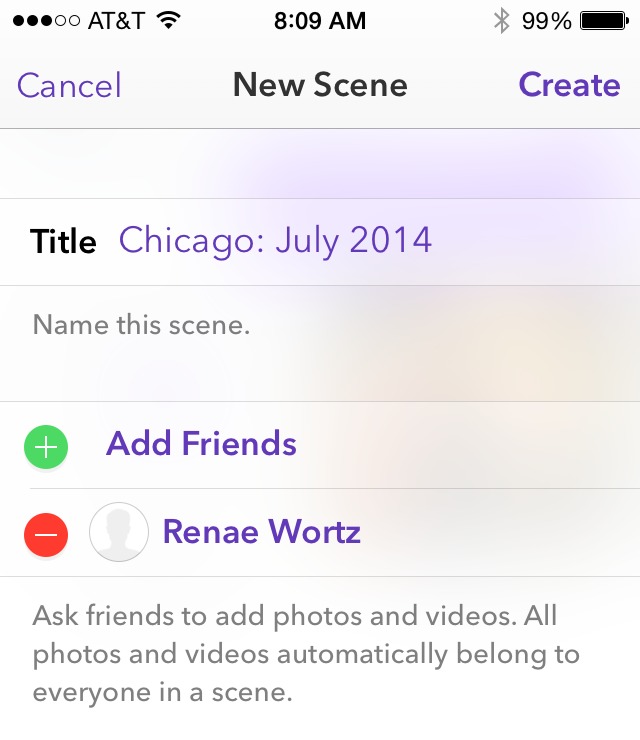 I tapped Timeline, which showed me all my pictures, and then I selected the little check-inside-a-circle at the top of the screen, which allowed me to pick as many pictures as I wanted.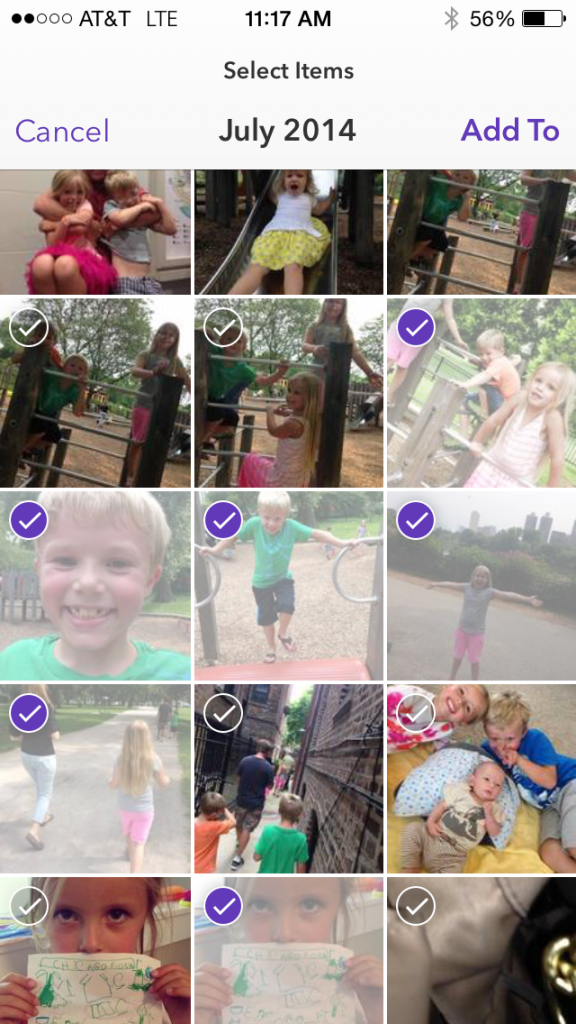 I added them to my Chicago Scene, and POP – they were there – along with some pictures my sister had already added. Once you are in a scene, you can do several different things. You can add friends, upload more pictures with the camera icon, select pictures to move to another scene, or sort by date/friend.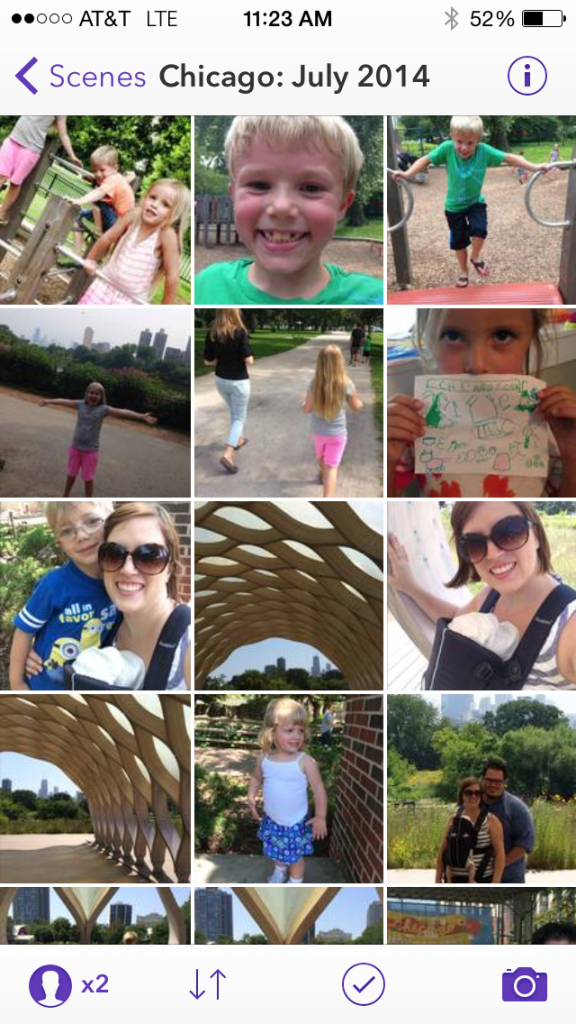 What's great about it is that shared pictures are all private, co-owned, and saved in the original resolution. No more screen shots of Instagram pictures…no more multiple e-mails to send pictures…and you can start to build a library that is easily sorted and organized, which in my world is HUGE! Plus, they have some fun features like Map showing where your pictures were taken, Flashback to jump back in time, and even a little phone shake to give you a Magic memory from the past.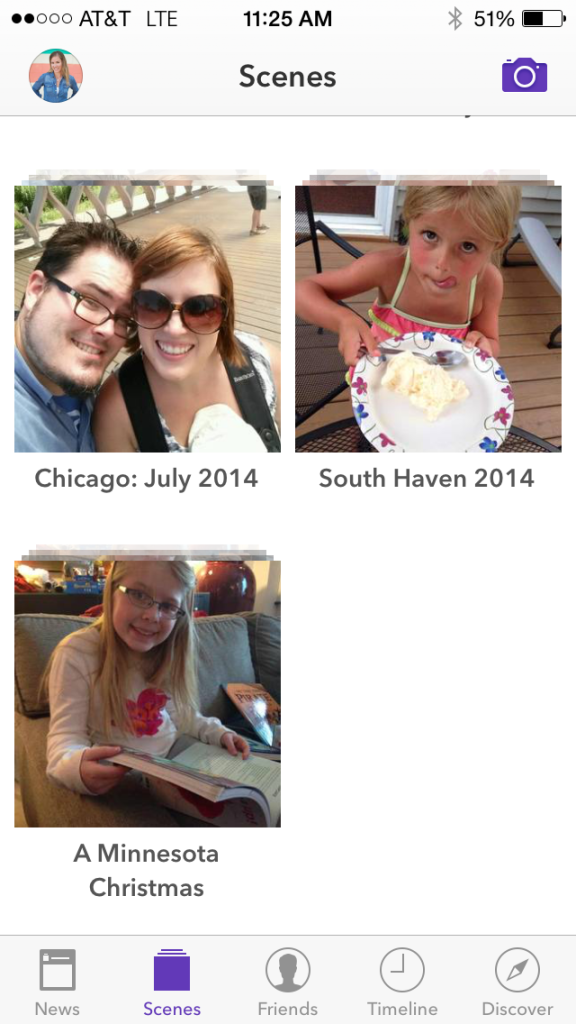 Want to check it out? For iPhone, download here and for Android, download here. It's free, with options to buy an annual premium subscription or additional storage space. However, through October 31, 2014, you can snag an extra FREE 5 GB of space.
It's a no-brainer, right? Here's how to redeem the extra space:
Tap the icon on the top left corner to access your account settings
Tap "Redeem"
Tap "Write code" and enter CLEVERHORSE
Tap "Go" on your keyboard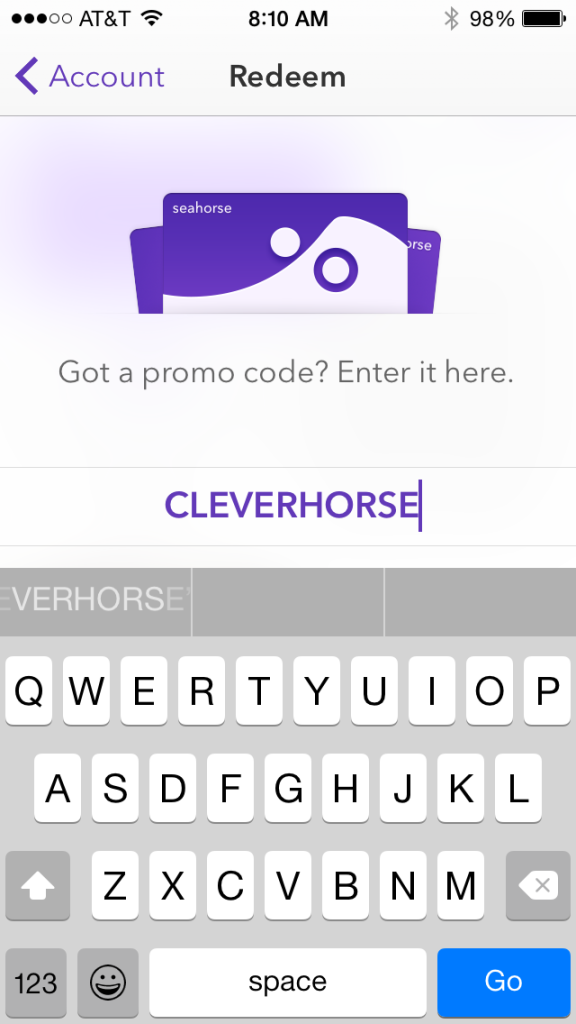 Next month, we are hitting up Disney World with my parents, and I am so excited to try this out on the fly. Definitely check it out….it's worth giving it a try!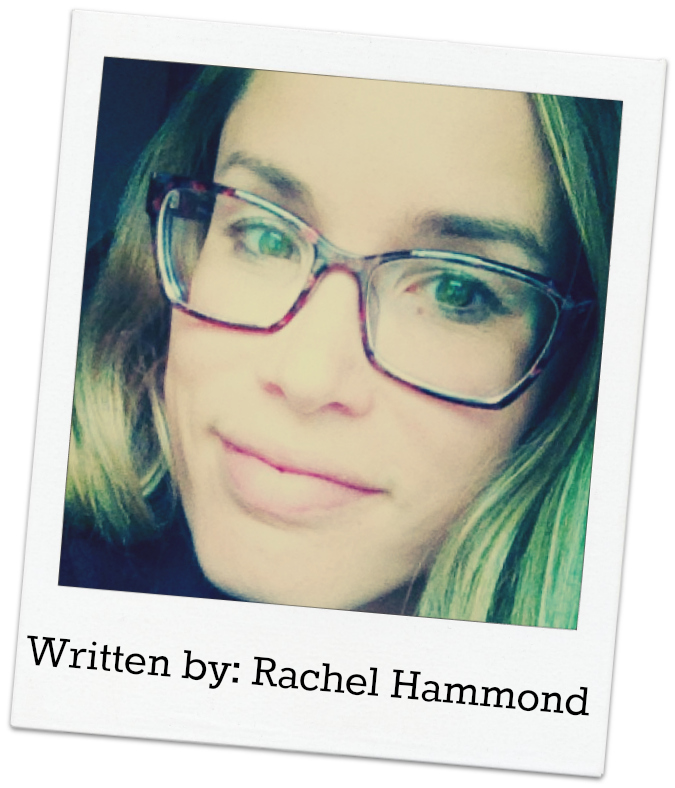 I was selected for this opportunity as a member of Clever Girls Collective and the content and opinions expressed here are all my own.