We want to provide ideas, inspiration, and information for moms everywhere as we look at the world around us through MomColoredGlasses...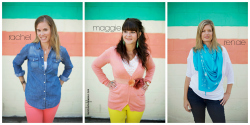 Popular Posts
Be Inspired
Not Found
Sorry, but you are looking for something that isn't here.
Be Whole
Not Found
Sorry, but you are looking for something that isn't here.
Be Informed
Not Found
Sorry, but you are looking for something that isn't here.
UPDATE:  Lucy & Carolyn are our winners!
Thanks for all the great photo submissions!  We've decided that this picture below of Lucy and Carolyn was just the cutest and we've declared them the winners of our March give-away!  Stay tuned in the future though, as we'll surely do this again.   
 Etsy is an addiction of mine.  I spend hours a week "window" shopping this fabulous corner of the internet.  A few months ago I discovered this amazing little Etsy shop called Tank & Tink.  Tank & Tink creates wonderful graphic interpretations of well-known Bible verses, sayings from authors, and some song lyrics too.   I've recently fallen in love with The David Crowder band (I know….they've been around a while…..I'm a little late to the game) so was very excited to see Tank & Tink's rendition of the chorus to How He Loves….and even more thrilled that it would go in Georgia's room perfectly.
These little posters that easily fit into 8×10 frames are such a great gift or décor for your own home. I think three in a row would be marvelous!  So…….we feel like we must give one away to one of you! Here's the deal for our March give-away:
E-mail me an attachment (cmterryn@yahoo.com) of a favorite photo of your kids playing something wonderful.  It can be just them or all of you together….doesn't matter….and the more creative the better. I'll post them to this piece every time I have a few more (don't worry…I won't include last names or any names if you don't want; I'll just come up with a creative title for the picture) and you can all weigh in on how adorable each one is or try to influence me in the one I should choose as the winner!  I'll pick a winner on March 28th, and the winner can select which Tank & Tink print they'd like from their Etsy store, and live happily ever after!
I've included a few pictures below of some of their work, and of course a picture of my Miss G playing too!  Can't wait to see your pictures!