We want to provide ideas, inspiration, and information for moms everywhere as we look at the world around us through MomColoredGlasses...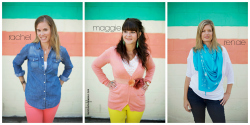 Popular Posts
Be Inspired
Not Found
Sorry, but you are looking for something that isn't here.
Be Whole
Not Found
Sorry, but you are looking for something that isn't here.
Be Informed
Not Found
Sorry, but you are looking for something that isn't here.
I can't help but hear Willie Nelson's song in my head, "…on the road again…just can't wait to get on the road again" as I think about hitting the pavement for the holidays. But then my three kids come streaking around the corner, yelling at the top of their lungs, and the song in my head turns to the Jaws theme song…da-dum, da-dum, it's going to be a long trip…
There are plenty of strategies out there on how to keep a semblance of peace during long car rides…craft kits, special treats, books, music…but one of the tricks up my sleeve is to load up our electronic devices with a few brand new apps and interactive storybooks, plug in our travel charger, and maybe throw in a few apps for me!
First, the new apps: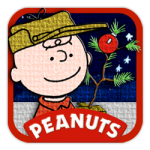 Merry Christmas, Charlie Brown by Loud Crow Interactive, Inc.
$.99 for a limited time for iPad, iPhone, and iPod Touch (normally $6.99)
When I heard that Loud Crow was coming out with a Charlie Brown interactive storybook, I was stoked. The narrator is Peter Robbins, the original voice of Charlie Brown, and it includes the original dialogue, digitally remastered images and music.
Plus, there's the interactive wizardry! Play the piano, decorate the Christmas tree, sing with the choir, and listen as Linus tells the gang about the true meaning of Christmas. My daughter's favorite part is when all the characters are looking at the Christmas tree and you can touch each one and hear them hum "Oh, Christmas Tree!". Merry Christmas, Charlie Brown!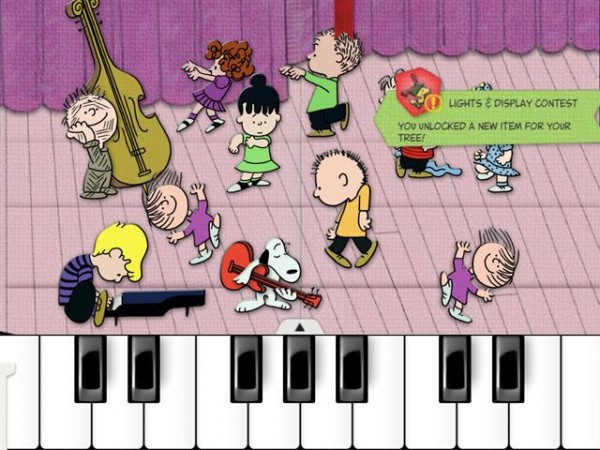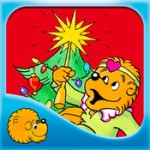 The Berenstain Bears: Trim the Tree by Oceanhouse Media
$.99 for iPhone, iPad, and iPod Touch
We own the "offline" version of this Christmas Berenstain Bears lift-the-flap book, which my kids love, so I was intrigued to check out the online version from Oceanhouse Media. It definitely holds true to the original story, with "flaps" that lift with a touch of a finger. Plus, as you explore each page, there is plenty of word-object connection points. For example, touch the tree, and the word "tree" pops up on the screen.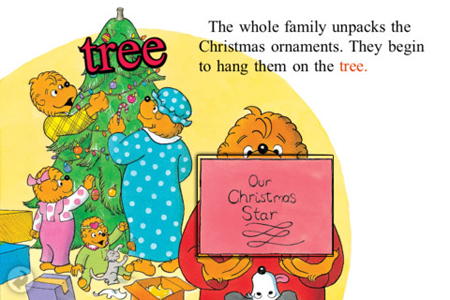 And as I always say, you need to have a good story to start, and this is a cute one. They all help decorate the house for Christmas, find their favorite ornaments, and Honey Bear finds the special silver angel!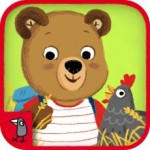 Bizzy the Bear by Nosy Crow
$3.99 for iPad, iPhone, and iPod Touch
It's no secret that I'm a huge fan of Nosy Crow apps, so when they released a Bizzy Bear storybook app for the 2 – 4 year old age group recently, I jumped on it. I love how Nosy Crow guides the story along with dialogue cues, blinking blue dots that tell the kids what to touch next, and plenty of fun interactivity along the way.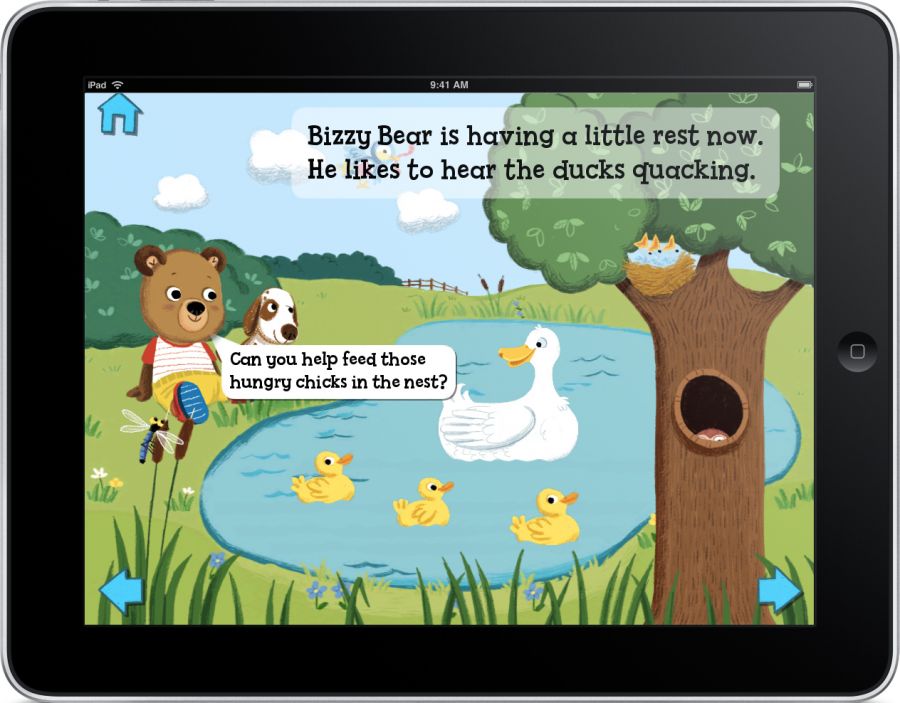 Kids can feed the pigs and ducks, drive the tractor, pick apples, collect eggs, and all kinds of other farm activities. It's the perfect little escape for kids stuck inside for the winter…a board book on steroids! I can't wait to see what they dream up next over at Nosy Crow!
And a few for me: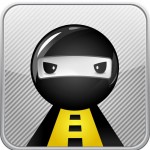 RoadNinja by Lamar Advertising Company 
Free for iPad, iPhone, and iPod Touch
I saw a billboard for this app, and thought I would check it out. It seems like a no brainer for long road trips, because it knows exactly what is at the upcoming exits. You can search by business name (Wendy's anyone?) or peruse the categories (Favorites, Food, Gas, Lodging, Attractions, 24-Hr. Pharmacy) to determine the best exit to take. Much better than getting off an exit only to find that the closest fast food establishment is 9 miles off the exit. (spoken from experience, unfortunately)
Apps for Moms by itai alter
Free for iPad, iPhone, and iPod Touch
I am really good at finding great new apps for my kids, but I'm not always on the lookout for apps for myself. And honestly, there aren't many app developers that are really thinking about how to reach the (gigantic) mom demographic. So when I heard about this great tool, Apps for Moms, I had one of those "why didn't I think of that?" moments. It collects the best utilities, educational, style, fun and educational apps for moms and puts them in one easy to access place. Great apps…and saves me time? Awesome!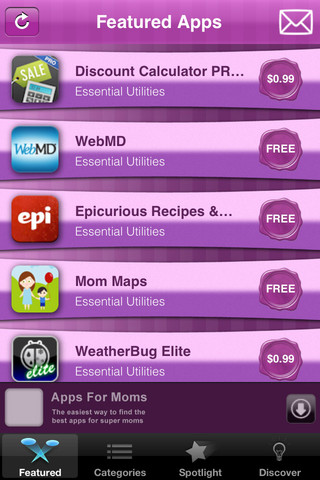 When I dug into it, there were several apps that I had already, but there were plenty that were new to me. Plus, they are adding more apps all the time, which makes it a place to visit…then visit again later. This app is definitely something that will make my "go-to" list. Check it out over the holidays, and maybe you will find a new app or two!