We want to provide ideas, inspiration, and information for moms everywhere as we look at the world around us through MomColoredGlasses...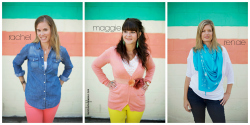 Popular Posts
Be Inspired
Not Found
Sorry, but you are looking for something that isn't here.
Be Whole
Not Found
Sorry, but you are looking for something that isn't here.
Be Informed
Not Found
Sorry, but you are looking for something that isn't here.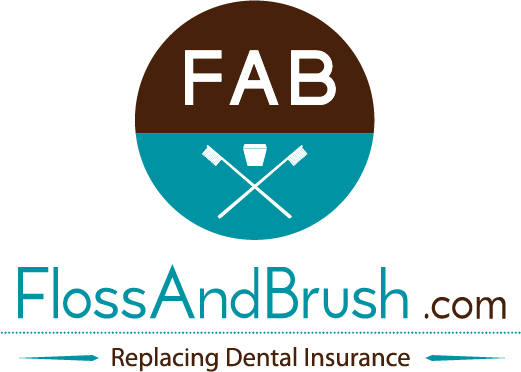 Thanks to FlossAndBrush.com for sponsoring this reminder to look for things that make us smile!
My family spent the entire last week in a cottage about two blocks from Lake Michigan. It was the perfect week to be at the beach; hot, sticky, but with just enough breeze to keep the sand flies at bay. lake water was a balmy 75 degrees, and we even had a couple of days where the water looked as smooth as glass, which I have never ever seen before.
I joke about these beach adventures being a "trip rather than a vacation" for the parents, because it is a lot of work. Packing lunches, hauling down to the beach, setting up camp, applying (and re-applying) sunscreen, digging holes, building sand castles, crunching on sandy sandwiches, taking down camp, hauling back up to the cottage, de-sanding the family, and unpacking and washing everything to be ready for the next day.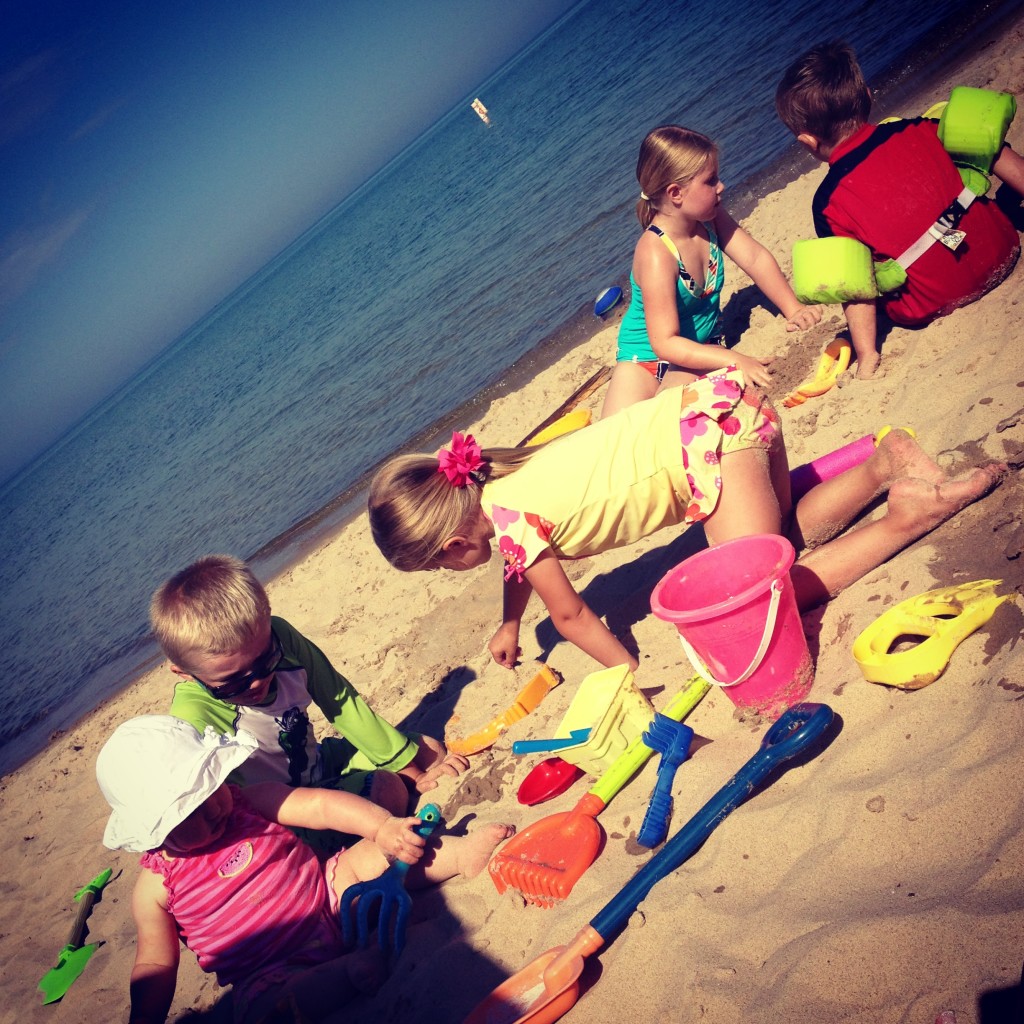 But about halfway through the week, as I was watching the kids hard at play, I started thinking about this trip vs. vacation paradigm. Yes, it is good to have realistic expectations when you travel with kids, because no one was going to be bringing me ice-cold beverages while I sat in the peace and quiet. But I also can have the tendency to keep my head so focused on the "work" that is vacation that I can miss out on those beautiful moments that truly do bring a smile to my face. Like these three…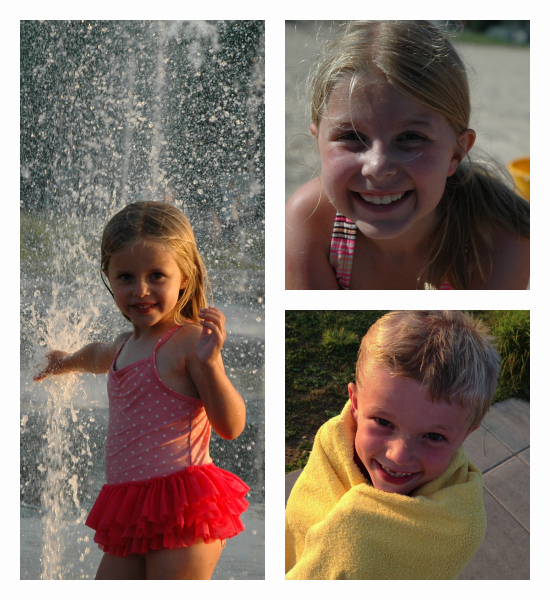 And this bunch of silliness…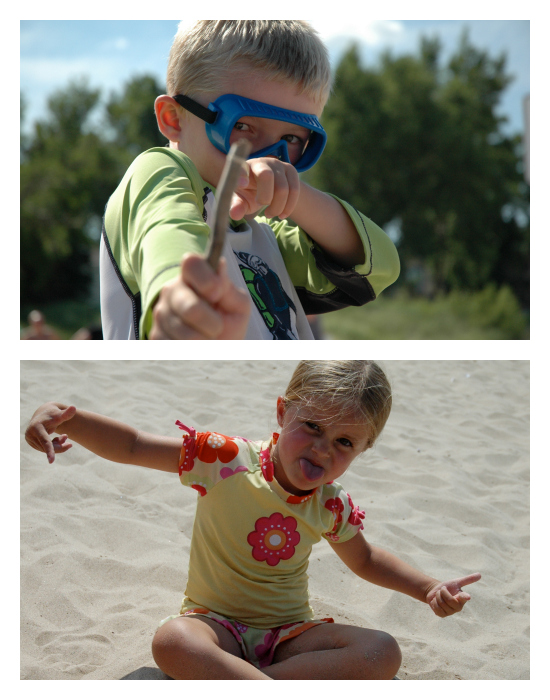 And this little breath of heaven that we experienced our last night…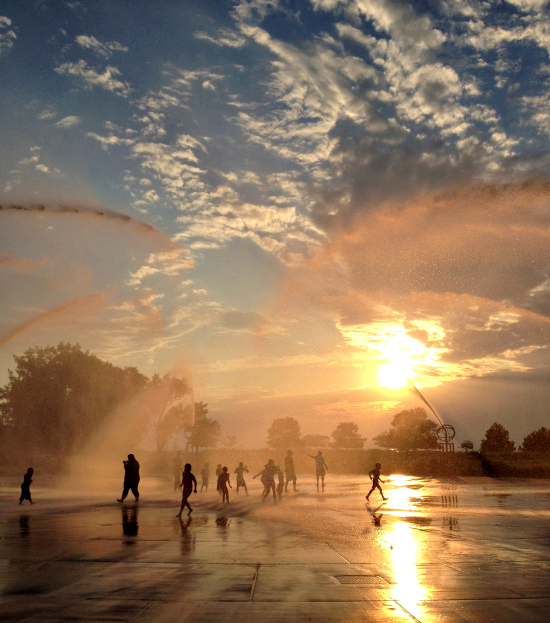 Yes, that brought a huge smile to my face, especially as we watched the kids running and splashing in the twilight.
Vacations…something to smile about. Healthy teeth…maybe not as breathtaking as the sunset over Lake Michigan, but the dentist bills that can result from unhealthy teeth can take your breath away in a slightly less fabulous way.
That's where FlossAndBrush.com comes in. They want to put a smile on your face too by providing families with an easy way to have new toothbrushes every three months. That's right – every three months – which is what the American Dental Association recommends along with regular flossing – not just the toothbrush you get at your six month checkup.
By paying just $1.00 per month, per person in the family, they will ship a box of toothbrushes and floss directly to your home. This can be either an adult, youth, or kids toothbrush. Bump it up to $2.00 a month to add teeth whitening gel to the quarterly shipment (custom whitening tray not included, but can be purchased on their website). More than three toothbrushes? Free shipping!
I think about how quickly my kids chew up their toothbrushes, and the number of cavities my son seems to be picking up, and this starts to seem like a good investment. Want to try it out? Enter our giveaway (valued at $107) to win: 
1 Free Annual FAB Membership (every three months, a new toothbrush and 3 month supply of floss will arrive to your doorstep)
1 Free Annual FAB + White4Life Memberships (this includes not only a toothbrush and floss every three months but each shipment will also include FAB's professional grade whitening to be used in custom whitening trays)
 To enter do one of the following:
Visit FAB's Pinterest page and repin an image from any one of the "Smile Boards" that makes you smile. Include a description in your pin that explains why it makes you smile, including the #FABsmile hashtag.
Pin your own image to Pinterest of something that makes you smile including the #FABsmile hashtag.
Post a photo to Instagram and describe why that photo makes you #FABsmile, including the #FABsmile hashtag.
Then…come back to this post and share the link to the pin/Instagram photo to enter for a chance to win!
Also, sign up for FlossAndBrush.com's mailing list.
Pinning a picture to enter? Easy Peasy.
In the meantime, check out Floss and Brush on Facebook, Twitter, and Pinterest!
So…what makes you smile?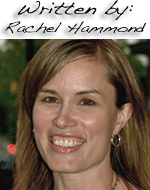 Disclosure: I was provided with a FAB annual membership to try out with my family, but all opinions are my own.