We want to provide ideas, inspiration, and information for moms everywhere as we look at the world around us through MomColoredGlasses...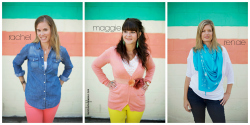 Popular Posts
Be Inspired
Not Found
Sorry, but you are looking for something that isn't here.
Be Whole
Not Found
Sorry, but you are looking for something that isn't here.
Be Informed
Not Found
Sorry, but you are looking for something that isn't here.
Changing poopy diapers.
Shuttling kids to their 506th activity of the week.
Staying up late helping our kids master Algebra.
Cooking for a crew of picky eaters.
In the midst of all these everyday mom activities, most of us have asked ourselves: Is this really my purpose? 
The answer is simple: Yes. For now.
The mundane, the small, and the sometimes unappreciated tasks of motherhood are slowly building something beautiful. They create bonds. Grow love. Foster security. They're the things that help propel our children into their purpose.
That's what makes them important. 
Changing diapers shows our kids that we love them — even when they're stinky.
Logging more miles on our minivan than the FedEx guy shows our kids we're willing to go to the ends of the earth for them.
Helping with homework is evidence that we are willing to invest in their future.
Making nightly dinners — even when they grumble — feeds both their bodies and souls.
Our children are like ripe little berries. When their time is here, it's here. And when it's gone, it's gone. Never to be retrieved. The aspirations and longings of our hearts that have to be placed on a shelf won't spoil.
One day, when our minivan has been traded in and our homes are no longer teeming with childhood chatter, we can retrieve those delayed dreams. And we can be content in the knowledge that we gave the season of motherhood our all.
So let's grab the keys, sharpen our No. 2 pencils and start planning tonight's meal.
Let's seize this moment in our lives — on purpose. 
by Melinda Means and Kathy Helgemo
Kathy and Melinda met on a Little League baseball field. The coach — Melinda's kids' pediatrician — also happened to be Kathy's husband. They discovered their shared passion for writing, as well as a common desire to serve and encourage other mothers.
Kathy(the redhead)mothers four kids ranging in age from late teens to early elementary years. Melinda (the brunette) is mother to an adorable middle-school-aged son and a beautiful and entertaining teenage daughter. They blog at http://motheringfromscratch.com.