We want to provide ideas, inspiration, and information for moms everywhere as we look at the world around us through MomColoredGlasses...

Don't know if you're like me–I'm assuming you are since you have children–and they like to plaster their masterpieces on every magnetic surface of your home…….and as a result you are always running out of magnets.  My back door is a menagerie of sticky grams, random Wizard of Oz characters, Leap Frog letters, and Hello Kitty dress up magnets.
So……..why not add some more to the party……and for almost free?
These cute little DIY magnets are easy to whip up in no time, can be made with things you probably already have around your house, and will add a little more flair (or chaos–it's a fine line) to your magnetic surfaces.  And most importantly, your kids will think they are great fun.  And side-note here; I think these would make an excellent, easy craft at birthday parties for both boys and girls!
Here's what you need: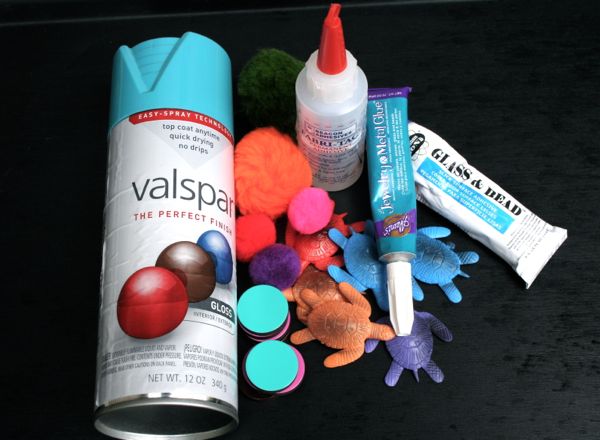 1.  Spray paint.
2.  Little round, plain magnets.
3.  Plastic animals.  I got mine at the dollar store.
4.  Pompon's.
5.  Fabri-Tac glue.
6.  Any variety of Aleene's jewelry glue.
Turtle Magnets (or any other plastic animal):
Spray paint the animals to your desired color.  If you are having your kids help you could have them paint with a paintbrush too.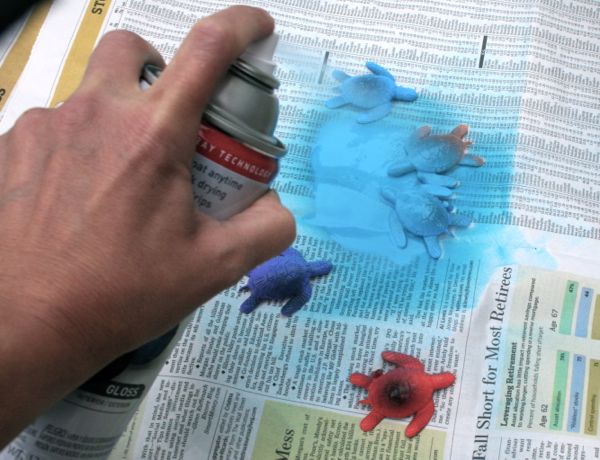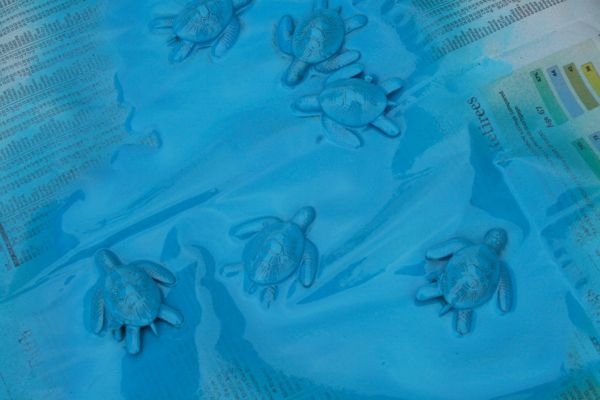 Let them dry all the way.  I'd recommend doing this first at a party and letting them dry outside (or the driest spot in your house) during the party and adding the magnets at the end.
Once dry, glue the magnet backing onto the bottom of the animals with jewelry glue.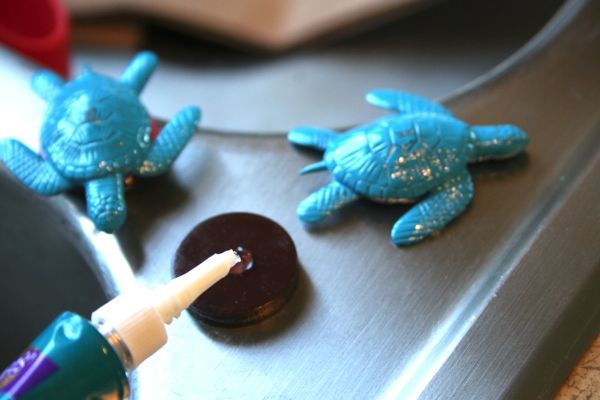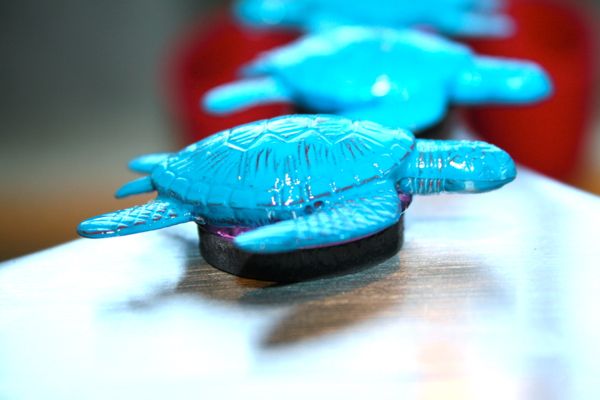 That's it!  Hang 'em up and let your kiddos play with them.  I think it'd be great to do a whole farmyard of animals, army men, lizards, princess figures, or Care Bears……..the list is really endless!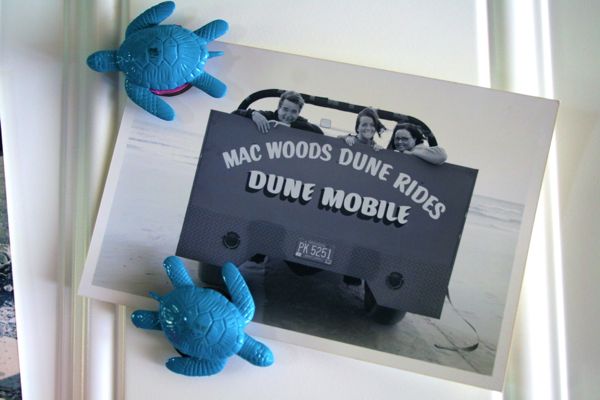 Pompon Magnets:
Glue your selected pompon's with Fabri-Tac glue to each magnet.  Let them dry (usually takes about five minutes) and voila!  Did I say easy peasy or what?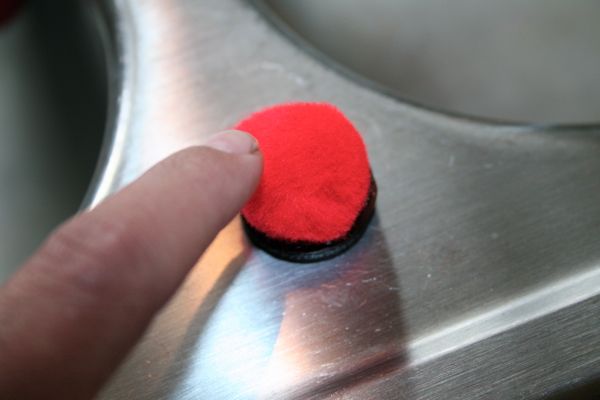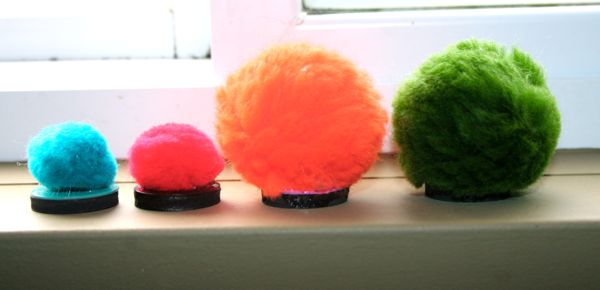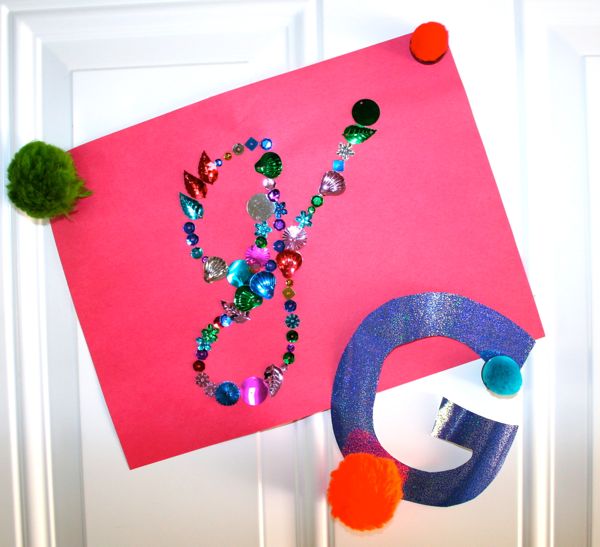 Word of warning about using glue like I've mentioned in this post:  it will take finish off of wood–like my table for example!  Make sure to use a plastic cutting board, a lot of newspaper, or an outside surface like concrete when working with this.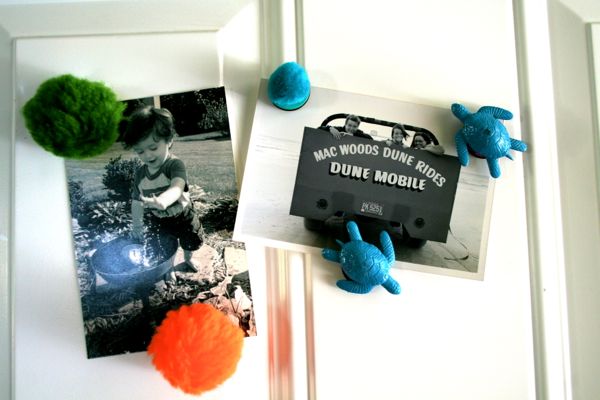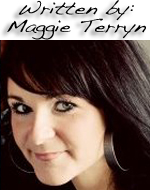 Visit my other online home at apairofpinkshoes.com