We want to provide ideas, inspiration, and information for moms everywhere as we look at the world around us through MomColoredGlasses...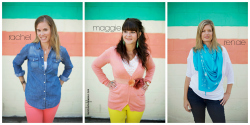 Popular Posts
Be Inspired
Not Found
Sorry, but you are looking for something that isn't here.
Be Whole
Not Found
Sorry, but you are looking for something that isn't here.
Be Informed
Not Found
Sorry, but you are looking for something that isn't here.
Nicole is back today for her third installment of her working mom series.  Today she talks about how to negotiate the best maternity leave that you can.  If you missed her previous posts about balancing work and family and how not to get promoted…..make sure to check them out!  
You can barely see your feet under your growing belly, the nursery is ready, the baby's clothes all smell of Dreft, and you are anxiously awaiting the arrival of your new baby.  You are totally prepared.  Or are you?  Have you negotiated your maternity leave?
I find that so many women procrastinate about having this important conversation with their employer.  I'm not sure if it is rooted in the fear of bringing it up, the lack of understanding of employers policies, or maybe women are undecided about what they will want to do once the baby arrives.   The thing is, your employer knows that you will need a maternity leave.  Your belly precedes you.  It is an inevitable conversation.  It's time to prepare for the discussion.  Talking about it will likely prove beneficial.
Preparation is key when negotiating your maternity leave.  First and foremost, get acquainted with your company's family leave policies.  Understand your rights.  Make some decisions.  What would be the perfect situation for you and your family?  Sit down and make an outline of exactly what you would like in a maternity leave.  Would it be ideal for you to work from home for a few weeks before you return to the office?  Would you like to ease back into the workforce with a few weeks of part-time hours as you adjust back into a full-time schedule?  Now remember, this is a negotiation.  Likely, you will not get everything you want if you are asking for above and beyond standard policy at your company.   Yet, you want to have an ideal scenario to start from.
Formal Plan and Proposal.  I have had great success in submitting a formal proposal for maternity leave.  There are several advantages to going with a written proposal.  First and foremost, you can refine and organize your thoughts in a document that you can leave behind with your manager.  In addition, it shows that this is an important issue for you and you take this discussion seriously.  You took the time to prepare.
What makes a successful proposal?  There are several key components.  The following example and guide proved successful to me.  Every working situation is unique.  Use this as a guide to structure your thinking about a maternity leave proposal.  From there, make it your own.
Introduction
In this section, you want to introduce the reasons for the maternity leave plan.  I'm assuming you work for a good company.  Flatter them.  Commend them for their policies in place that support family and a work / life balance.  If their policies are lacking in this area, find an aspect to their policies to compliment.  Explain why you feel that your dual commitment to your employer and your family is important to you.  Lay out your ideal situation for maternity leave.   Finish this section with a closing sentence that details your intention to further explain the plan through the rest of the document.
Planned Weeks of Leave
In this short section, detail the length of your leave in its entirety.
Accessibility During Leave
Depending on your position, if you are willing to attend an important meeting during leave, or want to offer to be available by phone during your time off…say it in this section.  Depending on your workplace, this is a good place to "give" if you are willing.
Proposed Work Coverage During Leave
Have you discussed work coverage with co-workers for your leave?  Do you have an idea to assist your manager in covering your work in your absence?  Of course it would just be a suggestion, but it shows that you are concerned for your job while you are out and you care about the work that you do.
Return to Work: Transition Phase
Do you want a few weeks part-time before returning full-time?  Or maybe a few weeks working from home for a few days?  Whatever it is, if you want to transition back into the workplace, detail it in it's own section.  The division of negotiating points leads to an easy "discussion guide" for your negotiation.
Return to Work: Long-Term Plan
This is where you describe the "normal state" when the maternity leave is completed.  If you are wishing to redefine your work after the baby permanently, this is the place to layout your wishes.  Although, changes to your permanent working situation are often discussed during, or at the end of the maternity leave.  Many mothers are not sure of their desires to re-define their work until the new member of the family has arrived.
Summary
Lastly, include a summary that shows the passion you have in maintaining your career.  End in a statement about discussing the specifics of the plan in person.
So you have a proposal.  Now what?  Have a trusted colleague (or two) read the proposal and make suggestions.  Take the time to get it right.  When you are ready, print several copies and schedule a meeting with your manager.  Stay confident and express your intentions in defining your maternity leave.  Be prepared to discuss it.  It may take a few meetings to come to all of the final conclusions.  The bottom line is, you never get anything you don't ask for.  If they don't grant your wishes, you can confidently say you tried your best to define a maternity leave that best suited your family.  You presented it in a professional manner and your employer should respect your attempt to find your right work / life balance.