We want to provide ideas, inspiration, and information for moms everywhere as we look at the world around us through MomColoredGlasses...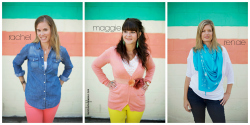 Popular Posts
Be Inspired
Not Found
Sorry, but you are looking for something that isn't here.
Be Whole
Not Found
Sorry, but you are looking for something that isn't here.
Be Informed
Not Found
Sorry, but you are looking for something that isn't here.
Let me introduce you to my newest obsession: PB Crave.
It's no secret that I love good food. You may have also noticed my slight obsession with nuts, nut butters, and everything related. Well, put PB Crave on the top of my list!
PB Crave is a new, gourmet peanut butter company that offers four flavors… and they are G.O.O.D.! We're not talking about those icky peanut butter + grape jam type concoctions (is that real food?)– We're talking about Cookie Nookie, Choco Choco, Razzle Dazzle and Coco Banana… these are SERIOUS flavors. And they are SERIOUSLY good!
One of the reasons these flavors shine is because of the ingredients that go into them. Nothing fake or chemical-laden here! PB Crave is made in small batches with only the finest, all natural peanut butter, pure honey, and other high quality ingredients. On top of that, PB Crave is also aligned with the Fit Pick nutritional requirements: feel free to start cheering now. Yes, you can have something this decadent without feeling guilty!
I personally polished off a jar of Cookie Nookie in an embarrassingly short time – much too the dismay of my family. The other flavors weren't far behind. Who could blame me when this PB seems to go with just about anything – a scoop out of the jar satisfies any cookie craving while giving you a protein boost – it spreads smoothly and melts on toast – super yummy in oatmeal, power bars, or to dip apples. You've got the idea, right?
Devouring delicious peanut butter = helping saves lives with more peanut butter
… This is the kind of math I like!
Aside from the fact that I could eat the whole jar in one sitting (don't judge 'til you try it!), this PB is connected to an amazing cause too. A portion of the proceeds from each jar sold goes to Project Peanut Butter – an organization that is fighting hunger through revolutionary 'Ready to Use Therapeutic Foods' (RUTFs) and aims to save 2 million lives by 2015. This is a truly remarkable organization – I cannot urge you strongly enough to learn more about their efforts and get involved!
What you've been waiting for: The GIVEAWAY!
We are giving away a set of all four flavors of this delicious PB… Be excited, you could be devouring your own jar of 'Cookie Nookie' in the very near future! If this sounds like a dream come true, here's what to do:
1) Vote for PB Crave in the 'Get On The Shelf' contest. After you vote, click the FB icon near the video to post a link to your FB wall and encourage your friends to get in on the action.
2) 'Like' Mom Colored Glasses and PB Crave on Facebook.
3) Leave us a comment to let us know that you've done it! (And we'd love to hear which flavor you're most excited to try!)
A winner will be drawn at random on March 19th, by the end of the day.
Good luck and happy eating!