We want to provide ideas, inspiration, and information for moms everywhere as we look at the world around us through MomColoredGlasses...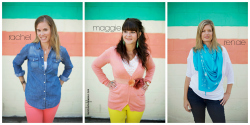 Popular Posts
Be Inspired
Not Found
Sorry, but you are looking for something that isn't here.
Be Whole
Not Found
Sorry, but you are looking for something that isn't here.
Be Informed
Not Found
Sorry, but you are looking for something that isn't here.
Yesterday Melissa shared her very poignant thoughts on orphan care…..a piece that has challenged my own thoughts and opinions on adoption more than most things I've read on the topic……and it is such a good thing to be challenged.  I've found myself thinking over and over about her words and after talking with her via e-mail the past few weeks I am thankful for how she's another person in my life who is shaping my ever-evolving thoughts on adoption.  I am so thankful for the opportunity to host such an amazing mom here at Mom Colored Glasses!  Today we get to know her a little better as the everyday mom that she is.  To find out even more about her visit her personal blog!
Maggie Terryn
Be Inspired Editor
*****************
1. How many kids do you have?
The short answer…5.  The long answer…2 biological, 1 from Korea, and 2 teens from Ethiopia who are waiting for travel clearance to come home.
2. What are their ages and gender?
Boys…John, 14; PJ, 9; Ty, 5.  Girls…Kayla, 13; Mia, 7.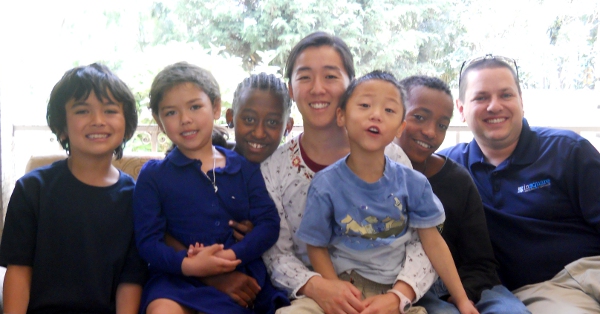 3. Who do you look up to most as a mommy role-model?
I have the best mommy ever, and I respect the way she parented my siblings and me.  The other plus is that my parents live in an apartment in our house so she's always around for advice.  I love that she gives it when asked but generally doesn't interfere in our parenting decisions with unsolicited advice.  Great job, mom!
4. What is the toy you'd like to lose most?
That bucket of Hess trucks with the sirens.
5. What is one parent battle you always swore you'd fight but you've given up on?
Growing up with a mom who did in-home daycare and working with high school students in college gave me a pretty realistic expectation of parenting so I haven't really had to give up any battles.  However, having a son with sensory processing disorder and who comes from a hard place has made me change the way I fight a lot of battles.
6. What 'parenting' invention couldn't you live without?
Does the internet count?  I probably rely on it way too much but I'm pretty sure I could parent with just the internet and a cardboard hut.
7. What is one character quality you hope your kids inherit from your husband?
I love the way my husband can infuse his faith into conversations with conviction but without being pushy or overbearing. I also love his perseverance and work ethic.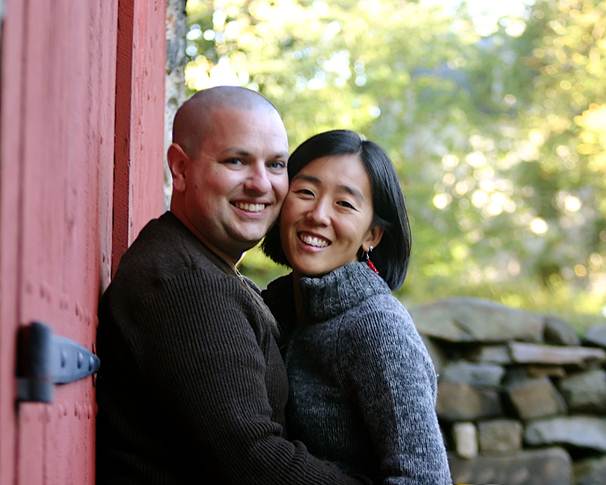 8. From you?
I hope they DON'T inherit my pride and selfishness.
9. What do you do to maintain your sanity?
Three words.  Sleep in Saturday.
10.What have you learned about yourself through the adoption process?
Being Type A and paperchasing with a spouse who isn't can end a marriage.  But seriously, I've definitely learned that what works on healthily attached children will mostly like not work on adopted children.  That was awfully humbling since I thought I pretty much had this parent thing figured out after our two biological kids.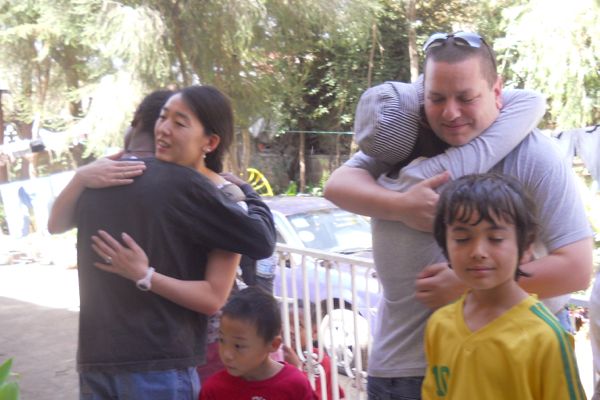 Melissa & her family meeting their oldest children for the first time. 
11.Finish this statement……Looking at the world Through Mom Colored Glasses means………..
being able to look at my kids with grace colored glasses.  It also means I look at the world as a multi-tasker.  I mean, don't all moms dry their hair, eat cereal, and answer emails all the same time while waiting to wipe the 4-year-old's butt?