We want to provide ideas, inspiration, and information for moms everywhere as we look at the world around us through MomColoredGlasses...

My Two Obsessions
First of all, I have a public apology to make…you are going to get a glimpse of my oh-so-white legs throughout most of this blog. I would like to state that I am taking steps in the right direction to solve this problem for May. Secondly, my first intent was to talk about some of the things I am loving for spring, but I thought that that would be beating a dead horse. Yes, we get that bright colors and florals are in. Genius. I am sure these have never been done during springtime before. I am going to make an amazing prediction into the future to also say that come fall time, jewel tones and boots will be in style. I know, right?! Brilliant. In order to avoid stating the obvious…yes, it's spring and you should wear florals and bright colors…I want to show you two of my obsessions:
Turning dresses into high-waisted skirts
Patterns
Obsession #1: Goodbye, dress. Hello, skirt.
The skirt, whether full, short, middy, or maxi…I am all over it. When I wore this to work several weeks ago, I had in my mind that I looked like June Clever. Yes, June and I were one that day, and my skirt was definitely very full and swooshed as I walked…then Ben took this picture and my hopes were semi-dashed: no swooshing took place. All of this June talk brings me to my first obsession: turning my dresses into high waisted skirts. The next 4 skirts you are going to see are all actually dresses. Because I like the higher waist, tucking the top part of the dress down and adding a belt is perfect for an easy skirt. (In my mind it makes my boyish figure look curvy. And apparently, it makes me also look like a 1950's house wife.)
Top: American Eagle Dress/Skirt: Kardashian Collection for Sears /Shoes: Nine West
Once again the top of this dress was simply tucked down to easily turn it into a skirt. Fortunately, with the material of the dress, I could make the part above the waist billow out to create a little bit of a ruffle.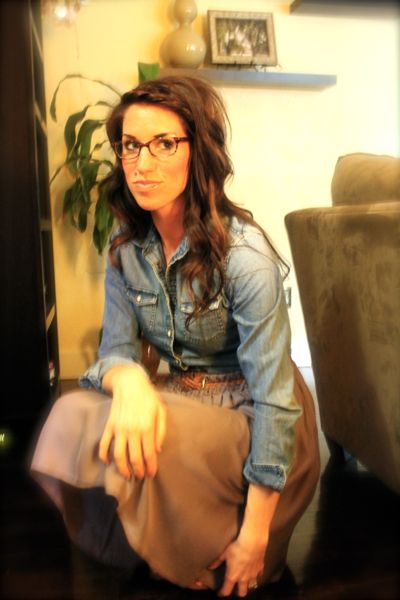 Top: American Eagle Dress/Skirt: Banana Republic/ Belt: Forever 21
Yes, the chambray top has made another appearance, and once again you should count yourself blessed that you didn't have to hear about my spring favorites…this top would have been discussed in a sick amount of detail. One other thing that I should mention about turning your dresses into a skirt is that it is important that the dress you are using has some sort of waist detail. That smocking or detail is going to give you a waist to work with and putting a belt over it can easily cinch your waist in if the dress waist isn't tight enough. Would you like me to say the word "waist" one more time…because I can.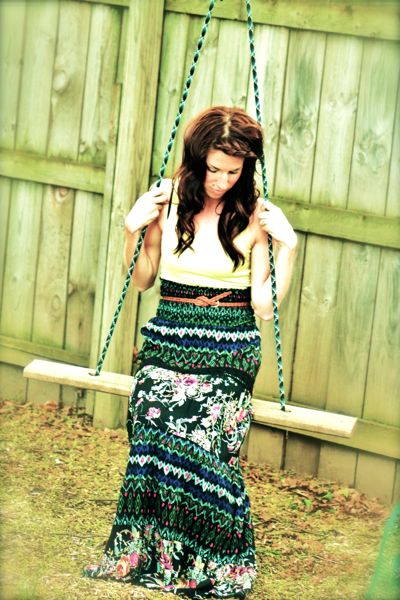 Top: Victoria Secret Dress/Skirt: Target Belt: Forever 21
And you thought my post from October was going to be the last you saw of this maxi dress…Maybe if you're lucky, come August, I will be wearing this around my head as some sort of scarf. (I am partially kidding.) This outfit also looks great with a boyfriend blazer or a shrunken cardigan over it too.
Obsession # 2: Fun Patterns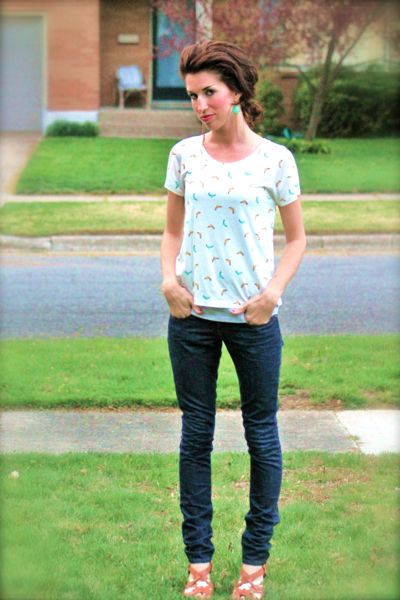 Top: Nordstrom Rack/ Jeans: Lucky Brand /Shoes: BCBG Max Azria
Several of the skirts above have great patterns as well, but I also wanted to show you fun patterns in tops right now. I really love that there are so many fabulous shirts out there that honestly have the most random of prints – my favorite being the animals. For example, the random birds that are all over my shirt. The patterns on these t-shirts just scream to be paired with something fun! I wore this top with my red corduroy pants and a jean jacket for our Easter gathering. The pattern really works as a neutral in my mind.
Top: Nordstrom Rack /Leather Pencil Skirt: Express /Shoes: Aldo
All of my complaints about floral and here it is. My last pattern that I love is the floral. I vow to in no way act like this is genius to wear for spring, but I will say that there are so many great patterns out there to invest in. The more fun the better!
Final thought: Always a good plan to have husband do a 360 degree check before leaving the house in dress turned skirt. This way no straps, sleeves, or unzipped zippers make any sort of awkward appearance.