We want to provide ideas, inspiration, and information for moms everywhere as we look at the world around us through MomColoredGlasses...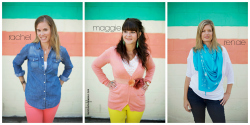 Popular Posts
Be Inspired
Not Found
Sorry, but you are looking for something that isn't here.
Be Whole
Not Found
Sorry, but you are looking for something that isn't here.
Be Informed
Not Found
Sorry, but you are looking for something that isn't here.
Amber is an adoptive mom to a three year old and has an incredibly rewarding open relationship with her son's birth-mom.  She writes regularly about adoption and life with her little boy on her personal blog, Bumber's Bumblings. In an effort to continually spread the word about how fantastic open adoption can be and because I believe that the more transparent adoptive parents are about the process, the less intimidating and scary it will seem to others, I've asked Amber to share with us an inside look at the intricacies of her open adoption relationship. The questions below confirm how refreshing it can be, and allow us the opportunity to hear not only from an adoptive mom, but a birth mom as well.
The questions asked and answered below are inevitably questions that all adoptive and birth mom relationships work through.  Sometimes they are answered, sometimes they aren't.  Sometimes the fears present in the answers below are acknowledged and sometimes they are processed silently over time.  Regardless, an inside look into an open adoption relationship like this, a look that is not readily available for those going through the adoption process, is invaluable.
I only wish I'd been able to read these very wise words from these two amazing women before I jumped in with two feet.  I think it would have assuaged many of my fears and allowed me to see my questions and concerns as normal and valuable to my growth and development as an adoptive mom.
While reading, keep in mind that 'Ash' is the birthmom, Amber is the adoptive mom, and 'B' is their amazing little boy.
-Maggie Terryn, Be Inspired Editor
********************
What were your open adoption fears before placement, Ash?
Before I even knew that you were open to open adoption, I was worried about you guys being scared of me. I thought I was being super dramatic about it, but when I've met other birth moms, they have they same fear.  The general stigma of birthmoms seems to always be negative. Things like poor life decisions, being unstable and irresponsible. All these things added to the fact that a child was placed into another family, brings up thoughts and feelings that suggest birthmoms are going to change their minds or steal the baby in the middle of the night. I was scared that these ideas would be in the back of your minds and that you would be scared and extra cautious.
But the reality is that the decision to place your own child, who you love more than anything, in a family besides your own is so unbelievably hard. Once it's done all I want, and other birthmoms want, is for the plan we have for our child to succeed in being a supportive and loving family unit. Why would we go out of our way and sacrifice so much to ruin it? The sacrifice alone shows our dedication to the life of our baby and that same dedication can be seen in making sure that the choice for adoption is everything we hoped for.
The thought of having to deal with "B" running to you as mommy instead of me was terrifying. I wasn't sure if I would be able to handle it. But, I soon realized that I had to accept the place I hold in B's life. If I was to step out of line by becoming offended or competitive, that would cause tension, hard feelings, and anger. All of these things would very easily be picked up by B and I absolutely do not want any of that near his perfect little spirit. In fact, those were the exact reasons why I chose adoption. To protect B from conflict and unrest. So why would I sacrifice so much to then cause the one thing I wanted to protect him from? Another reason was that I want this idea of Mom, Dad, and Birthmom to be as normal as the blue sky and green grass outside. Otherwise B would see it as a negative thing and then turn it on himself, seeing himself as the center of negativity.
My parents worried about me recovering from the whole experience, and having to deal with being the birthmom. There is a lot of emotional turmoil, stress, loneliness, discontent, all these negative emotions that come with being a birthmom. There are of course good things, but it's the negative that always has a greater impact. I was and still am hesitant to share my feelings with my family because I know they are scared that I may never fully recover or learn to cope with these feelings. The reality is that they are inevitable. But, you learn to adapt and focus on the positive. All those feelings seem to melt away the second I see those bright eyes and head of curls.
What were your fears before placement, Amber?
I was definitely scared of the unknowns. Scared if you would be a stable person and capable of participating in open adoption.  Before we had our match meeting, I was concerned that the decision to place B for adoption, was your decision alone. I wanted to be confident that there was not any pressure from your parents. I knew that if it was your plan and idea, you would be much more secure in your decision at birth and in the future.  When we met, I knew immediately that it was all you.
The way you took charge and led that meeting and the questions and your excitement about meeting us and knowing every little thing about us and just the way you shared your story with us, it was obvious. Your parents were so supportive and respectful of your decision, whatever the outcome, was awesome.  There was no way you could have done this without the support of them.
Ash, what were you scared of immediately after placement?
Immediately after B was born I was really serious about sticking to email, so that you could establish your family and bond with him.  My fear was that you would see that as not being interested. I was afraid that you would misunderstand me and misread what was going on with me. All I wanted was to be nosy and see how everything was going but I was determined to let you guys have your special moments with B and not be too pushy.
Amber, what were you guys scared of immediately after placement?
We really wanted openness, but we were concerned it would be too much for you.  I first emailed you the night we brought him home from the hospital, and weekly after that.  We sent lots of pictures, but I was concerned about sending pictures with us in them.  I thought it would make you sad.  One time, I snuck a picture of Nate & B together in the email.  That was the only picture you talked about in your reply.  It made you so happy to see them bonding.  That's when I realized that this is really what you wanted for his life and it wouldn't hurt you to see pictures of us with him.
I think we were also concerned that we would be doing something against the "adoption covenant" that we signed. I was really wanting to get together for a visit before we agreed upon, but I just wasn't sure if that was the "right" thing to do.  I know, it sounds ridiculous…  You finally asked at one point if maybe, just maybe, you could come down for a little visit.  I was actually really nervous for you to come to our house first (since we didn't have his room finished), and we ended up coming to your house for the first time.
Ash, what about our current open adoption relationship are you scared of?
My most wild fear is that you guys will think I'm a bad influence on B and that you'll cut communication slightly to indefinitely. The reality is that I am 22 going on 42 and never seem to find myself in questionable situations. I'll choose a good book and tea over a crowded bar any day. But I am scared that there could be a miscommunication or something!
Another fear  is that you feel that you're taking advantage of me with babysitting or inviting me to fun events.  If it doesn't work out for me to come, then I panic that you think I'm overwhelmed or "don't feel like it" even though it's only a scheduling conflict.
Additionally, I fear that my extended family might cause you to withdraw or be hesitant. I know every family has a black sheep or two who kind of stand out and isn't the best influence. But my family has a black sheep, a striped sheep, a tattooed sheep, really there are very few white sheeps. So I am afraid that you will decide it's not a good atmosphere for B .
I am also afraid that you guys will adopt and end up with another open adoption. My fear is that I would get less time with you and B and that you might feel overwhelmed. I recognize that this is selfish and I would hope that any child who is adopted would have an open relationship. Nonetheless, I am scared.
Amber, what about our current open adoption relationship are you scared of?
Okay, my current fears are really pretty irrational, but fears, nonetheless. I worry that you are weirded out by us old fogies.  To us, we don't feel that much older than you, but we are ten years older and you could think that we are big dorks.  I worry that we try to spend too much time with you. I also worry that we ask you to babysit too much, and maybe that is offensive to you.
When I think about adopting again, I'm scared as well. I worry that the adoption won't be open and that would be really difficult with one open adoption and one closed adoption.  Or I worry that it would be hard to juggle two open adoptions.
********************
Later this month Amber will be back and share with us how she and Ash celebrate Mother's Day together.  It's an amazing story that celebrates what being a mom really means.  Make sure to keep a watch out for it.