We want to provide ideas, inspiration, and information for moms everywhere as we look at the world around us through MomColoredGlasses...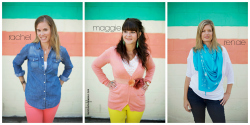 Popular Posts
Be Inspired
Not Found
Sorry, but you are looking for something that isn't here.
Be Whole
Not Found
Sorry, but you are looking for something that isn't here.
Be Informed
Not Found
Sorry, but you are looking for something that isn't here.
"This shop is part of a social shopper marketing insight campaign with Pollinate Media Group™ and Project 7 but all my opinions are my own. #chewforchange #pmedia
One of the challenges we face as parents is raising charitable kids who are others-focused.  And let's be honest–it's a challenge for us as adults a lot of the time too.   We constantly ask ourselves, "How can I instill a desire to do things for others in myself and in my children?"
Sometimes we make the answer to this question too complicated.  We conjure up these terrific acts that we need to engage in and if we can't pull them off we might as well not do anything.  But that's the equivalent of saying we're going to run a marathon and then not train for it.  We set ourselves up for failure.  Just like running a marathon starts with short runs that eventually become long runs, becoming a charitable person starts with simple and practical ideas.  Both for ourselves and our kiddos.
So I thought… what's simpler than making a meal for someone? Everyone needs to eat dinner–good day or bad….but sometimes in the midst of a crazy season making dinner might seem like a daunting task for someone who is already in the trenches.  So when we feel like we are searching high and low for an idea that gets our kids involved in someone else's life in an age appropriate way…..make a meal for someone and have them help!
There is a teacher at the school where I work who has a two and a half year old and two-month old twins and she teaches 7th grade math all day.  That's right–you read that correctly.  I am in awe just thinking of her!  I recently became aware of  a company called Project 7 that encourages everyday people to do small things for big change.  Making a meal–for me, right now….is a pretty small thing that could make someones day better.  So making a meal for this teacher was a no-brainer for me.
If you haven't heard of Project 7 watch this quick video–it's a good one.  When you buy some of their gum, mints, water, or clothing you help them by providing money to eradicate seven areas of need around the world like healing the sick, saving the earth, housing the homeless, feeding the hungry, and on it goes.  It's a small thing buying a pack of gum or some mints that brings about big change; but an important thing.
Just like…..
It's a small thing making a meal with your kids to give to someone else, but you never know how big that impact might be.
I took Georgia grocery shopping with me at Mejier where we bought everything we needed for some chicken enchiladas and of course some Project 7 gum; the inspiration behind this easy and meaningful meal.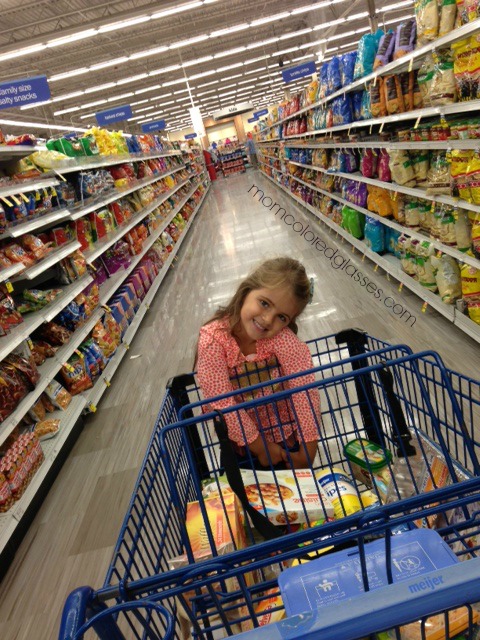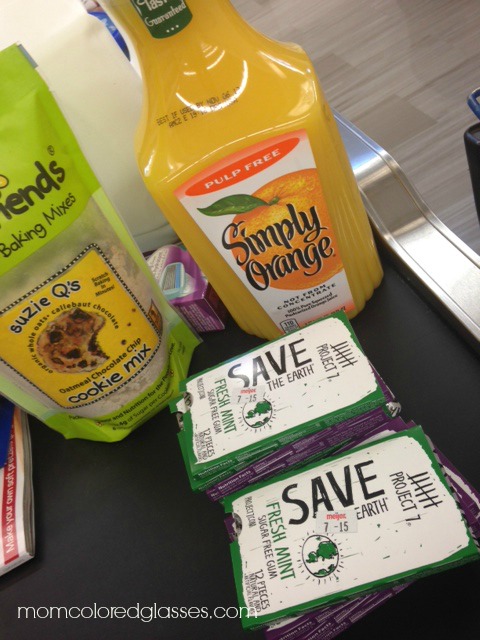 We gave a pack of Project 7 gum to the cashier so now she knows the story of this fantastic company and can (hopefully) tell other customers about it if they ask; encouraging more and more people to do small acts of kindness. And we definitely gave some to the recipient of our meal so she'd know the story behind her dinner.  I let Georgia pick the people we passed out the rest of the gum to and told her I'd help her explain to them why we were giving them some gum.  She thought that was pretty cool and wanted me to go buy more gum so we could "make more people happy."
She also thought it was pretty great to help me get chicken enchiladas ready and while we worked together in the kitchen we talked about other small things we could do to help people if we think they might need it.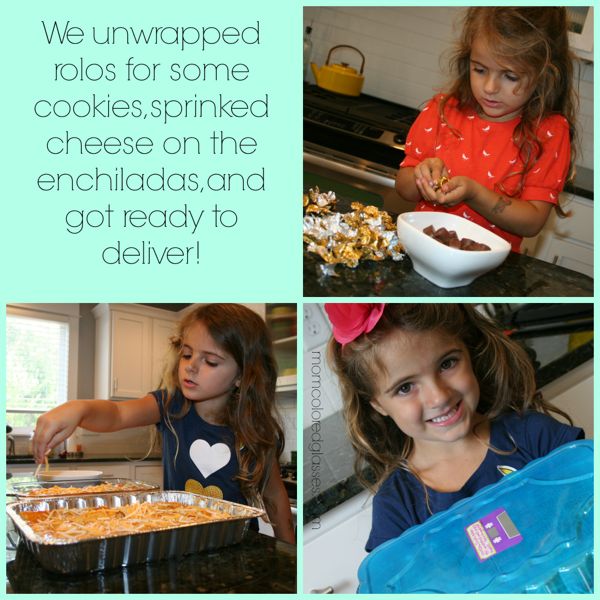 My go-to-kid-friendly-deliver-a-meal-to-someone-enchiladas:  Roast some chicken and shred it.  Mix it with a generous portion of grated cheddar cheese and set aside.  Lightly dredge corn tortillas in mild enchilada sauce and fill each corn tortilla with some of the chicken mixture.  Roll up and tightly pack into a disposable aluminum pan (ALWAYS use disposable when delivering a meal to someone–it's so nice for them!).  Top with shredded cheese and tell them to pop it in the oven at 350 degrees until the cheese is melted and bubbly.  Give them some sour cream, sliced avocado, black olives, and tomatoes to top it with to make it more adult if they like!  The kids can eat it plain and love it too!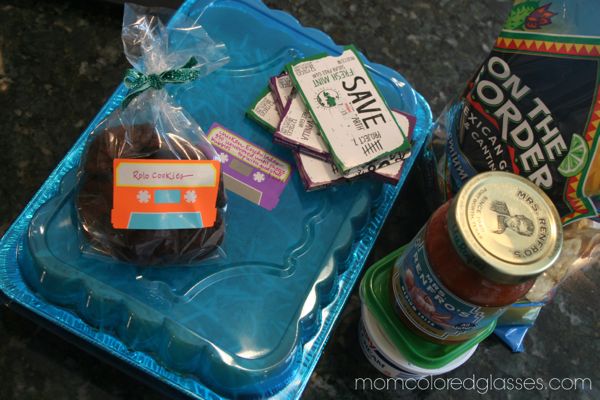 Who can you make a meal for today?  Or is there something else small you do with your kids to foster a charitable spirit in them?  Tell us about it in the comments below!  We could all use ideas, more and more of them, that are simple, tangible, kid-friendly, and above all meaningful.
And if you're looking for some inspiration check out Project 7 here, here, and here! Also–the next time you're in the check out line at any of these locations make sure to drop a few packages of Project 7 gum into your cart and know that you're doing a small thing….for big change!