We want to provide ideas, inspiration, and information for moms everywhere as we look at the world around us through MomColoredGlasses...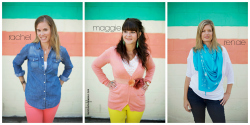 Popular Posts
Be Inspired
Not Found
Sorry, but you are looking for something that isn't here.
Be Whole
Not Found
Sorry, but you are looking for something that isn't here.
Be Informed
Not Found
Sorry, but you are looking for something that isn't here.
Have you heard of Stitch Fix?  Have you tried it?  The idea of a box of clothing surprises showing up on my door step was something I couldn't pass up.  I received my first fix back in June and was not that excited about my pieces.  However, I've read enough reviews from other shoppers to know that a bad first box is not that uncommon so I soldiered on.  While I was waiting for my second box to come Rachel decided she'd sign up too.  We both received our boxes last week and are here to share the results with you!
But quick–if you're not familiar with Stitch Fix…a little background.  Stitch Fix is a personal styling service that assigns you to a personal shopper.  You fill out an extremely detailed fashion profile (including a price range scale for what you'd like to spend on various pieces) on their website, select your first delivery date and pay a $20 styling fee.  If you decide to keep any of the items sent to you, that $20 fee gets applied to your purchases.  If you send everything back (which you have three days to do in a pre-paid mailer that they provide for you) you lose that $20 fee.  You can leave detailed notes and feedback for your stylist, make requests, and be brutally honest about what you're looking for….and what you're not.
So here we go…..
Rachel's box: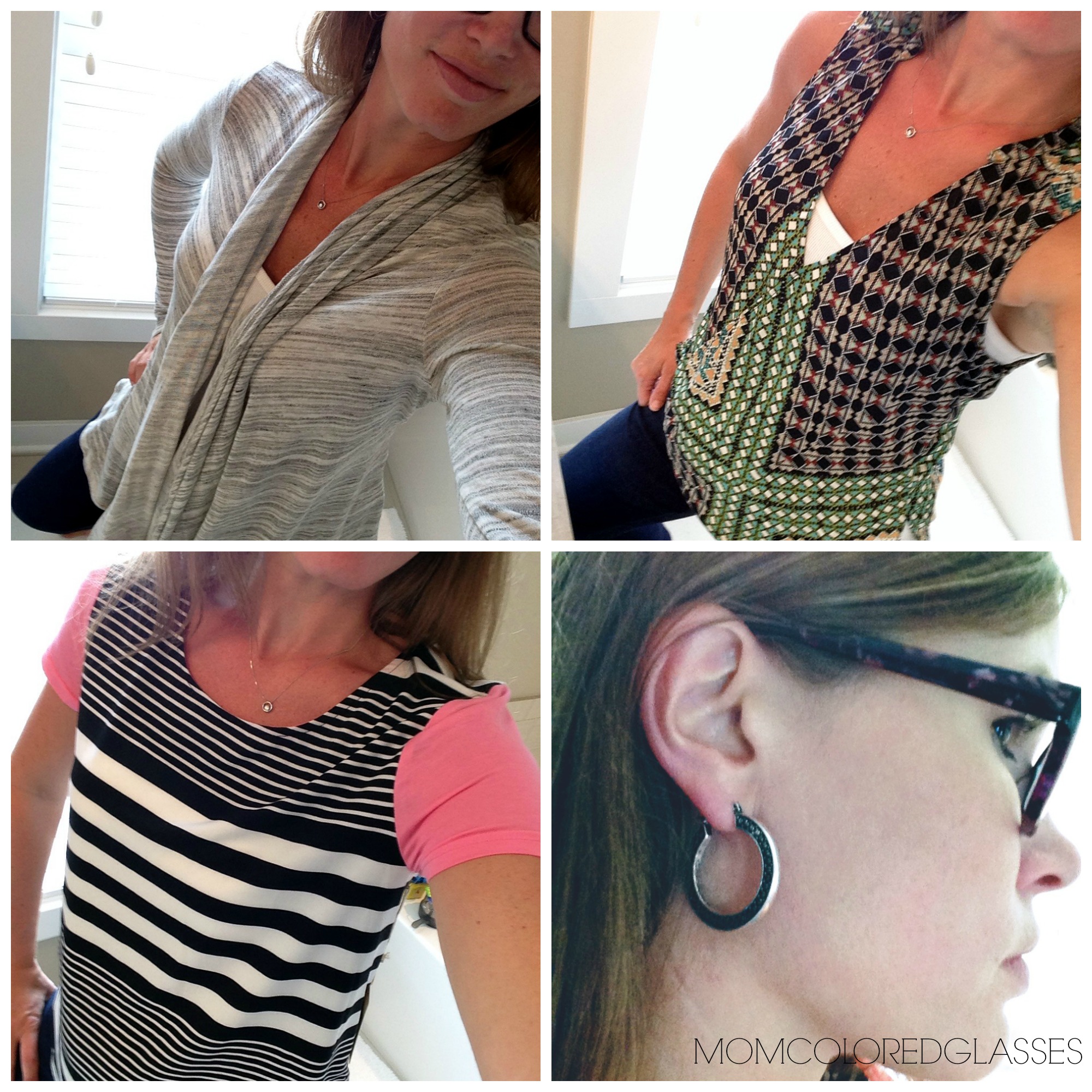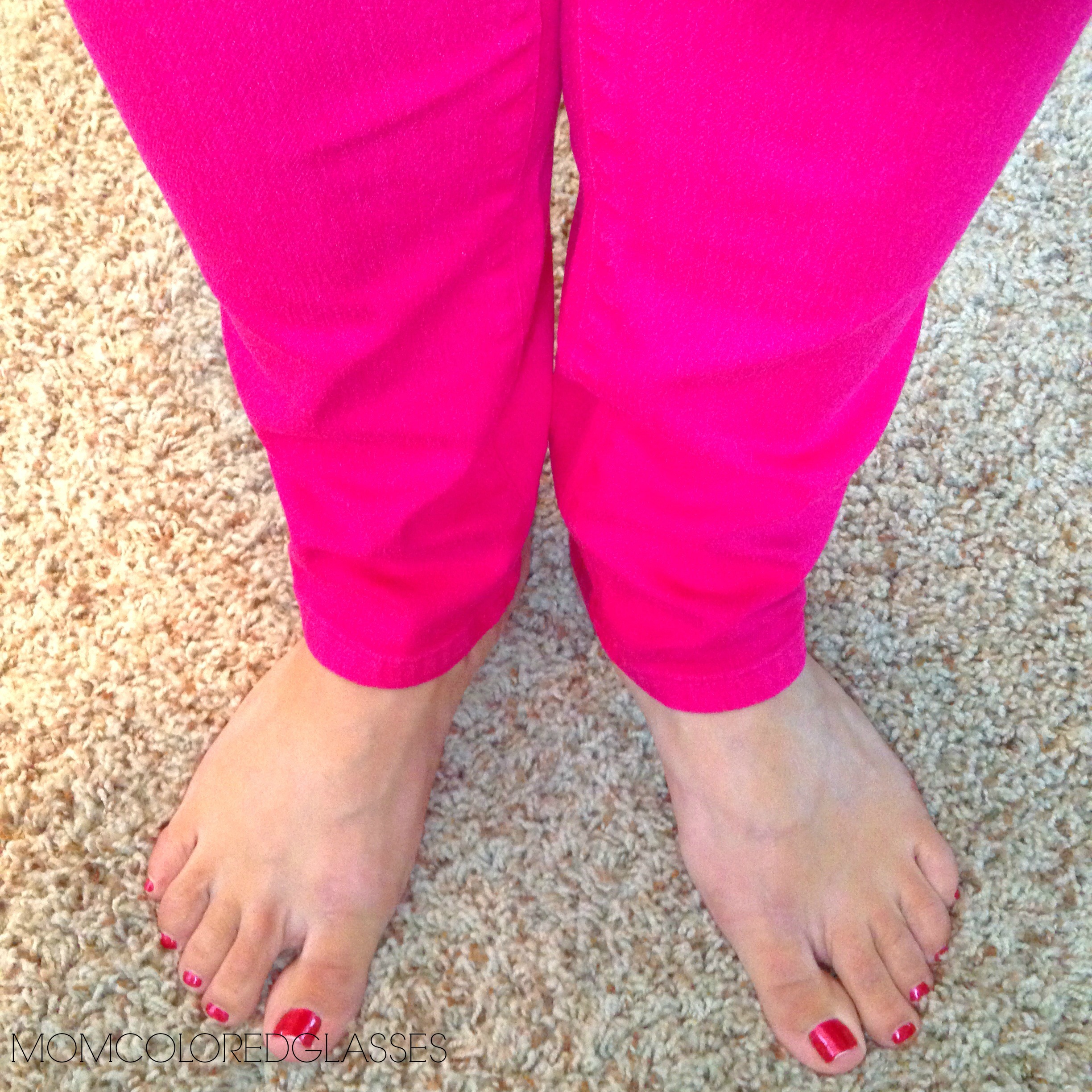 I don't really consider myself to be very "fashion forward", which is why I waited so long to try out Stitch Fix. I figured that since I didn't really know what my "style" was, I wasn't going to be able to tell someone that I don't even know what kind of clothes to send me. But after I completed my Stitch Fix profile, where I had to select outfits, colors, and styles that I liked, I started to get excited about my box to arrive. What in the world would they send me?
When I finally received my box, I was pleasantly surprised. They did pretty well picking out things that I would like, which they selected not only based on my profile answers, but my Pinterest fashion page as well. However, where they did not do so well was with the fit of the clothes. They matched up sizes perfectly, but not knowing my body type threw everything off, I think.
Here's the rundown…
1. Silver hoop earrings: They were earrings that I would definitely wear; I am a hoops kind of girl hands down. They even had some fun detail on them. However, I decided to not keep them, because they were very similar to a pair I own already. Selection was good, but almost too good.
2. Bright pink jeans: I actually thought the jeans were really cute, but I literally couldn't get them on past my knees. I do not have the twiggy legs that slide effortlessly into skinny jeans, and this pair just wasn't going to make it. It was too bad, because I liked them a lot, but the fit was not that great.
3. Striped black and white shirt: I liked this shirt as well, and I almost kept it. That is, until I remembered the number of striped shirts I have in my closet, including one I just bought last week. I didn't keep it…and I might end up regretting it, because it could have been dressed up for work or dressed down with jeans. I think that might be an issue for me…sending things back that would really be good pieces!
4. Patterned brown sleeveless shirt: This shirt was okay, but not stellar. It was also really short, which made it feel and look like it was about two sizes too small. Not a winner…back it goes.
5. Gray cardigan: I decided to keep this sweater. I loved the color, the fit, and the weight. It was pretty light, making it a great fall sweater, and it will go with everything. I can't wait to pop it on!
So, at the end of it all, I decided to keep…one sweater. This might sound weird, but I call that a success! I didn't have to physically go out shopping, someone else found what I should try on, and everything was generally in my style arena. Plus, I never actually anticipated buying the entire box, so getting one good piece that I will wear consistently, was perfect in my book. I would have maybe liked it if I could have been able to request the jeans in a larger size, but I'm just happy to think about my next Stitch Fix…scheduled for early October!
Maggie's Box:
I'd give this box a B- compared to my first box which was a D (however, there's a dress I didn't end up keeping from my first box that I regret). The one thing I'll say that is a different experience than Rachel's is that I'm shocked at how perfect the fit always is.  It's almost a little spooky.
1. First up was this navy, pink, and white sweater.  Going back.  Just not my style at all.
2. Next was a red, white, and black tank.  I'm keeping it.  It's a pretty basic shirt that I liked with my most favorite black belt ever, a black skirt, pants, jeans, whatever and a sweater.  I think I'll get a lot of use from this tank.  I was excited to like something!
3. Third was a baby blue and gray shapeless shirt that I didn't even try on I loathed it that much.  It made me sleepy just looking at it.
4. The final thing pictured below was a peach and "peacher" drawstring dress.  It's not horrible–just not me.  It's going back too.
5. My fifth item was a pair of black leggings.  I was honestly kind of irritated that I received them–it felt like getting a white t-shirt.  However, I'll say this–they are crazy thick, warm, and full length making them great for a Michigan winter where I wear black leggings almost daily when I'm not working.  I never expected to keep them, but I did and feel pretty good about it!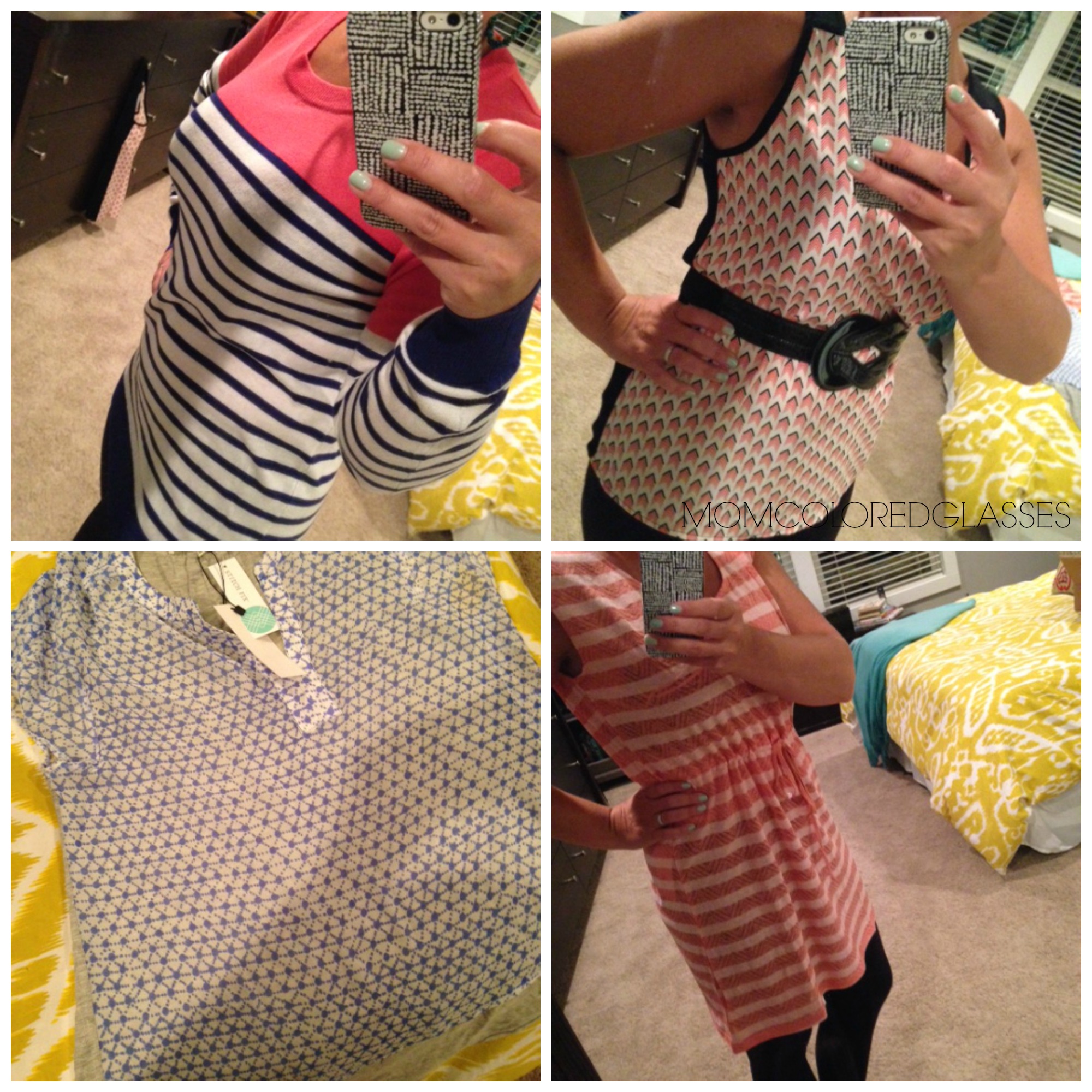 I'm going back for a third time at the end of September.  I have high hopes after leaving some more concrete feedback and requesting some specific pieces.  Fingers crossed.
So what do you think?  Ready to try it?  It's pretty fun!  We think you should.