We want to provide ideas, inspiration, and information for moms everywhere as we look at the world around us through MomColoredGlasses...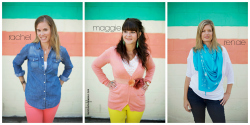 Popular Posts
Be Inspired
Not Found
Sorry, but you are looking for something that isn't here.
Be Whole
Not Found
Sorry, but you are looking for something that isn't here.
Be Informed
Not Found
Sorry, but you are looking for something that isn't here.
Amber, from Bumber's Bumblings is back with us today to share an incredible post her son's birth-mom Ash wrote for her a while back on just one of the misconceptions people have about birth-parents.  Ash writes honestly and candidly about one of her biggest frustrations when it comes to what people ask her and assume about her when it comes to being a birth-mom.  We're thrilled Amber and Ash were willing to share another story with us today.  For more of their posts that have appeared here in the past….check here and here.
**************************
"Don't you ever think about stealing B and running to Mexico?" 
Believe it or not this is the most common question that I combat when it comes to open adoption discussions. At the very beginning of my open adoption journey I would fume with anger, smoke would come out of my ears, and with my pasted on smile I would say, "Ummm….no that would defeat the purpose of adoption."
I can now calmly rationalize that the idea of open adoption is actually quite terrifying if you are not familiar with this mysterious world. The stories that seem to stick are the negative ones that have been twisted. The story of the Birthmom Boogeyman climbing in the window at night and racing towards the border with the baby under her arm.
I would like to shed some light on the positive truth about Birthmoms and open adoption. Unfortunately, there are no amount of words that can portray the torment that surrounds placing your child into the arms of another. The choice to place is one that comes from extreme emotional pain of knowing that the best choice for your child is to live a life that does not need or include you. It is physically reaching deep down into the cavity of your soul, ripping out your heart, and walking away. It is living each day in black and white because the life and color is elsewhere. It is the determination and sheer grit of making sure that the one you love is cared for, over and above what you want.
All of this pain is part of the plan that is set in motion. A plan that follows all reasons for adoption-security, two functioning parents, emotional stability, financial stability, freedom. This plan is a support structure for the child involved. A Birthmom coming in and trying to steal the child or even compete with the child's Mom would be undoing the plan. It would be taking that initial, painful sacrifice for granted and uprooting the child. This interruption of the bond between the parents would put the child in an environment of unrest, instability, insecurity, and all the other restricting negativity that was meant to be avoided in the first place. It would undo the idea of safety and put the child directly in the middle of a life that was intended to be avoided.
What I am trying to say is that the Birthmom Boogeyman is actually a fictional character who is the arch-nemesis of Birthmom's everywhere. We have enough love and conviction for our child to physically and emotionally place them into the care of another, at the expense of our daily emotional torment. At the very least we would have the sense to know our sacrifice must be protected. The family unit around our child must be kept sacred and secure. The last thing on our mind is heading for the border or competing for the role as "Mom."
Don't cheapen our sacrifice or ignore the daily struggle we endure to make sure our child is in the safe structure we chose. It is excruciating to step down as Mom and watch from a distance. Don't place a twisted stigma on something that is so truly, purely painful for us to hold together.  A hut on the beach with our child by our side, complete with a pina colada and cabana boy would be ideal. But if that was reality, adoption would have never come into play. Flippant, breezy comments might sound humorous and light-hearted. But they carry weight on a very sensitive topic that involves the heart strings of many.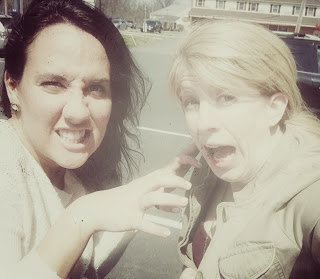 Ash & Amber.  Who truly have one of the most amazing open adoption relationships we've ever heard of.  They are regularly a picture of how positive and healthy open domestic adoption can be.