We want to provide ideas, inspiration, and information for moms everywhere as we look at the world around us through MomColoredGlasses...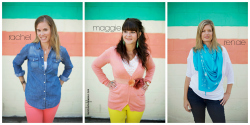 Popular Posts
Be Inspired
Not Found
Sorry, but you are looking for something that isn't here.
Be Whole
Not Found
Sorry, but you are looking for something that isn't here.
Be Informed
Not Found
Sorry, but you are looking for something that isn't here.
The backyard garden teaches a lot of life lessons to kids and can be a great way to instill responsibility, ownership, and healthy eating habits.  I was a girl that grew up with a big backyard garden every summer.  Although I never enjoyed my turn to weed, I always loved picking ripe, cherry tomatoes right off the vine and hunting for beans an hour before dinner.  I never had issues with eating my vegetables, and I'm sure that growing them myself had something to do with it.
The raised bed garden is quite popular right now because of its accessibility and relative ease of construction.  With a raised bed, your yard doesn't need ideal soil, and you don't need to commit to several hours each week of maintenance.  Additionally, if you construct a square bed, perhaps 4 feet by 4 feet or smaller, you don't even need to get dirty, just weed and pick from the outside.
When we started thinking about our garden, the first thing we thought about was how much space we wanted to devote and where our yard received the most full sun during the day.  We had a large section in the back corner of our yard with full sun and since I love being outside and puttering around, we decided on large raised beds.  We built three 12 x 6 boxes.
My husband, who usually doesn't have strong opinions, was quite adamant about what kind of wood and soil to use in our garden.  Using this tutorial from This Old House to build the beds, we used untreated, 2 x 10 cedar planks.  Untreated wood won't leach chemicals into the soil and cedar is supposed to be the most resistant to rot.  Cedar planks can be pricey; if Ross didn't care so much, I would have just gone with the untreated pine and called it good.  Whatever you use should be fine.  If you are doing a longer bed, like we did, make sure to use stakes to support the planks in order to prevent bowing, as seen in the video.  For soil, we bought a rich, composted material from a local landscaping company.  This is definitely the way to go if you have a large space to fill, otherwise, using bagged soil is fine for smaller spaces.
After our beds were built and our soil distributed, it was time to plant.  Last year we started several types of tomatoes and peppers indoors in late February because these seedlings need more time before they are mature enough to plant.  I think starting from seed is a really neat project to do with the kids in the winter.  They can watch them grow over the next 2 months until it's time to transplant.  However, if you missed that boat (like we did this year), it's not too late.  Finding hearty seedlings is pretty easy whether you are looking at a local nursery or at Lowe's.
We were able to plant the other vegetables like green beans, carrots, and squash directly into the soil.  This is also fun with kids – who doesn't love playing in the dirt?  When you buy your packets of seeds, most brands will have an ideal planting time icon on the back of the packet, putting your location into play.  You can't go wrong following these suggestions as I've found they tend to run a bit late.  Check out sproutrobot.com for similar information.  Also make sure to note the planting depth.  I've done a whole bed of lettuce this year and only half of it has sprouted; I think I planted too deep.  When it comes to gardens, like most things in life, you learn more the longer you practice.  Each year I keep learning things that work really well and things not to repeat.
Last year I planted my tomatoes and peppers together in one box.  According to my greenhouse expert (my dad), this was not a smart move since these plants need different soil requirements. And the rogue pumpkin plant that sprung up when Ross let our Halloween decoration rot in the garden?  Big mistake letting that beast stay – it totally took over!  This guide from Garden's Supply Company is a great resource for planning where to plant each vegetable in your garden as well as how much space each plant will require.  Many people do box planting, as seen below, that keeps the garden organized and tidy.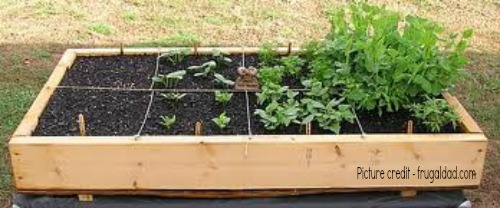 Last year I didn't realize that sweet peas were creeping vegetables.  By the time I figured this out and set up a stabilizer, the weather was too hot for those springtime pods.  I'm combating that this year by recycling a crib we got from some friends that ended up being recalled before Bennett was born.  I think the railing looks pretty cool out there and will provide a solid place for my sweet peas and eventually cucumbers to creep up.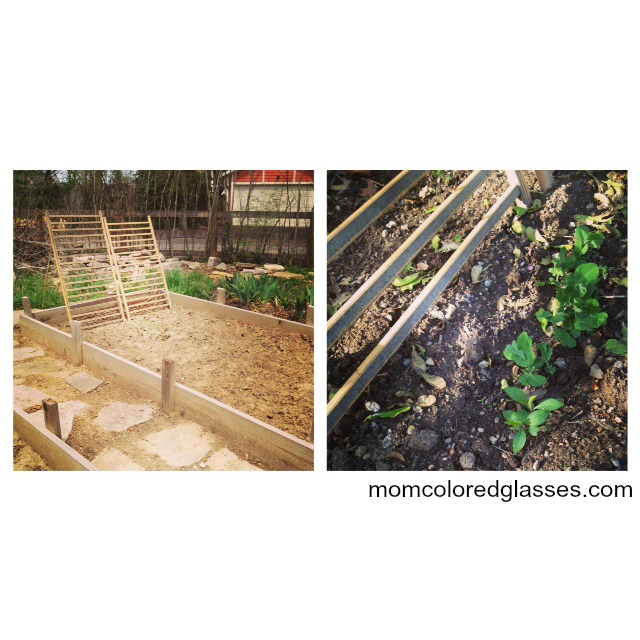 So how you go about creating your garden or what you plant is less important than just getting out there and getting your hands dirty.  I love watching those fleshy, lime green shoots poke up through the soil and am always reminded of the new birth that spring provides us – another year of God's faithful provision, no matter how stark the winter seemed.