We want to provide ideas, inspiration, and information for moms everywhere as we look at the world around us through MomColoredGlasses...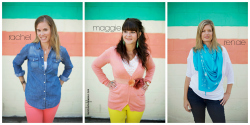 Popular Posts
Be Inspired
Not Found
Sorry, but you are looking for something that isn't here.
Be Whole
Not Found
Sorry, but you are looking for something that isn't here.
Be Informed
Not Found
Sorry, but you are looking for something that isn't here.
In the educational arena, nothing tends to ruffle more feathers than talk of charter schools.  There are many misconceptions and a lack of understanding when it comes to charter schools by both educators and parents alike; an unfortunate misunderstanding as they truly are a viable option for parents exploring different educational avenues for their children.
The appeal of a charter school for parents may include:
Smaller class sizes
Longer school days, resulting in more academic growth
A variety of academic approaches
More opportunity for parental involvement
More one-on-one attention for high risk students
A tuition free educational option if their home district isn't meeting their child's needs
Charter schools are free, public academies that operate with tax dollars per pupil—just like a traditional public school.  Charters exist under the guidelines set forth by their authorizer—usually the local school district, a university, or other interest group. These guidelines include mission statements, aggressive academic goals and proof of progress, accountability and compliance measures.   Charter schools must answer to the state and can be shut down if they fail to meet the expectations set forth in their charter.
The autonomy that charters have compared to traditional public schools is often the root of the misconceptions people have about them.  Traditional public school educators argue that state monitoring of charters is often lax and therefore results in decreased academic expectations, mismanagement of state and federal funding, and a lack of compliance in regards to special education students and highly qualified teachers.
As a parent, considering the different options when it comes to the education of your child, you need to separate the fact from the fiction:
Myth: Charter schools can 'cherry-pick' the best students and turn 'problem' students away.
Fact:  Because charter schools are tuition free public schools they must accept everyone who applies , in the order that they apply, if there is a seat available.  Charter schools do a have a class size cap ( a provision in their charter agreement to ensure smaller class sizes) and once it is met, schools start compiling a waiting list.  As seats become available the next student on the list is contacted.
Myth:  Charter schools do not appropriately accommodate special education students and comply with IEP modifications and accommodations.
Fact:  Many parents specifically choose a charter school for a student with an IEP because they know the student/teacher ratio is one that guarantees more one on one attention for their struggling students.  In fact, many charter schools have a surprisingly high number of special education students because the smaller class sizes have proven to be more effective in producing learning gains and eventually being exited out of special education than the traditional public schools.  Charter schools employ certified special education teachers, one-on-one aids, social workers, reading specialists, occupational therapists, psychologists, speech pathologists, and intervention teachers just like their traditional counterparts.
Myth:  Charter schools don't take standardized tests.
Fact:  Charters take the same standardized tests as traditional public schools and then some as mandated by the authorizer and the state to prove they are meeting their aggressive academic goals.
Myth:  Charter schools don't employ certified teachers.
Fact:  They do.  They have to.  It's the law in all public schools.  Additionally, charter school teachers usually work for less money than a public school teacher.  They are not afforded protection by a union, tenure, or a contract.  They are an at will employee just like most people are and can be let go if anecdotal and assessment data from their students prove over a period of time that they are not exhibiting appropriate academic growth.
Myth:  Charter schools seek to serve an upper middle class population.
Fact: Charter schools frequently seek to serve an At Risk population, believing that those are the students they can have the greatest impact on.  Some of the most successful and well known charter schools will only operate in hard-to-serve areas because they know that is where their services are needed the most and where there are parents desperately seeking affordable options for their children.
The debate about charter schools will most likely continue to provoke strong emotion among educators.  Competition in a free market economy always does.  And in a country where our students are falling further and further behind their international counter-parts there is a strong desire, as there should be, to provide different options for parents who aren't seeing the results in their kids that they want to within their home districts.  To say however, that 'all charter schools are bad,' is like saying that all traditional public schools are bad–and that is simply not true.  There are fantastic teachers and administrators in buildings all across this country; private school buildings, home school buildings, public school buildings, and charter school buildings.  As a parent, you need to do the research and figure out what is the best fit for your child.  No one else can do that for you.
If you are interested in finding out more about charter schools, check out the following links to some of the largest educational management companies in the country–you'll probably be able to find one of their charter schools in your area:
This post is meant to provide a general over-view of charter schools as a whole.  It is in no way an exhaustive source on charter school information.