We want to provide ideas, inspiration, and information for moms everywhere as we look at the world around us through MomColoredGlasses...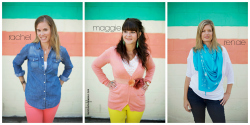 Popular Posts
Be Inspired
Not Found
Sorry, but you are looking for something that isn't here.
Be Whole
Not Found
Sorry, but you are looking for something that isn't here.
Be Informed
Not Found
Sorry, but you are looking for something that isn't here.
I'm done spending ridiculous amounts of money on hair products. I admit, I'm a bit of a hair product snob…..but after recently dropping over 40 bucks of hard-earned cash on shampoo and conditioner (only one smallish bottle each!) and then feeling guilty every time I used it, I decided I needed to branch out and change my expensive ways. I also try to use natural beauty products whenever I can, so I hit the "natural care" aisle at the store and did a little experimentation.  All of these shampoos/conditioners are very affordable at less than $10/bottle and can be found in most standard grocery stores and of course on Amazon.com.
According to the Environmental Working Group's Skin Deep Cosmetic Database, potentially toxic ingredients to avoid in hair care products are:
Fragrance
PEGs, ceteareths and polyethylene
Parabens: propyl, isopropyl, butyl, isobutyl
DMDM hydantoin
As far as I can tell from reading the labels, all four of these products are free from the above ingredients except for fragrance, which they all included.
My hair is thick but fine and I definitely need to wash it every day so I don't look like like a greaser…..but it also gets very static-y and dull-looking in the winters. I usually go for a clarifying or volumizing shampoo/conditioner. I can't promise that my results and opinions will be the same for you but if you're interested in switching to more natural products, perhaps this will give you a starting point! These products are listed from my least to most favorite…..
Burt's Bees Very Volumizing Shampoo and Conditioner, Pomegranate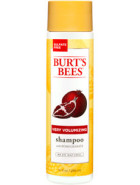 Burt's Bees is everywhere and I have used many of these products from lip balm to baby shampoo with varying (usually mediocre) results. The good thing about this shampoo/conditioner is that it's really easy to find. Other than that, I disliked almost everything about this product! My two biggest complaints: 1 – It did not help give my hair volume at all; 2 – It did not condition well as my hair was extremely tangled and stringy by mid-day. I couldn't wait until I finished the bottle so I could move on to something else! Per Amazon's prices, this was also the most expensive shampoo/conditioner per ounce. Burt's Bees Very Volumizing Shampoo, Pomegranate, 10 Ounce, $8.85
 at Amazon.com.
Jason Natural Lavender Shampoo and Conditioner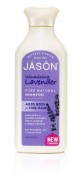 Jason products have been around for a long time, since 1959 to be exact which is pretty impressive considering that natural and organic products are just now hitting the mainstream. This shampoo/conditioner combo was okay. I used it in the dead of winter and it did keep the static and dry fly-aways away. I wasn't wow-ed by it and would probably use it if it was my only option….however…..I absolutely HATED how it smelled! I usually love anything fragranced with lavender, but this smelled more like baby powder than lavender to me and was very strong. I'm definitely one to linger in the shower but this smelly product definitely took some of that enjoyment away! Another downer, the flip top on both of the bottles broke off after a week or two of use. Jason Natural Lavender Shampoo, 16 oz, $5.65 at Amazon.com.
Yes to Tomatoes Volumizing Shampoo and Conditioner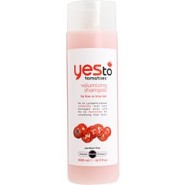 I kept seeing the "Yes to" products around but didn't try any of them until now (maybe the strange name deterred me?) I was pleasantly surprised with this product! The scent is very nice (it doesn't smell like tomatoes….or baby powder), it lathered nicely and left my hair full, shiny and smooth for most of the day. I definitely recommend this brand and would probably keep buying it if I hadn't discovered the next and my most favorite brand of shampoo/conditioner below…. Yes To Tomatoes Volumizing Shampoo, 16.9 Fluid Ounce, $8.99
 at Amazon.com.
Alba Botanica Hawaiian Mango Body Builder Hair Wash and Conditioner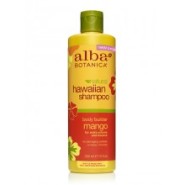 Alba Botanica is the brand that has yet to disappointment me! So far I'm using body wash, body lotion, facial moisturizer and shaving lotion all from Alba Botanica…..and now I've added shampoo and conditioner to that list! From the moment I rinsed this shampoo off my hair I noticed something different. My hair instantly felt smooth and thick and the product smells nice but is not overpowering.  The conditioner sealed the deal. My hair is fuller, smoother and I rarely feel the need to run a brush through it as I go about my day. An added "green" perk to this product is that it is packaged in a 100% post-consumer resin bottle! The only negative thing about Alba Botanica is that it is a little bit more difficult to find in mainstream stores. While I can find the body and facial moisturizers at my local grocery store (Meijer) I had to order this from Amazon where it only came as a set of two. However, since I have an Amazon Prime account (so I got it in 2 days with free shipping) this wasn't really a big deal for me. Alba Botanica Hawaiian Mango Body Builder Hair Wash, 12-Ounce Bottle (Pack of 2), $15.34 at Amazon.com.

Being beautiful and natural doesn't HAVE to mean sacrificing large sums of money OR your sense of personal style….sometimes it just takes an open mind and the willingness to try something different. I hope these reviews were helpful….and I would love to hear about other good natural products out there so leave your thoughts and recommendations in the comments below!
I was not compensated for writing these reviews in any way and all these opinions are my own.
Written by Renae Wortz NP-C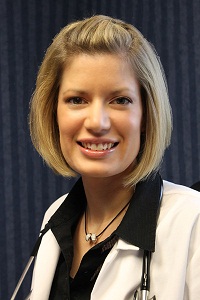 Renae Wortz is a Certified Adult Nurse Practitioner who currently works in a busy Family Practice Clinic. To learn more about what a Nurse Practitioner is and does click here. This article is intended for informational purposes only, it is not meant to diagnose or treat any illness. If you have any questions about your health, please contact your health care provider.