We want to provide ideas, inspiration, and information for moms everywhere as we look at the world around us through MomColoredGlasses...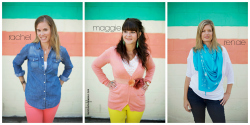 Popular Posts
Be Inspired
Not Found
Sorry, but you are looking for something that isn't here.
Be Whole
Not Found
Sorry, but you are looking for something that isn't here.
Be Informed
Not Found
Sorry, but you are looking for something that isn't here.
Last year, Sara wrote about TOMS and how buying a pair of shoes can be much more purposeful than a simple consumer decision. It was a great reminder about supporting companies who are making a difference, one pair of shoes at a time.
Then, this fall, my daughter came home from school shopping with my mom, toting a pair of BOBS by Sketchers. They looked suspiciously like TOMS, down to the single syllable name and flat bottomed soles. The only discernible difference was a slightly more substantial insole to the shoe, probably because they carry the Sketchers name, but everything else was very similar. They also claimed that with the purchase, a child in need would receive their own pair of shoes, just like TOMS.
A rip-off, I thought?  Perhaps. When I did a little more research, I found quite a few scathing articles about the lack of imagination by Sketchers. I couldn't disagree. Companies need to use their ingenuity rather than just making a carbon copy of someone else's idea. Case closed, right?
But as I looked at my daughter sporting her sparkly shoes, excited about the kid who was going to get their own pair of shoes as a result, and I decided to give Sketchers a break. Yeah, they copied a brilliant idea, but I would rather see a company inspired to do good, than a company who turns a profit on copying the latest red carpet celebrity frocks.
I think more companies should be so bold. Not on the imitation, but on making business decisions that serve to help others. Companies like TOMS…like Sketchers…and many more like it.
Please share…what are some of the other companies that you love because of their charitable sense? We would love to hear about them!