We want to provide ideas, inspiration, and information for moms everywhere as we look at the world around us through MomColoredGlasses...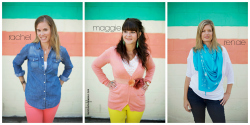 Popular Posts
Be Inspired
Not Found
Sorry, but you are looking for something that isn't here.
Be Whole
Not Found
Sorry, but you are looking for something that isn't here.
Be Informed
Not Found
Sorry, but you are looking for something that isn't here.
We haven't even met the middle of January yet, and I'm full-swing into deep cleaning. This urge hits me every single January as I take down the holiday décor and stare at all the "blank canvas" spots in my home. First, I see all the dust and clutter. So I've been cleaning like a crazy woman, attacking random things like the pantry, the toy cabinets, and all the other spots that get a cursory dusting every week but only get deeply clean in January.
I'm sure my husband thinks it's weird that I can't relax with a layer of dust on everything…but I can't. And it isn't just that I like things clean for myself. In fact, while I have always loved decorating and moving furniture around, I've become more of a nester since having a family. My husband is a homebody (all ex-military certainly deserve to be!) and an introvert who works with people all day long; so I have always loved setting our home's mood to communicate rest, rejuvenation, and peace. And as my kids grow up and do more and more away from home, I want them to feel a similar atmosphere when they come back home. I want them to be able to sense safety and love and the connection between all of us. I want them to be comfortable letting down their guards and being themselves. And the way I pull our home together can communicate that to them in a tangible way.
The tangible side of nesting comes easily to me, it's true. But you know what doesn't come as easily? Patience…forgiveness…listening well…denying a chance to criticize…taking every opportunity to express aloud love, understanding, or empathy. And yet these are the intangible building blocks of that atmosphere I want my home to exude. The decor can be as cozy as can be, yet one cruel word can suck the love right out of the room. I can remember walking into certain houses and immediately feeling the warmth and love of the family living there – like walking into a group hug. But I also can remember homes that were stunningly decorated but utterly void of that sheltering atmosphere we all crave.
While I scrub and dust and putter around this month, I want to be more aware of how this place feels to the people who live here. May they sense how much I want to care for them and bless them through the tangible and intangible sides of nesting. And when my nest is empty, I pray my kids will cherish the memories they have of home because they were completely certain of how much I cherished them. Because home is about the people in it, isn't it?