We want to provide ideas, inspiration, and information for moms everywhere as we look at the world around us through MomColoredGlasses...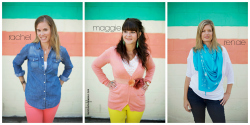 Popular Posts
Be Inspired
Not Found
Sorry, but you are looking for something that isn't here.
Be Whole
Not Found
Sorry, but you are looking for something that isn't here.
Be Informed
Not Found
Sorry, but you are looking for something that isn't here.
Sunday, February 24, 2013
My daughter turned two this month. After hearing people talk about the "terrible twos," I saw it coming even before she celebrated her birthday.
Usually, it's something small—like asking her to come so I can change her diaper and watching her run in the opposite direction. I know that in many cases, she's just playing because that's what toddlers do. But other times, when I need her to obey (and she doesn't), it turns into a tantrum (of various sizes). By the time she's done, I'm exhausted, and I can't help but wonder where my sweet one-year old went.
As a first-time mother, I question myself all the time: Is she just being a toddler? Does she understand what I'm saying? How do I train her to be obedient? Do I need to discipline this attitude? Am I just angry because this goes against what I want?
That last question is hard. My husband and I once worked with a character-consulting organization, so I've spent quite a bit of time learning character qualities. I know that truthfulness is foundational to trust. I want to be responsible so that others can depend on me to get the job done. I practice hospitality so that others can find rest and enjoyment in our home. The question, however, is not so much do I know what to do, but why I do it?
I'm realizing that I often demonstrate character simply because it benefits me and my reputation. If I can't be a good hostess, then I don't want people over to find out. I'm embarrassed when our budget doesn't allow me to buy people a nice gift. I get upset when my family makes us late for a commitment that I made. When it all boils down, it's all about me. And in that sense, my self-centeredness is just as terrible as my 2-year old's.
Don't get me wrong—I do want my daughter to grow up learning to be generous and diligent, obedient and kind. But beyond that, I want her to realize that demonstrating character isn't enough if it springs from self-centeredness and produces pride. God doesn't love us more if we demonstrate more character. No, being a Christian is about coming to know the Savior who left His glory, lived a perfect life, and died on our behalf. Only a relationship with Him will transform us from the inside out. Only He can produce character in our life that really counts.
"[Christ] died for all, that those who live might no longer live for themselves but for him who for their sake died and was raised." (2 Corinthians 5:15 esv)