We want to provide ideas, inspiration, and information for moms everywhere as we look at the world around us through MomColoredGlasses...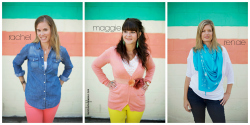 Popular Posts
Be Inspired
Not Found
Sorry, but you are looking for something that isn't here.
Be Whole
Not Found
Sorry, but you are looking for something that isn't here.
Be Informed
Not Found
Sorry, but you are looking for something that isn't here.
Today's modern health care system is fast-paced, multi-faceted, sophisticated….and complicated! It is more important than ever for patients to take charge and be knowledgeable about their own health or risk being "lost in the shuffle". As a Nurse Practitioner (who sometimes gets confused by the system herself!) I strongly urge patients to be their own advocates to ensure they are getting the best medical care possible. One way to do this is to get organized. Do you know the date of your spouse's appendix surgery? Or was it his gallbladder? Do you have your pharmacy's phone number memorized? Do you know the names of all your kid's medication allergies, even the one that's impossible to pronounce? Do you know which doctors and specialists work with your insurance plan? Do you know when you got your last tetanus shot? The truth is, it's very difficult to memorize all this information. It's even more difficult to recall this information in an emergency situation. The solution? Organize the most important information into a Family Medical Binder.
Call me old fashioned, but even in this day of smart phones and 24-hour connectivity, some things are still better on paper. I love the idea of an actual binder or paper file that is easily accessible by the entire family (no internet required!), is kept in a central location (the kitchen shelf perhaps?) and can be quickly referenced if needed. Plus, despite the fact that everyone has gone "paperless", we still get an awful lot of papers from everywhere, including healthcare facilities….and then what to do with them?  A physical paper binder is cheap and takes little effort or technological skill to compile. Regardless of the system you use, I recommend that every family take a little time to gather the information to become more prepared….when it comes to your health, a little organizational effort can have a huge impact!
Below are some basic instructions, including printable reference sheets, for creating your own family medical binder. Each family is different, so I encourage you to tailor this basic plan to meet your individual needs.
Basic Contact/Emergency Information 
Print and fill out the form below. File under "Contact Info" Tab. Update as needed.
Click to Access Printable Contact Information Form
Every household needs a list of important and emergency contacts. While technology has made it very simple to look up phone numbers and addresses, it's nice to have a quick reference to consult, especially if the internet service is down or the contacts in your cell phone have been erased. (However, I also recommend entering all these numbers into your cell phone and/or keeping the list on a small card in your wallet to make sure you have them readily available when you aren't home.) This simple page also provides a centralized resource for the whole family to quickly reference in an emergency situation.
Individualized Family Member Information 
Write each family member's name on a separate tab divider. Add tabs in coordinating colors in the following categories for each family member: Preventative and Medical Screening Checklist, Medical History, Test Results and Miscellaneous Information.
Keeping track of your own medical information can be difficult….even more so when it comes to managing an entire family! Separating each family member's information into separate sections is a good way to keep everything organized in the binder. For family members who have complicated medical problems, see multiple specialists, require detailed tracking or are undergoing special therapies, a separate binder may be needed. However, for most families, a single well-organized binder can easily hold the most important information.
Following describes each category in more detail.
Preventative and Medical Screening Checklist – Print out the screening checklist and refer to these throughout the year to make sure you and the rest of your family is on track. Consult your child's medical provider for pediatric forms.
Click to Access Printable Medical Screening Checklist
Being proactive about your health through preventative screenings and leading a healthy lifestyle is so much better than dealing with a preventable health issue down the road. Pap tests, cholesterol screenings, dental cleanings, eye exams etc. can be challenging to fit into an already busy schedule, but the benefits are worth it! Keeping some sort of checklist can be a helpful way to track your appointments and remind you when certain tests are due. Here's a helpful tool from the Mayo Clinic website that recommends which screening tests are appropriate for you based on your age and gender. Consult your medical provider for more detailed information based on your individual medical history and risk factors.
This may also be a good section to file food diaries, weight loss graphs, exercise records and any other goal-tracking or informative resources that inspire you to be healthier.
Medical History – Fill out the medical history form and file along with other papers such as growth charts, immunization records, etc.  Include a folder in this section for other pertinent information, and loose papers. 
Click to Access Printable Medical History Form
Here is a quick and dirty form that can be printed and filled out for each person. Having this information is not only helpful for family record-keeping purposes, but it is also useful information to have on-hand during office visits or a trip to the ER. I often find that patients forget pertinent information if they are under stress, especially if they have a complicated medical history. Personally, I love it when patients come in with a detailed and well-organized list as it makes my job much easier! Again, this may be one page to copy and keep in your purse, transcribe onto a small wallet-sized card or save as a digital file for easy access when you are away from home. Following is a brief explanation of what kind of information should be included within each section.
Current or past medical conditions – Any medical issues that you have experienced (past or present) should be listed here. Examples include: diabetes, chronic back pain, high blood pressure, migraine headaches, heart problems, skin conditions, anxiety disorder or depression, childhood asthma, pre/post-natal complications etc.
Past surgeries – Include all surgical procedures including approximate dates, surgeon and hospital where surgery was performed.
Family medical history – Many medical problems run in families, therefore it is helpful for your health care provider to know the medical history of all first degree relatives (parents, siblings, children) and also grandparents. It is especially important to know if you have a family history of heart disease, cancer, stroke, endocrine issues (diabetes, low thyroid) and psychological problems (such as depression).
Immunizations – Do you really know when your last tetanus shot was? Are you always scrounging around for your child's immunization records before school enrollment? Get organized by listing them or keeping a copy from the pediatrician's office filed in one place.
Allergies – In the most severe case, taking a medication that you are allergic to can be life-threatening – always remind prescribers of any medication allergies that you have! Food, environmental and latex allergies are also important to record.
Current medication list – If you bring ANYthing to your next office visit, bring your medication list! Medications can be very confusing to both patients and providers, especially if you take multiple medications or have different providers prescribing different medications. Include all vitamins, herbs and supplements as many of these can interact with prescription medications.
Other medical specialists – If you see a specialist regularly for certain health conditions (cardiologist, speech therapist, counselor etc.) making sure everyone is aware and communicating effectively is extremely important for ensuring you have the best care possible.
Test Results – Punch holes in paper reports of labs, office notes and diagnostic tests (x-rays, mammograms) to be filed in this section. Include a folder to hold discs and other papers.
Whether you know it or not, you are legally privy to all of your medical records. I encourage patients to take home copies of their lab reports and other tests for a few reasons. First, knowledge is power. I truly believe that patients who know how their cholesterol numbers are trending, for example, are more likely to make lifestyle changes or stick to treatment regimens vs. just doing what they were told. It's your body, even if you don't understand what all the test results mean, you deserve an explanation and a copy of them! Second, papers get lost, clinics close unexpectedly, you may relocate to another town and office records are destroyed after so many years….by keeping your own copies of medical records you ensure continuity of your medical care for the future.
Miscellaneous Information – Include a folder for easy and quick filing.
Just another place to file pertinent information pertaining to each family member. This would be a good place to file health resources, contact numbers, directions to healthcare facilities or educational articles/brochures you have found about specific diseases or medications pertaining to the specific family member.
Pets
Pets are family members too! If you have room, the family medical binder may be a good place to include the health information of your furry (or scaly or feathery….) friends. Stay tuned next week for a vet's perspective on organizing your pet's health information.
Insurance Information
Punch holes in paper copies of important insurance information and file under "Insurance Information" tab. Update yearly as needed.
Health insurance is a huge subject that could probably fill an entire binder itself! At the very least, file copies of your insurance cards, policy information, lists of cooperating health care providers and any other related information that you desire. For the sake of space, you may want to file insurance claims, explanation of benefit reports and other insurance-related information in a separate location. This binder is probably better served to provide quick reference materials vs. stacks of paperwork and filing.
Life Planning
File copies of each adult family member's Advanced Directive in this section
No one wants to think about serious illness or end-of-life planning, but it is important to have things in order if the unthinkable should happen, especially as a parent. Following are a few medical documents that should be considered and may help ease the stress on your family should you encounter a serious or life-threatening medical problem.
Advanced Directive – An Advanced Directive outlines your medical wishes if you become incapacitated to make decisions for yourself (if you are in a coma, for example). Laws regarding Advanced Directives are different state-by-state, so make sure you research this information to ensure legality. Below are several different types of Advanced Directives. Check out this website for state-specific downloadable forms and more information.
Durable Power of Attorney – This document appoints another person or organization to make decisions on your behalf should you be unable to do so. A medical power of attorney specifically designates someone to make medical decisions.
Living Will – If you don't designate a specific person to make medical decisions for you, a Living Will outlines specific medical treatments or life sustaining measures that you desire should you be unable to actually make the decision.
Do Not Resuscitate Order – Most young, healthy people do not opt for this choice, however, if you do not wish to be resuscitated if your heart stops or you stop breathing, this is the document to sign. Don't worry, emergency medical personnel will always (in the absence of a DNR order) do everything in their power to resuscitate a person in an emergency…no signed documents needed for that!
Taking the First Step
Of all the things on your list, the task of creating a medical binder may seem overwhelming or time consuming. I encourage you to start small to make the task easier. If you don't have time to compile and organize everything, start by designating a box or file for holding the info you have on hand or utilize folders if you don't have time to punch holes in all the papers. If a computer program or App works better for you, go with that! The most important thing is that you get a handle on the information that matters most to the health of your family…I hope this helps!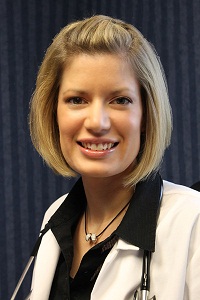 Renae Wortz is a Certified Adult Nurse Practitioner who currently works in a busy Family Practice Clinic. To learn more about what a Nurse Practitioner is and does click here. This article is intended for informational purposes only, it is not meant to diagnose or treat any illness. If you have any questions about your health, please contact your health care provider.