We want to provide ideas, inspiration, and information for moms everywhere as we look at the world around us through MomColoredGlasses...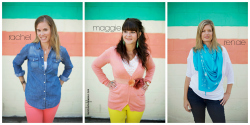 Popular Posts
Be Inspired
Not Found
Sorry, but you are looking for something that isn't here.
Be Whole
Not Found
Sorry, but you are looking for something that isn't here.
Be Informed
Not Found
Sorry, but you are looking for something that isn't here.
I really think feet are pretty disgusting.  They're not cute or sexy and should never be examined up-close unless you have a medical problem or something. But, even though I think feet are gross, I respect them, I think they should be taken care of and perhaps even decorated a little bit….with nail polish. When my pursuit for more natural beauty products began I never thought I would find an alternative to the standard nail polish whose fumes nail technicians must protect themselves against with gas masks.
Not long ago I learned about the toxic trio – toluene, formaldehyde and dibutyl phthalate (DBP) – which historically have been common nail polish ingredients and have the potential to harm your body with frequent use. (google it, you'll find a ton of information out there!) Thankfully, a lot of nail polish companies have cleaned up their act and I've been searching around for one that goes the extra mile….and I found acquarella
!
Acquarella is water-based, non-flammable and odor-free. According to the website it does NOT contain:
Formaldehyde or Formaldehyde like derivatives
Toluene, Ketones or any petrochemical solvents
Dibutyl Phthalate (DBP) or other phthalates
Polyurethanes or Polyurethane film-formers
Parabens or Camphor
Mercury, Lead, FD&C or Coal Tar (Lake) products in our colors
Gluten or wheat by-products
Any aromatic hydrocarbons.
This seemed like a great choice so I decided to try it. There are a few things that I don't like about it.  First, it's expensive. About  $16.00 a bottle which is a lot. However, I had some mad money hanging around and my nail polish lasts for a really really long time. Second, you do need a special polish remover to take it off (which is actually okay as it's non-toxic also) and your nails need a little bit of prep before you start painting. I got the buffer kit
and the remover
also on Amazon.com.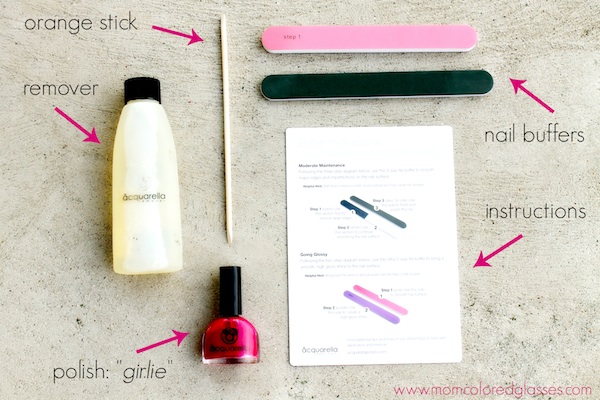 Despite the negatives, I really like this nail polish! The nail prep is really quite easy and quick, a few strokes on each nail with three buffer sides going from rough to smooth. I rarely use nail polish on my fingernails but I used the buffer on them which creates an incredible smooth shiny surface. The polish remover is wonderfully non-stinky and the nail polish itself has absolutely no odor (so now I can paint my toenails on the passenger side dash while we're on long car trips without causing everyone in the car to gag.) Best of all, it lasts as long as the other more standard nail polishes in my medicine cabinet. In the picture below, the polish had been on my toes for at least 6 days….I know, I will never model my feet again…. 😉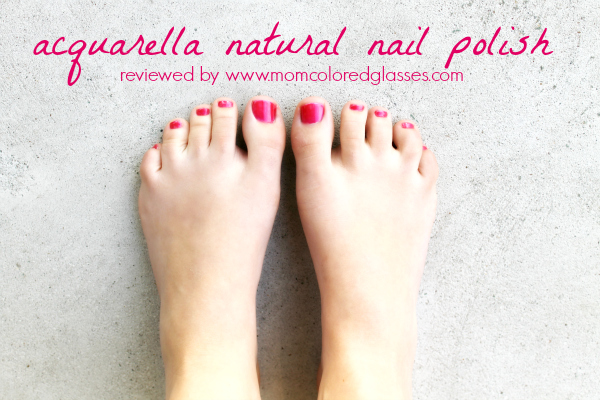 I was not compensated in any way for this review and all opinions are my own.