We want to provide ideas, inspiration, and information for moms everywhere as we look at the world around us through MomColoredGlasses...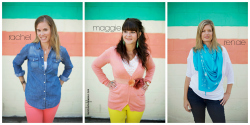 Popular Posts
Be Inspired
Not Found
Sorry, but you are looking for something that isn't here.
Be Whole
Not Found
Sorry, but you are looking for something that isn't here.
Be Informed
Not Found
Sorry, but you are looking for something that isn't here.
Since I'm still loving my DIY laundry detergent, I started looking into dishwasher soap a few months back.  I love this recipe from 4 Pears!  It's simple, natural, and cost efficient.  And I love that I "made it myself".
To make your own, you will need:
Borax

Arm & Hammer Super Washing Soda  (must be washing soda, not baking soda)
Lemi Shine
Kosher Salt
A pretty container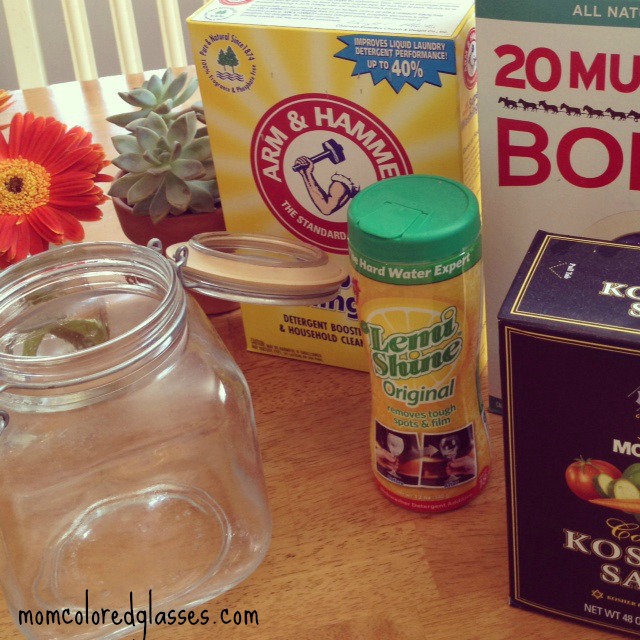 Combine:
1 c. Borax
1 c. Washing Soda
1/2 c. Kosher Salt
1/2 c. Lemi Shine
Mix all the ingredients together and pour into container.  Leave the container uncovered for a day and stir a few times.  This is will reduce clumping.
After a day, cover the soap and store.  I wrote the recipe out on a sticky note so I wouldn't have to keep looking it up.
To use, fill your dishwasher soap pocket with powder (it's about 1.5 tablespoons for mine) and fill the rinse pocket with white vinegar.  My dishes came out sparkling with no filmy residue.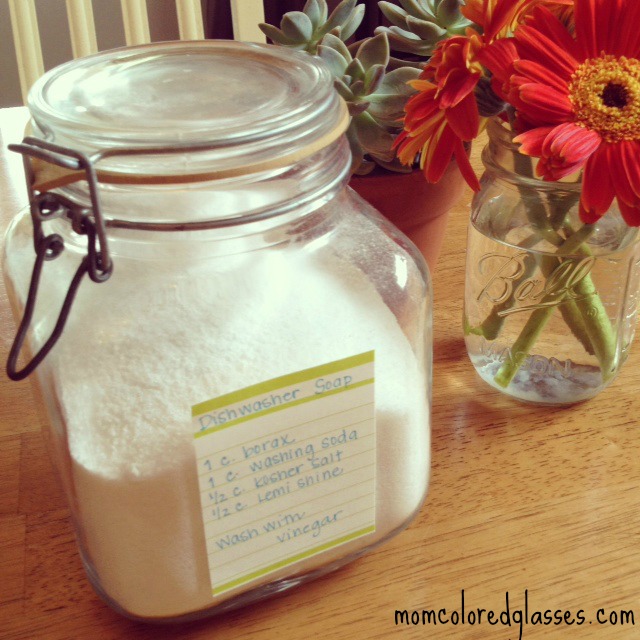 Okay, so where can you find these ingredients and how much will this cost you?
I found all my supplies at the local large grocer.  Smaller suppliers may have 1 or 2 of the ingredients, so you may have to go to a few different places and search around.  All supplies were found in the laundry/dishwasher cleaner aisle.
The prices were as follows: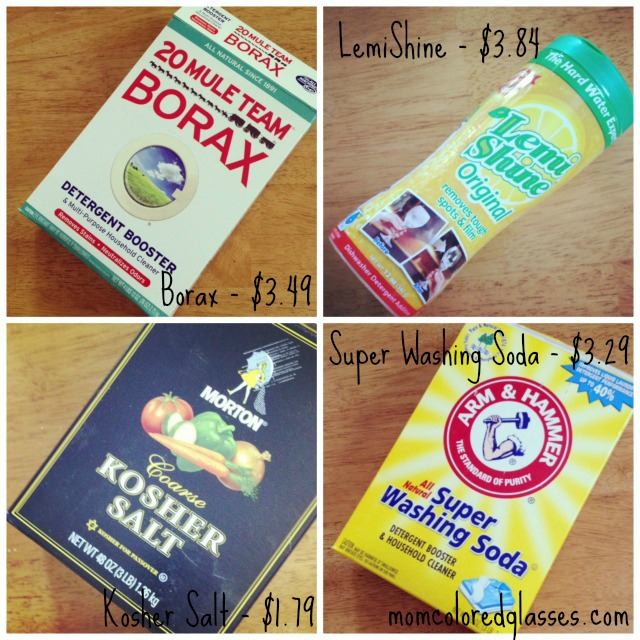 So for 3 batches, I paid $12.41.  The Lemi Shine was completely used up by this recipe, but I have plenty of Borax, Washing Soda, and Salt left over for at least 6 more batches.  For an additional 2 Lemi-Shines (7.68), my supplies will cost a total of about 20 dollars for 9 batches.
So let's do some math: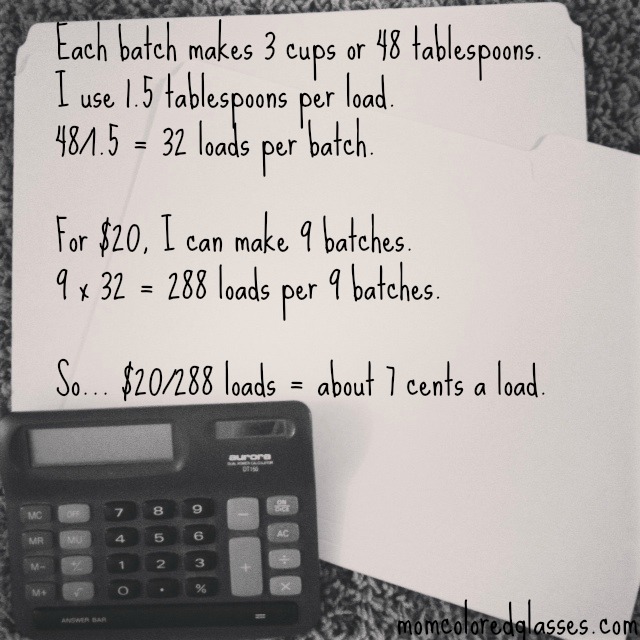 Compared to Cascade's ActionPacs at 22 cents a load and Finish's dish soap powder at 10 cents a load, this is a great alternative (although, I know there's a lot of great deals out there to be found!)  But how many bargains can you find that proudly claim, "I made it myself!"?