We want to provide ideas, inspiration, and information for moms everywhere as we look at the world around us through MomColoredGlasses...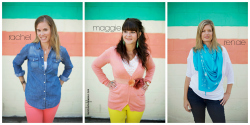 Popular Posts
Be Inspired
Not Found
Sorry, but you are looking for something that isn't here.
Be Whole
Not Found
Sorry, but you are looking for something that isn't here.
Be Informed
Not Found
Sorry, but you are looking for something that isn't here.
Okay folks, summer is not quite over but whether we like it or not, it is time to gear up for a brand new school year! I try to use my dollars in a responsible and eco-conscious way but it does take a little bit of effort to find products that are earth (and budget!) friendly. Here are a few of my top picks….luckily "being green" is pretty trendy these days so most of these products can be found in the usual stores or at one of the major online retailers. Happy Shopping!

1. Super cute notebooks, binders and organization supplies by green room, sold exclusively at Target!

2. A new take on the traditional composition book, 100% recycled from Earthwise.
3. GreenGirl recycled notebooks
 are American-made from 100% recycled materials (30% post-consumer) and 98% of scrap materials from notebook production are recycled. Very colorful with an eco-friendly message on the front covers.
4. Wow, if you want an environmentally friendly option check out New Leaf Notebook
s! They are made from 100% recycled paper 100% post-consumer content, covers are made from recycled milk cartons and the paper is certified by the forest stewardship council. They come in a variety of designs and colors and also carry pocket folders
 in artsy designs.
5. ReBinder
 is made from sturdy recycled corrugated cardboard and can be thrown back in the recycle bin when the school year is over!
6. Stay organized with these colorful Wilson Jones recycled file folders
. (Sometimes the Kraft paper brown often found in recycled products can get a little boring.)
7. Environotes college ruled filler paper
 is 100% recycled and printed with a soy-based ink.
8. Printworks recycled multipurpose paper
 is 100% recycled paper made in the USA from recycled food and beverage containers. Quality guaranteed in all brands of laser and inkjet printers.
9. Another option, Ecology filler paper
 is 100% recycled 40% post-consumer; comes in college or wide-ruled in white or brown.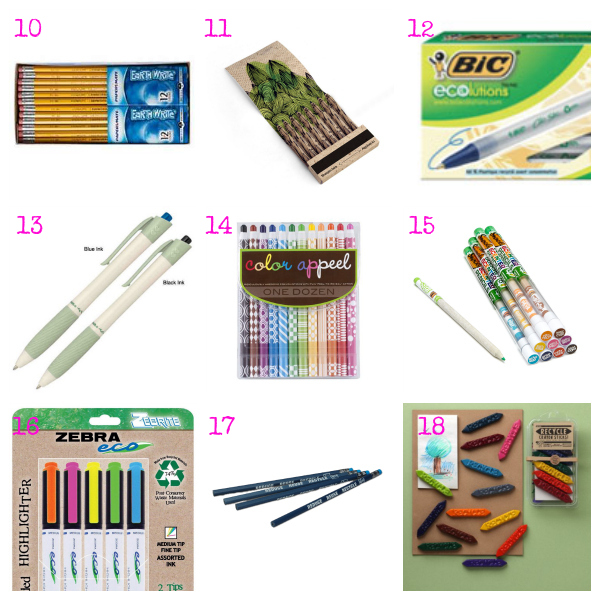 10. Paper Mate earthwrite recycled pencils
 are made from 100% pre-consumer waste materials, #2 lead and look like every other pencil out there (which is sometimes important).
11. These aren't too practical but Kikkerland Tree Friendly Pencils
 would be a great back-to-school gift for your kid: a set of 8 3-inch recycled pencils in a matchbook case with a sandpaper sharpening strip. Adorable!
12. BIC Ecolutions
, super cheap, super long-lasting….everyone's favorite pen is now made from 74% recycled material.
13. A Biodegradable pen? Yep! Paper Mate Earth Write
 pens are made from corn and are biodegradable in soil after 1 year.
14. Non-toxic Color Appeel Crayon Sticks
 never need to be sharpened, just peel the paper away and store in the reusable bag when your done!
15. Something special for your little student, these gourmet-scented colored pencils, or Smencils
, keep their delicious scent for 2 years and are made from recycled newspapers. My FAVORITE item in this list!!
16. These Zebra Eco Highlighters
 are made from 74% post consumer waste. Zebra also has a wide selection of eco-friendly ballpoint pens, gel pens and retractable pencils.
17. Greenline paper company has #2 pencils made from recycled denim and recycled old money. That's one weird (but cool) way to save trees!
18. Crazy Crayons "Recycle" Crayon Sticks
 are made from 100% recycled crayons from the National Crayon Recycle Program. They also carry crayon shapes. (check out the recycling program website….a great way to get kids involved in recycling!)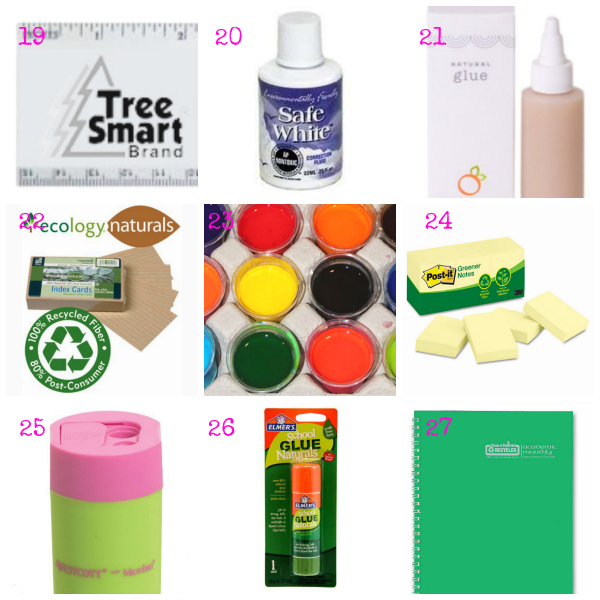 19. Treesmart has a wide and affordable selection of recycled pencils, colored pencils and recycled plastic rulers. Great for teachers too as you can buy in bulk sets.
20. No odor, no solvents, ozone safe, non-toxic….I haven't tried this Safe White correction fluid but am impressed it's out there.
21. Worried about your kid eating it? Get this natural glue by Clementine
, it is non-toxic and uses recycled packaging.
22. 100% recycled notecards for your studious high schooler from ecology naturals.
23. All natural watercolor paints from an adorable Etsy shop, NaturalPlaybyNicholl. She's got other natural playthings in her shop too….natural playdough, waldorf-style dolls….love it!
24. Post-it Greener Notes
 are made from 100% recycled paper with a plant-based adhesive. Who knew?
25. Super cute manual pencil and crayon sharpener made from recycled plastic by Kleenearth .
26. Elmer's School Glue Natural glue sticks are made from 88% plant-based materials and use recycled packaging! It's nice to know that big brands are jumping on the green bandwagon!
27. A planner that is green in more ways than one, check out this recycled academic calendar by House of Doolittle
. (more colors available)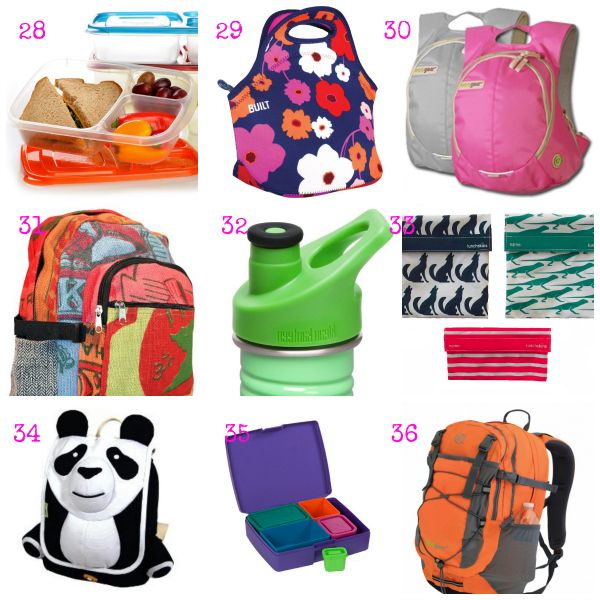 28. An easy way to reduce plastic baggie use and simplify lunch prep by Easy Lunchboxes
. Easy-to-open lid (but not leak-proof) and can fit inside most lunchboxes.
29. The BUILT Lunch Tote
 is made from durable neoprene, is machine washable and is colorful without being too kid-dish so it will grow with your child. (I've got one and I love it!) Many different colors and designs to choose from.
30. Cute and stylish for a pre-teen girl this ecogear ocean backpack is made from recycled plastic bottles.
31. These durable hemp and jute backpacks
 are made from old recycled rice sacks so no two are alike! A great statement piece!
32. Kleen Kanteen
 is the leader in stainless steel reusable water bottles. They come in many colors and sizes….no plastic! no toxins! will last forever!
33. Ditch those plastic baggies and check out LunchSkins Reusable Sandwich and Snack Bags .
34. And one for the preschool set! The EcoZoo panda backpack
 (other animals available) is small but fits a full-size folder and is made from natural cotton, natural dyes and has recycled plastic components.
35. These awesome reusable boxes by Laptop Lunches
 are perfect for a leak-proof bento-style school lunch.
36. This ecogear grizzly backpack
 is sporty, spacious and good for the hallways and the trails. Also made from recycled plastic bottles.
**I was not compensated to review any of these products and all opinions are my own**