We want to provide ideas, inspiration, and information for moms everywhere as we look at the world around us through MomColoredGlasses...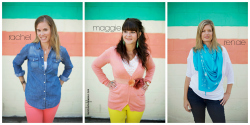 Popular Posts
Be Inspired
Not Found
Sorry, but you are looking for something that isn't here.
Be Whole
Not Found
Sorry, but you are looking for something that isn't here.
Be Informed
Not Found
Sorry, but you are looking for something that isn't here.
Each new year I participate in the ritual of making resolutions.  By February I have all but forgotten them.  Perhaps my resolutions are not specific enough – exercise more and eat healthy are as general as they come.  This year I was determined to do better – I made a resolution to set tangible resolutions!  One resolution was to reduce the amount of paper and plastic my family used, starting with the dinner table.  And for quite awhile, I have had some ideas on how to start, but had never gotten around to them.
One area I wanted to change was our use of paper napkins.  When I was first married I never bought napkins, we just used paper towels.  As we settled down, and cooked more meals at home, I started buying paper napkins.  And most recently, I have been buying recycled paper napkins as an attempt to ease my conscience.  However, after exchanging some messages with a friend who mentioned she used cloth napkins, I began to wonder if there wasn't an even greener way.  In one sense, cloth napkins sounded fancy and a bit time consuming considering all the laundry and folding.  Yet I was still determined to make a change for the better and I headed to the store to purchase some cloth napkins.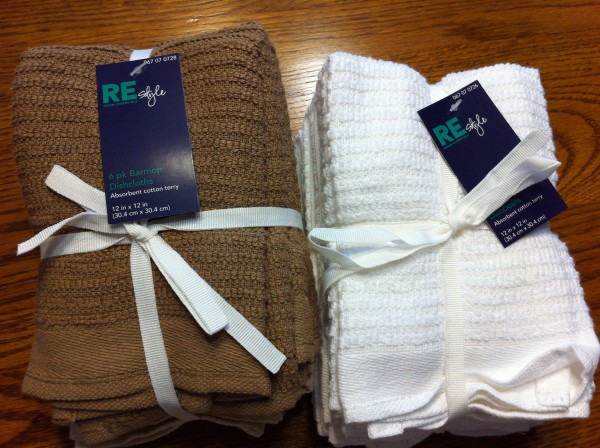 Now, I have some sets of formal cloth napkins that I rarely use, even for fancy occasions such as Thanksgiving dinner.  I definitely didn't want more of those.  Nope, I wanted something we could use everyday, that didn't need to be pressed, something even my 3 year old could use.  So I bought dishcloths – lots and lots of dishcloths!  Since I've been using them, I'm convinced that they are the perfect option for a busy family– absorbent, soft, easy to wash, inexpensive, and easy to find at most retail stores.  They are also versatile as you can find them in various colors and patterns to match just about any kitchen décor and even coordinate them with the holidays.  I found two sets that have proven effective, Target's RE Style brand of Barmop Dishcloths and Kohl's The Big One brand pack of 10 dishcloths.  Both brands are reasonably priced and made of 100% cotton.  I first purchased 12 cloths, but needed to buy a few more in order not to run out in a day and a half of eating at home.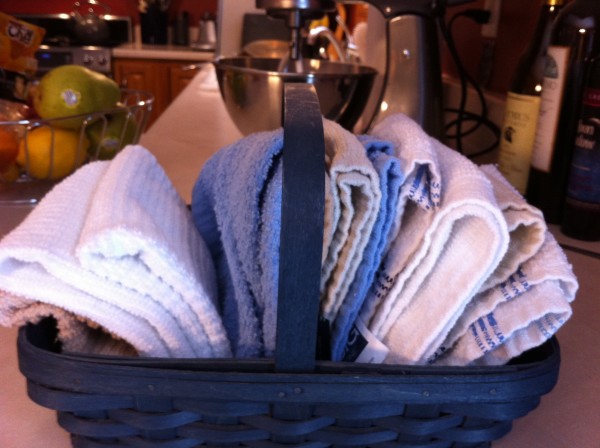 My initial concern about additional laundry hasn't proved a problem, as I end up washing the kitchen linens at least once a week anyway, usually more often, and I throw the dishcloths in with them.  Stains have come out quite well and I intend to "demote" the cloths that become heavily stained to cleaning rags as time goes by.  Another bonus I've found with the cloth napkins is that my daughter likes to fold them and then stash them in our napkin basket.  She does a nice job and is quite proud of herself; it's an easy way for her to participate in daily family life.  My husband has even embraced the new napkins, finding fun ways to fold them as he helps my daughter set the table while I prepare dinner.  Though it's a small change, it's a good feeling knowing we are eliminating some of our waste, and over time making an impact – not the least of which is my young daughter who might be amazed someday that there were ever disposable napkins!