We want to provide ideas, inspiration, and information for moms everywhere as we look at the world around us through MomColoredGlasses...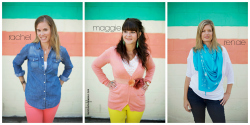 Popular Posts
Be Inspired
Not Found
Sorry, but you are looking for something that isn't here.
Be Whole
Not Found
Sorry, but you are looking for something that isn't here.
Be Informed
Not Found
Sorry, but you are looking for something that isn't here.
Every woman has a secret stash of favorite beauty products. In my case, some products come-and-go, replaced by new formulas promising to beautify better than the last one. Others have remained in my bathroom cabinet for years and will probably stay there forever. Despite my tendencies toward brand loyalty, I have recently become much more vigilant about the chemical composition of all the beauty products that I know and love after reading an article on the "Dirty Dozen". Research has found this handful of toxic chemicals, commonly found in make-up and other body care products, to have potentially harmful effects – "carcinogenic", "endocrine disruptor" and "neuro-toxin" are just a few scary descriptors when reading about the "Dirty Dozen".
I don't claim to be a scientific expert on the cosmetic industry, but I certainly feel much more comfortable using a product that contains a known natural substance instead of some long un-pronounceable mystery chemical. Chemicals listed in the "Dirty Dozen" include: BHA/BHT, coal tar dyes, DEA-related ingredients, dibutyl phthalate, formaldehyde-releasing preservatives, parabens, parfum, PEG compounds, petrolatum, siloxanes, sodium laureth sulfate and triclosan.
For more in-depth information about the "Dirty Dozen" click here. Want to know the "dirty" score of your favorite beauty products? Type them into this website to find out!
Since learning about the "Dirty Dozen" I've been on a mission to find natural products that work just as good or better than the artificial, chemical-laden products that I've been using forever. This process is tricky! Here's why:
Natural sometimes means sacrificing quality. While many new companies and brands have emerged, sometimes they just aren't as good. For example, I have yet to find a natural AND effective hairspray, and I've tried a few!
Natural doesn't mean you can't get a bad reaction to it! One day I went to Whole Foods and bought an entire line of natural facial products containing earthy, organic ingredients like sea kelp and licorice root, and of course went home to try them right away. Well, let's just say I'm glad Whole Foods has such a great return policy! If you have sensitive skin (like me!) even natural herbs and oils can cause burning, redness and severe allergic reactions.
They often cost more. When it comes to my son, the extra cost to ensure he isn't being exposed to potential toxins is worth it! When it comes to me…sometimes I'm not so quick to hand over the extra cash. However, you can often find these products on sale, especially online, and can also get bulk discounts at stores like Whole Foods. If you can't afford to go 100% natural, even just replacing a few products reduces your overall exposure.
You have to look at the ingredient list! Just because the product has the term "natural" on the label and is packaged in recycled-looking paperboard doesn't really mean anything. If it says "organic" has it been approved by the USDA or other regulating body? The only way to know for sure is by doing your research!
…or better yet, here are a few of my favorite tried-and-true natural beauty products…I've done the work for you!

Badger Cocoa Butter Lip Balm – Sweet Orange
As a chronic chapped-lip sufferer, I consider myself to be a connoisseur of lip-moisturizing products. This humble tube of lip balm by Badger blows all those toxic petroleum-based products out of the water! Good-bye Carmex, Hello Badger Cocoa Butter Lip Balm! If you are afraid you will be compromising quality because you are using a natural product, be reassured…this is the best lip balm of ALL TIME! The balm is creamy, smells yummy and effectively treats dry, chapped lips better than any other natural or non-natural product I have ever used. The top three ingredients are olive oil, cocoa butter (which is fair trade certified) and beeswax, and ALL ingredients are USDA certified organic. The only drawback is the price – $5.00/tube on the Badger website, but I have found this on sale at natural food stores. Also, you get more product (0.25 oz) than the average tube of ChapStick (0.15 oz), so it lasts quite awhile. I love this lip balm and it's nice to use the same product on my baby and feel good about it (he got my chapped lips unfortunately). If you try any product I recommend in this post, go with this…I stand by it 100%!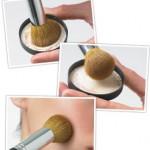 Bare Minerals Make-Up and Face Care Products
When I began searching for natural make-up options a few years ago, I quickly got discouraged. Many of the "natural" brands just did not meet the quality standards I was looking for….there's a reason why huge companies like Lancome and Clinique are so profitable, right? I tried a few different products here and there which either made me feel like I had a layer of cake batter on my face or didn't bode well for my sensitive, dry and oily skin. Then, I discovered Bare Minerals. This mineral make up supposedly isn't absorbed into your skin and is composed of "safe" mineral substances anyway. I was afraid it would make my skin look powdery, but it's actually very natural-looking and feels light on the skin, like you're barely wearing any make up. Bare Minerals products are comparable in price or actually cheaper (because they last so long!) to department store brands and have worked great for me – except during the coldest months of the winter when the foundation makes my skin look more dry. If you really need something cheaper, Neutrogena (I have tried this and it works pretty good) and a few other less expensive brands have come out with their own versions of mineral make up. I've also tried several of the other face care products (cleansers, moisturizers) from Bare Esscentuals which are also natural and effective….but quite pricey. If you want to try Bare Minerals they have a pretty inexpensive starter kit that even comes with a DVD showing you how to use the products.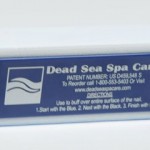 Dead Sea Spa Care Nail Buffer
Yes, I'll admit it, I got "roped-in" by one of those kiosk people selling stuff in the middle of the mall. The saleswoman stopped me with a big smile while pulling out this magical nail buffer. After a quick demonstration – rubbing each of its four sides for 15 seconds on my nail – I looked down at my "buffed" thumbnail and was shocked – it looked shiny and smooth, like it was just painted with a coat of clear nail polish! My fingernails are usually short and plain-jane…all those mask-wearing nail technicians have (mostly) deterred me from the toxic chemicals in nail polish…so this nail buffer was a great find. Now I can have a more "polished" look without the actual polish! By the way, one nail buffer only costs $9.95 on their website….not bad if you've checked out the cost of salon-quality nail polish recently.

LaVanila Fragrance – Pure Vanilla
I have a love/hate relationship with perfume. I love smelling pretty but I hate getting watery eyes and headaches when I use it. My chemical-sensitivity-free solution was to stop using it altogether…until I discovered LaVanilla Fragrances. Even though LaVanilla promised to be "natural", I was still suspicious that my eyes would get red and irritated. Well, obviously they didn't! All of the LaVanilla fragrances are clean and natural-smelling; I particularly like the Pure Vanilla fragrance, but all of them smell great and are long-lasting. They even have a purse-friendly, roller-ball size which is great if you're at a nice restaurant and just got baby spit-up on your shirt. The LaVanilla website claims their fragrances are free of petrochemicals, phthalates, propylene glycol, mineral oils, silicone, synthetic dyes, sulfates or parabens. Gone are the days of Electric Youth…now I use LaVanila.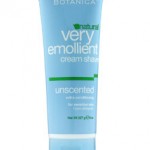 Alba Botanica Unscented Cream Shave
Anyone else wear long pants in the summer because you get redness and irritation from shaving? As you probably noticed, I've got sensitive skin, so once again, I've tried almost every shaving cream out there. This natural, unscented product is truly a cream not a foam, but provides an excellent shave barrier and works just as good or better than any other product I've tried….and no irritation! If you aren't the sensitive type, Alba Botanica has several fragranced shaving cream options, all of which contain many organic ingredients and are free of "The Dirty Dozen". Cute sundress? No problem!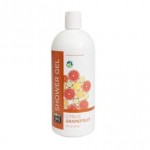 Whole Foods 365 Shower Gel
Whole Foods Market has an entire line of its own store-brand products – including bath and beauty items. I particularly like the 365 brand shower gel. It boasts pleasant natural fragrances such as lavender and citrus grapefruit, is free of sulfates and other questionable chemicals and is sensitive-skin friendly (they even have an unscented product if you need it). It isn't quite as thick as other shower gels but lathers nicely for a sulfate-free product and is non-drying, even in the middle of the winter. The best part about this natural body wash? It is VERY affordable. I bought a large 32 oz. bottle of shower gel for less than $5.00 which is much cheaper than the Aveeno product (Aveeno products are full of "Dirty Dozen" chemicals!) I used to buy. Plus, Whole Foods brand products frequently go on sale and you can even find coupons in the store flyer. Sadly, I don't have a Whole Foods in my small town, but whenever I'm near a store I stock up!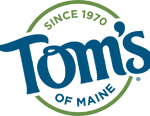 Tom's of Maine Toothpaste
For some reason, I used to be freaked-out by natural toothpaste. I have chosen Crest since that first dental cleaning as a child when they let you pick out a sample-size toothpaste from the big basket.  But, since I was trying to switch to more natural products, I be-grudgingly picked up a tube of Tom's of Maine toothpaste and gave it a try. Tom's toothpaste effectively cleans your teeth with cavity-fighting flouride and natural silica and is also free from artificial colors, flavors, fragrances or preservatives. It is different than Crest, but not in a bad way. The minty flavors are nice, the consistency is good and according to my last few cavity-free dental visits, it works just as good as Crest! My husband and I love this and have been using it for several years now! The price for Tom's is higher, but you can find deals on-line, and they sell it at many big name discount stores like Wal-mart.

Aveda Rosemary Mint Shampoo and Conditioner
Every woman has a unique head of hair with different needs when it comes to shampoo and other hair care products. Unfortunately for me, cheap drugstore-type shampoo makes my fine, thick, fly-away hair look limp and frizzy (and I've tried them – Pantene, Herbal Essence, Garnier Fructis…none of them live up to their promises!). Making the switch to natural shampoo seemed impossible, and I've yet to try many of the products out there. Surprisingly, Aveda, which is marketed to be uber-natural, doesn't actually have a great track record when it comes to their ingredient list. However, they have recently removed many "Dirty Dozen" ingredients, such as parabens, from their products. I use Aveda Rosemary Mint Shampoo/Conditioner with good results, especially in the summer when it's more humid. It has an invigorating minty fragrance and compared with other very-pricey Aveda products, this shampoo/conditioner set is much more affordable.
…and one extra for the kiddos!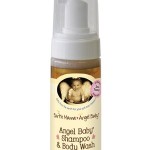 Angel Baby Shampoo and Body Wash
While I was pregnant, I found some of this shampoo/body wash on sale and bought a few bottles. What a great purchase! This gentle, naturally-fragranced, castile-soap wash has only nine ingredients (including worry-free olive oil, vanilla bean extract and shea butter), seven of which are certified organic. It comes in a foaming pump dispenser which means it lasts forever-One bottle lasted my son an entire year of baths! Unlike many common brands (Johnson & Johnson has a long list of scary ingredients!), this wash is not tear-free, which did worry me at first. However, with a little extra care around the eyes this has never been a problem. I love that I'm able to bathe my son with such a safe, non-toxic product that does the job well. I love this company's philosophy and they really have a beautiful, informative website. Earth Mama Angel Baby also sells a variety of products for pregnant/post-partum/breastfeeding moms which are worth checking out!  (I used Earth Mama Natural Nipple Butter while I was breastfeeding, which is also a great product!)
Congratulations to Stephanie the winner of my Natural Beauty Product Giveaway! Stay tuned for more great giveaways in the future!
This is my not-so-green life, it's getting greener and I want to share it with you.