We want to provide ideas, inspiration, and information for moms everywhere as we look at the world around us through MomColoredGlasses...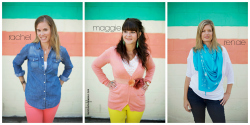 Popular Posts
Be Inspired
Not Found
Sorry, but you are looking for something that isn't here.
Be Whole
Not Found
Sorry, but you are looking for something that isn't here.
Be Informed
Not Found
Sorry, but you are looking for something that isn't here.
Nothing spells romance….or at least cozy comfort on a frigid winter night….like a candle. I've been wanting to try my hand at making my own beeswax candles for a long time and now I've finally done it!
Beeswax is an excellent material for making candles for a few compelling reasons:
Beeswax is all-natural and renewable making it an environmentally-friendly choice for candle-making. Paraffin wax on the other hand is a by-product from the crude oil refining process. Paraffin wax is the most common type of wax used in candle-making.
Beeswax is clean-burning. Compared with other types of wax, beeswax produces very little soot, smoke and other potentially harmful chemicals found in synthetic waxes.
Beeswax has a mild, natural honey scent and is safe for most people who suffer from allergies, asthma and other chemical sensitivities. In fact, some claim that burning beeswax releases negative ions that help to clean the air.
Beeswax burns longer than other forms of candle-wax.
Beeswax candles are easy to make! This would be a great craft for a school-aged kid and provides the opportunity to discuss several teaching points…where beeswax comes from, the life cycle of bees, the history of candle-making and even fire safety!
One of these days I will learn how to make molded beeswax candles but for my first candle-making endeavor, I chose to make rolled candles from all-natural beeswax sheets. To make it even easier, I bought a beeswax candle-making kit from Toadily Handmade at Amazon.com (see link to the right) with one of the gift cards I had hanging around….this couldn't be any easier!
I bought this kit for $32.99. It includes enough beeswax sheets to make 20 8-inch rolled candle tapers, 100% cotton wick and easy-to-follow instructions. I bought the natural-color beeswax sheets but it also comes in a multi-colored pack if you prefer more colorful candles. Candle making supplies (including beeswax sheets) can also usually be found at craft stores such as Michael's or Hobby Lobby.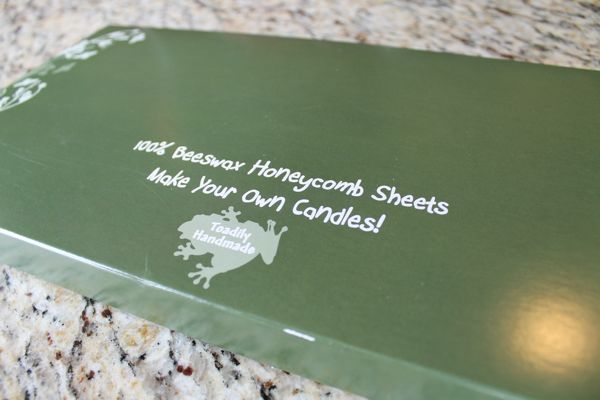 First cut the beeswax sheets to the desired size using a cutting board, utility knife and a ruler or straight-edge. My sheets ended up being 8 x 8 inches.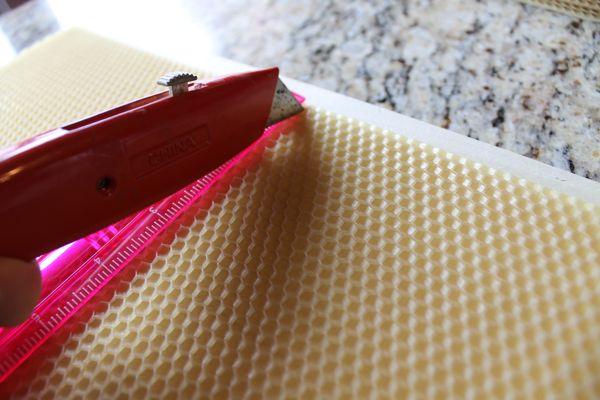 The cotton wick comes in a long strand that can be cut to size.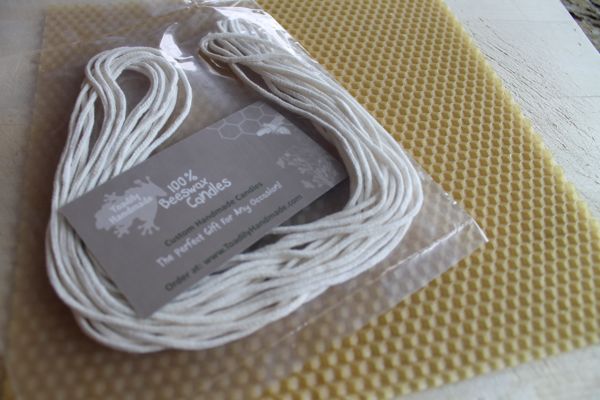 Cut the wick so it hangs over 1/2 inch beyond the width of the wax sheet.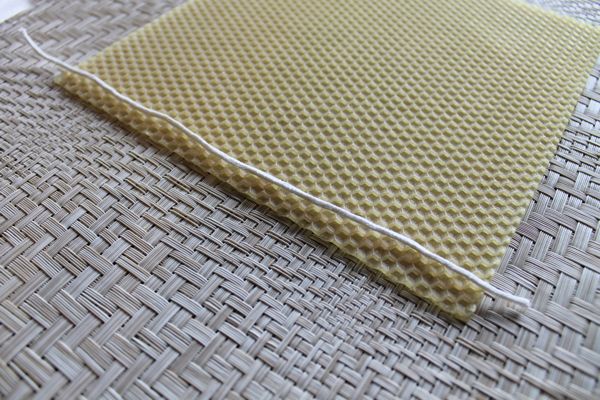 Roll 1/8 inch of the wax around the wick and press tightly to secure.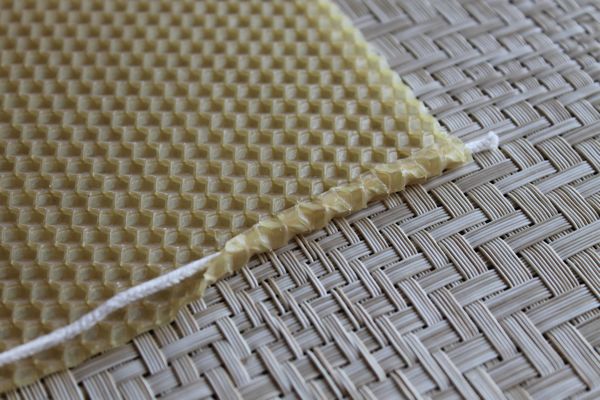 Continue to gently roll the wax sheet around the wick. Make sure the ends are even and you don't press too hard to avoid damaging the honeycomb pattern and creating a misshapen candle.
Press the edge firmly to the side of the candle to secure.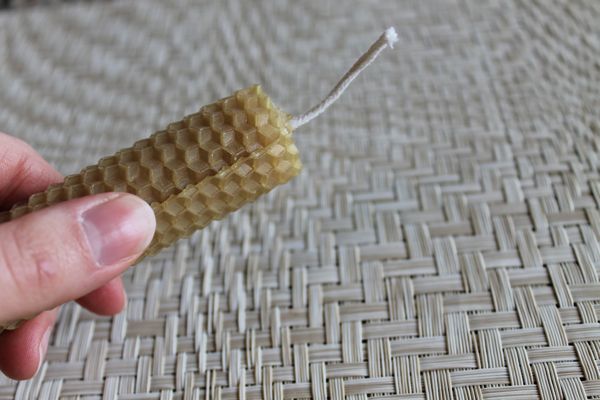 Trim the wick and….voila! You're done! It literally took me less than 10 minutes to make two candles…and I didn't really know what I was doing since I've never done it before.  So….dim the lights, break out a beeswax candle and make the delicious MCG Valentine's Day meal to celebrate this weekend if you haven't already.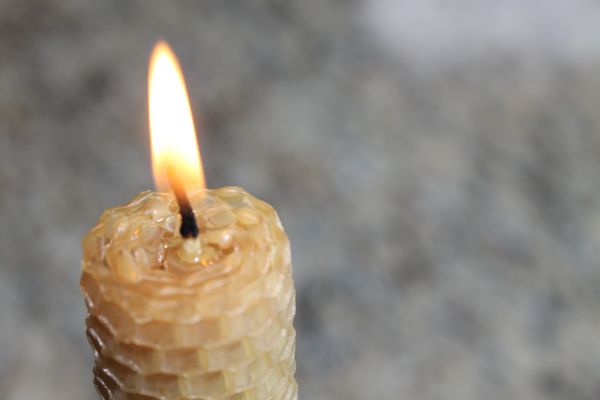 Or….I think a set of beeswax candles would make a special, handmade (and inexpensive!) gift for a mom, best friend or even  a bridal shower or wedding!  Just make a cute tag and tie the pair together with paper raffia. Don't they look like they took much more effort to make than they actually did?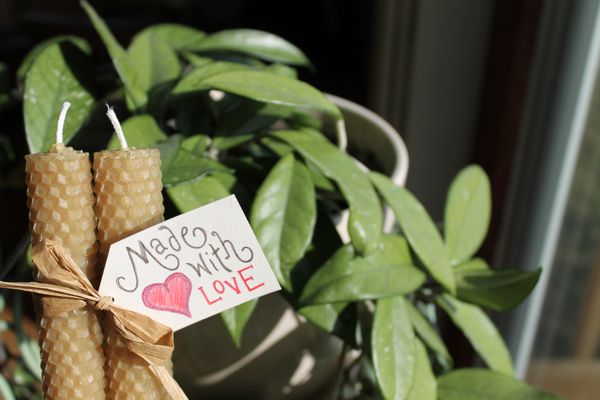 I stepped outside to bask in the fleeting sunshine of this February day…the snow is finally melting…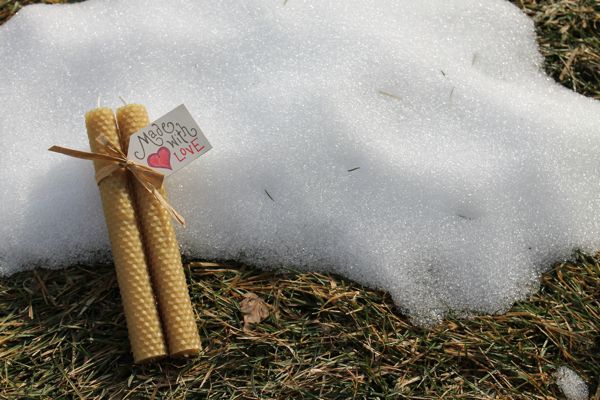 ….they even fit nicely into my vintage brass candlesticks….almost looks sunny enough for a picnic!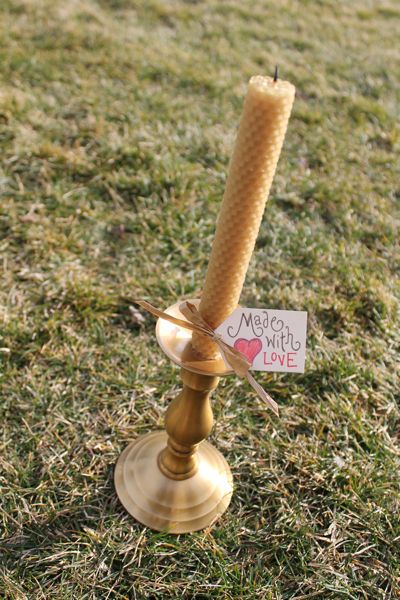 Happy Crafting!
Written by Renae Wortz