We want to provide ideas, inspiration, and information for moms everywhere as we look at the world around us through MomColoredGlasses...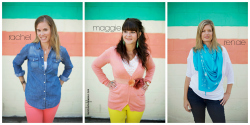 Popular Posts
Be Inspired
Not Found
Sorry, but you are looking for something that isn't here.
Be Whole
Not Found
Sorry, but you are looking for something that isn't here.
Be Informed
Not Found
Sorry, but you are looking for something that isn't here.
I've been pondering this idea for awhile now and today I finally did it…I put up a clothesline in my backyard! You may be saying to yourself,  "what is this crazy woman doing now?! a clothesline? we live in modern times, with modern appliances called clothes dryers!". I see your point, why would I bring a heavy basket of wet things all the way downstairs and out the back door to spend precious minutes of my life clipping damp linens to a clothesline? Well, there are actually a few great reasons to line-dry laundry…
Here they are!
It's GREEN
It SAVES MONEY
It's SAFE
It's GOOD FOR YOUR CLOTHES
The sunlight naturally bleaches white clothes and disinfects fabric.
Clothes last longer without being tumbled in a hot dryer.
It leaves your linens with a pleasant scent – without the potentially toxic chemicals found in many softener sheets.
It's FUN!
I truly can vouch for this one since…I just came in from hanging the first load of towels on my new clothesline! It was fun! And also peaceful as I stood in the yard soaking in the sun's rays while I pinned each towel to the line and watched them blow gently in the breeze. I also felt like I was channeling my inner pioneer-woman, braving life without modern appliances…and surviving!
Installation was simple for my clothesline. My husband drilled a simple metal hook into my obliging neighbor's fence and attached another metal apparatus to the line to improve it's strength, prevent fraying and keep the knot secure.
The other end is attached to my deck on this piece of hardware…easy to remove if I don't need it! (or I have VIPs coming to dinner…yeah, right) This set-up also makes it easy to pull the line taut and keep it staying put.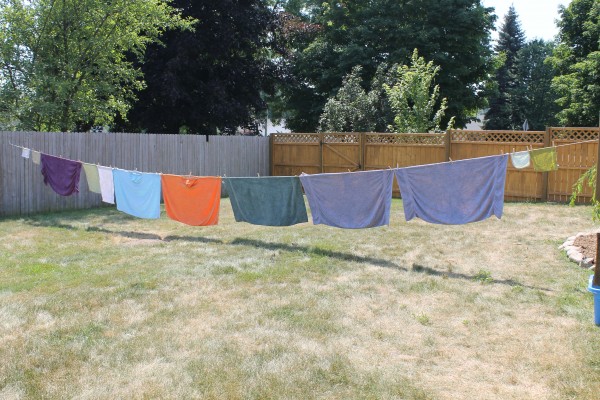 My first clothesline load: a collection of bleached-out, old (from college!) and kid hooded-towels hanging on the line. I thought about finding every pretty white thing I owned to hang on the line and sprinkling the lawn for a few days in order to create a more picturesque photo-op, but hey, this is more realistic….my white towels bit the dust, my son grew out of his adorable white onesies, no one wants to see my husband's pit-stained white undershirts fluttering around and watering my lawn is the opposite of being green, right? Actually, I think this looks quite beautiful!
Today was hot and sunny, so drying time for this load of laundry took less than an hour! It was still fun removing the towels from the line and folding them while my son ran around the yard playing with his ball. As you would expect, the towels aren't as soft as a tumble-dried load, but they definitely smell clean and fresh! I did add 1/2 cup of white vinegar (so many uses for vinegar!) to the fabric softener compartment in my washing machine to help soften them up, which helped. Hey, I'm not going to give up my clothes dryer completely (Michigan winters won't let me do that unfortunately) But I can help to save the earth with my clothesline during these steamy summer months – one laundry load at a time.
Interested in putting a clothesline in your backyard? It may not be as commonplace to line-dry clothes as it once was, but there are definitely a LOT of options out there! Installing a line can be as simple as a rope and two hooks (like mine), a fancy pulley unit or a fold-down wall-mount apparatus if you have limited space. I also have a wooden rack and pole for hanging nicer clothes to dry on hangers in my laundry room which is probably the simplest and non-weather-dependent option. However, most people (including myself)  just don't have the room to hang up sheets, towels or loads of t-shirts inside, making an outdoor line an excellent addition to your laundry routine! Want to learn more? Here are a few interesting and helpful links:
Project Laundry List – An organization devoted to the use of clotheslines! This website has great info, stats and even an energy/cost calculator if you want to know exactly how much money you will save by line-drying your clothes! It also has some great resources for people who are restricted from using outdoor clotheslines due to zoning laws and snooty homeowners associations.
Here's an adorable video at elaundry.com showing you how to properly hang clothes on the line.
The ClotheslineShop.com – Huge selection of outdoor and indoor clotheslines and accessories.
QualityClotheslines.net – An Australian company that makes a lot of unique fold-down and retractable lines.
This is my not-so-green life, it's getting greener and I want to share it with you.