We want to provide ideas, inspiration, and information for moms everywhere as we look at the world around us through MomColoredGlasses...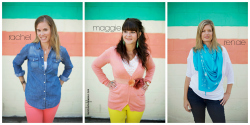 Popular Posts
Be Inspired
Not Found
Sorry, but you are looking for something that isn't here.
Be Whole
Not Found
Sorry, but you are looking for something that isn't here.
Be Informed
Not Found
Sorry, but you are looking for something that isn't here.
I love the SMELL of Christmas. There's something about the fragrance of pine needles, cookies baking, cocoa brewing and snow crunching that makes me feel warm and fuzzy and Christmas-ey.  I could raid the Yankee Candle store to artificially mimic the smells of Christmas in my house….OR….better yet…..how about I have a little crafty fun and fragrance my home naturally?
I remember making a similar version of these cut-out cinnamon "cookie" ornaments when I was a kid. I still love the smell of cinnamon and can't think of anything that smells more like Christmas!  I also sneaked two more DIY ornament ideas in the middle of this post, both of which are also natural and are great activities to do with your kids.
Cut-out Cinnamon "Cookie" Ornaments
2 cups of all-purpose flour
1 cup of salt
1/2 cup of ground cinnamon
1 teaspoon of cinnamon oil (you can find this in the baking section of the grocery store)
1 cup of water
Christmas cookie cutters
Ribbon (for ornament hanger)
Miscellaneous craft supplies (optional)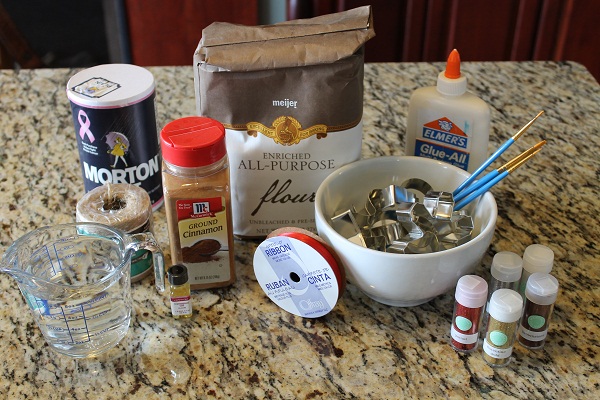 First, mix all the dry ingredients together with a spoon.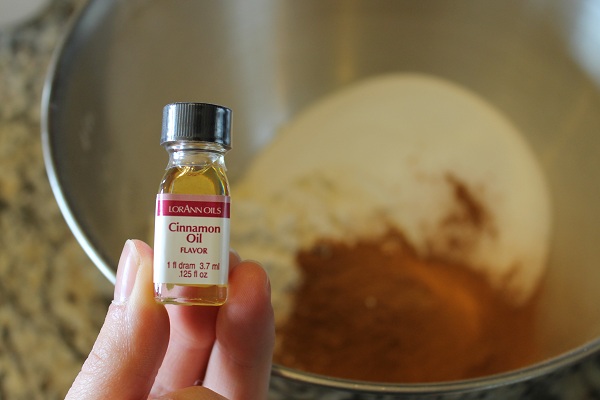 Add the cinnamon oil and then the water, pouring in a little at a time. You want it to be similar to the consistency of cut-out sugar cookie dough – well-formed, not crumbly but not too tacky to the touch. You will want to taste the dough because it smells so good, but TRUST ME! While it is non-toxic, it does not taste very good! Cover the bowl and refrigerate the dough for 1-2 hours.
Due to an especially crafty urge, a smattering of the Christmas spirit and the fact that my two-year-old was taking a lengthy snooze, I decided to create a few more ornaments while waiting for the dough to firm-up in the fridge.
I recently came across this idea on (none other than) Martha Stewart's website for making dried orange slice ornaments. Eureka! Natural and Yummy-Smelling!  All you do is slice up a few oranges into 1/4-inch rounds and bake them in a 175 degree oven for 4 hours. I sliced up a few and popped them in the oven. That was easy!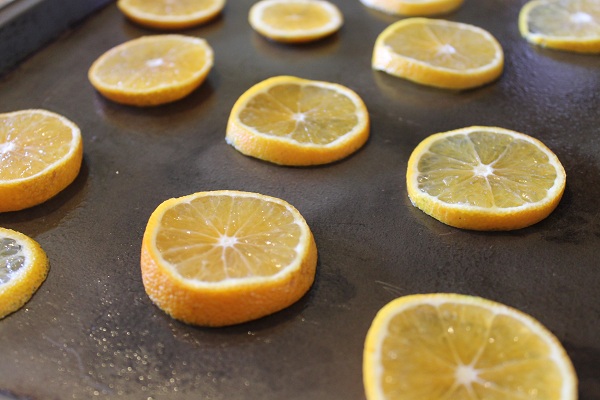 While looking for a snack (since I still had time to kill) I came upon this bag of fresh cranberries waiting to be made into delicious cranberry sauce for Thanksgiving dinner. Hmmmmm, maybe I can make an ornament with them…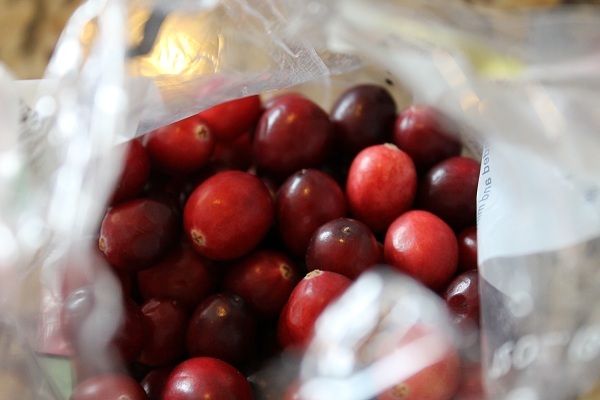 How about a cranberry wreath ornament! After searching for some wire in my messy craft supply closet, I cut a piece about 12 inches long and began threading cranberries onto the wire.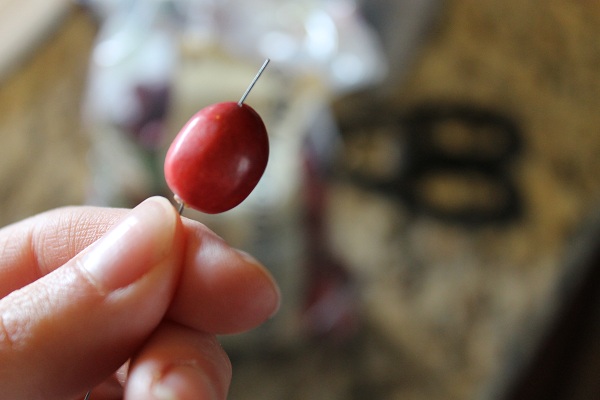 This was surprisingly easy!  In less than two minutes I filled the piece of wire with cranberries leaving 1 1/2 inch tails at either end. I then formed a circle with the wire, twisted the wire tails together to secure and added a bow and hanger. Ta-da!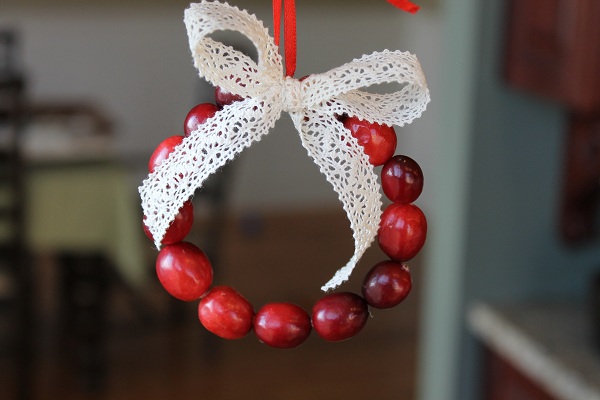 After an hour of crafting, kitchen-cleaning and snacking, I'm back to the cut-outs. Roll out the "cookie" dough with a rolling pin to about 1/4 inch thickness and then cut out Christmas shapes using the cookie cutters.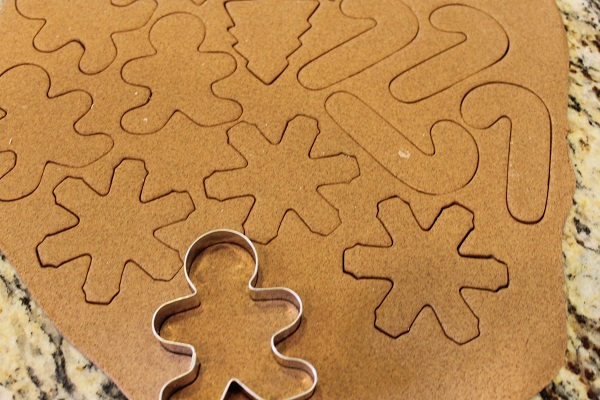 Now, poke a hole at the top of each "cookie" for adding a ribbon hanger. I used a cake decorating tip which worked great.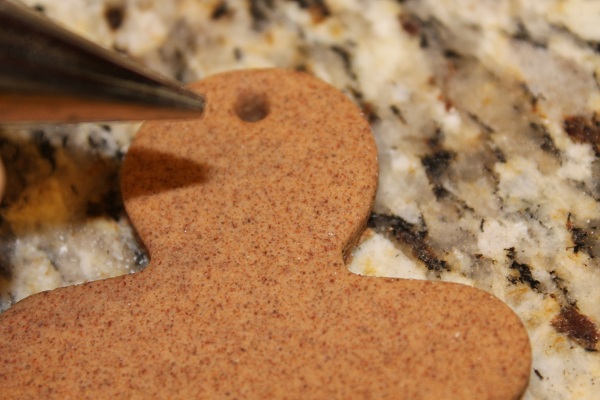 Bake the ornaments at 250 degrees for 1-2 hours, until they are firm to the touch.  After cooling completely, slip a ribbon through the ornament and hang it on your Christmas tree!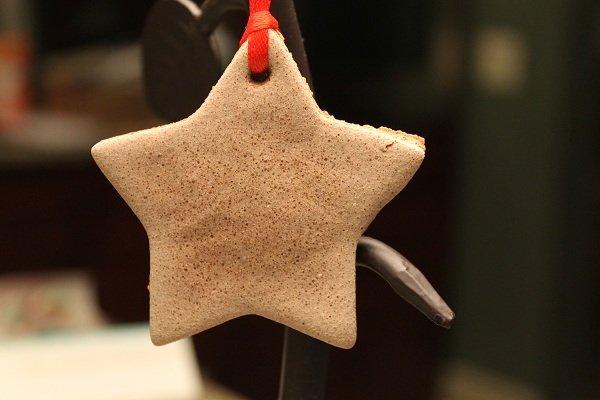 I'm picturing a fresh spruce tree, covered with cinnamon stars, citrus slices, cranberry wreaths, popcorn garlands and maybe some vintage Christmas postcards made into ornaments….hmmmm, and how about a burlap tree skirt? The perfect all natural and wonderfully fragranced Christmas tree! We haven't gotten our real Christmas tree yet, so I hung them from a small fake tree that was lurking in the basement to see how they looked.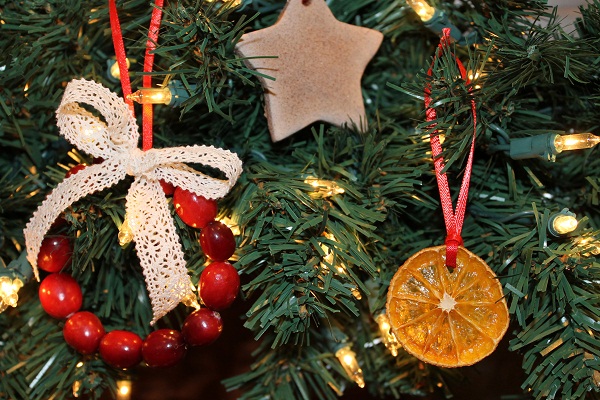 If you love the smell of cinnamon but like a more sparkly Christmas tree, you can always decorate the "cookies" with glitter. I tried my hand at a few using a paint brush for applying Elmer's glue to the face of the ornament. I started with a tree ornament….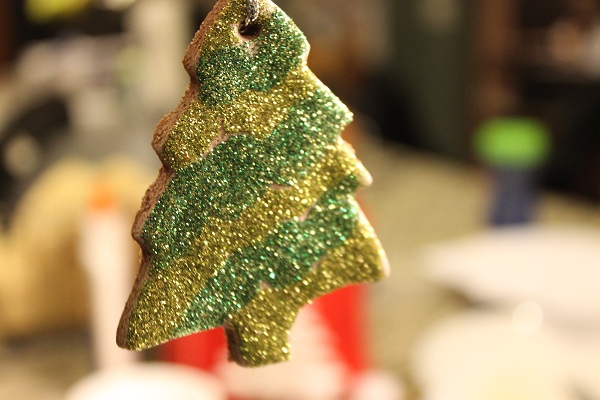 ….and then got a little carried away….I had trouble getting the lighting right for showing off these ornaments but I wanted to include a photo so you can see how creative and different each ornament can be.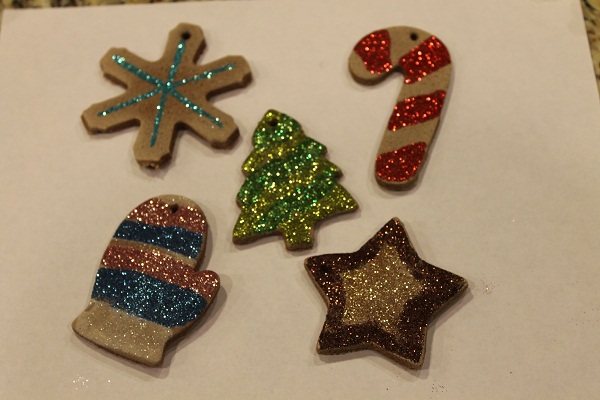 Or, if you want an even different look, you can paint the ornaments using acrylic paints.  The gingerbread man was the perfect choice for this option.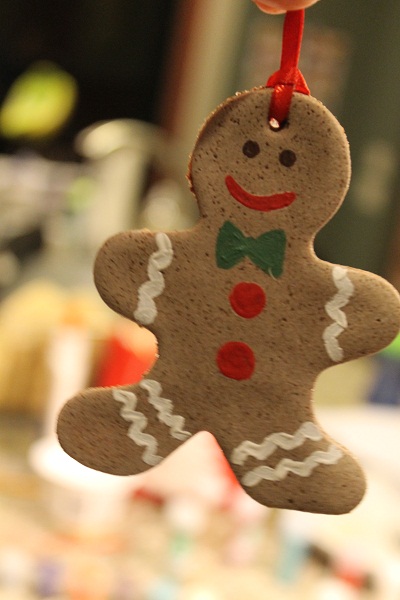 Isn't he cute?  I really wanted to take a bite, but don't worry, I didn't.
I had a fun afternoon making these fragrant ornaments (my house already smells wonderful!)….and will also feel good about how I decorate my Christmas tree this year. Here's to a "greener" Christmas!