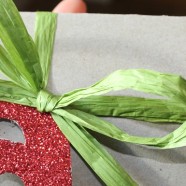 Remember my post-Christmas ponderings last year on trying to have a Green Christmas? (if you don't, check out the post here) Well, this year, I decided to plan ahead, cozy up for some pre-Christmas crafts with my son (while the first snow of the season blew outside!) and make my dreams for a greener Christmas happen.  What a fun morning!
The first project on my list involved wrapping paper. As I wrote last year, I LOVE wrapping paper and I HATE wrapping paper.  I love seeing beautifully wrapped presents under the tree….but I'm kinda scared to look up the statistics on how many trees are chopped down to make something that is just wadded up and thrown away every year.  Also, as a chronic procrastinator, I usually end up spending way too much money on gift wrap and supplies because I don't have time at the last minute to shop for deals or don't remember to stock up after Christmas on marked-down products. I also seem to have sticker-shock every time I buy gift wrap for birthday gifts….how is it possible that the gift wrap and card ends up costing 1/3 of what I spent on the actual gift?
SO, this year, I decided to simplify my life a little bit and searched online for a plain roll of 100% recycled Kraft paper. I ended up finding 130 square feet of paper on Amazon and also stocked up on bulk, wholesaler sizes of colored paper raffia (including non-Christmas colors for other holidays), recycled tissue paper and plain recycled gift bags from Nashville Wraps. Yeah, a little extra cash now….but definitely money saved in the long-term! And not to mention trees!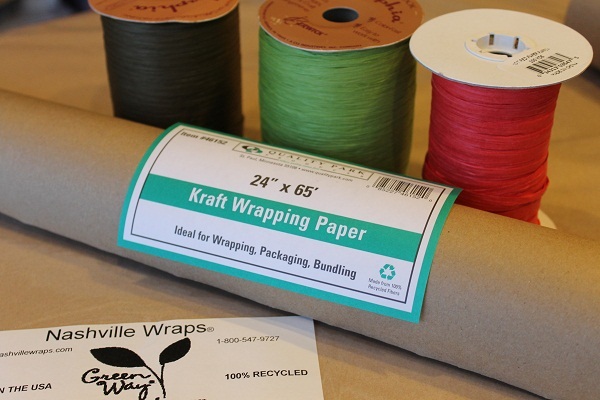 Now for the project…
I actually love the vintage-ey feel of plain brown Kraft paper, but I wanted to jazz it up a little bit to make the wrapping more festive. Plus, this is a great craft to do with kids…and what grandparents wouldn't love a gift wrapped with homemade paper from their grandkids!
First, cut a piece of kraft paper to fit the size of the gift. Grab a potato from the fridge (all I had was a sweet potato which worked fine) and carefully cut out a festive shape with a sharp knife to make a potato stamp. Make sure the surface is smooth to ensure even distribution of paint onto the stamp. You can also cut stamps out of sponges or use pre-made rubber or foam stamps for this project.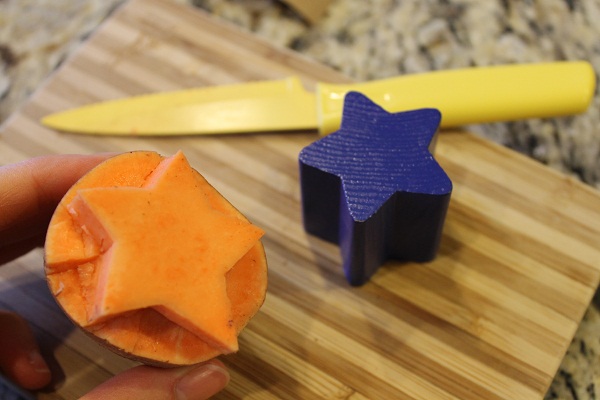 Squirt some acrylic paint onto a paper plate, spread paint onto the shape and start stamping away!  My son loves to paint so this was the perfect, quick and easy project for him.  The stars don't look perfect but I love the handmade feel.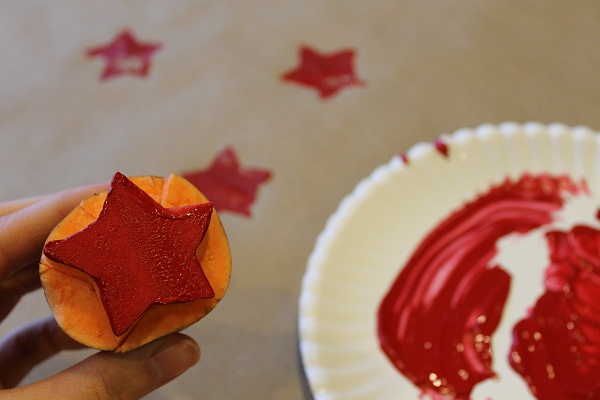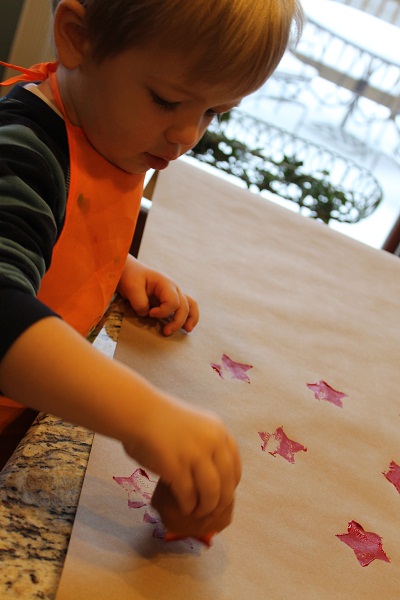 This gift is for Elliot's grandpa or "Papa", so I decided to make a personalized glitter gift tag from cereal box cardboard. Just trace a letter or name onto the cardboard so the letters are touching, cut it out, paint with glue, cover with glitter and….voila!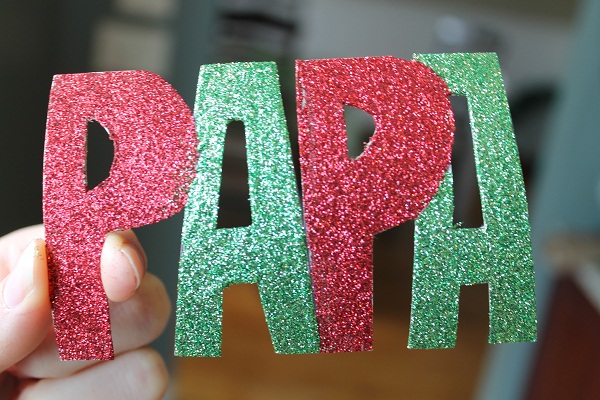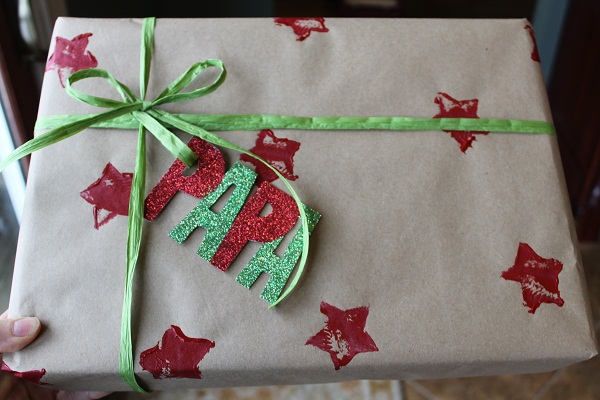 Cute, huh?
Now, onto the gift box…
It's always great to be able to re-use or re-purpose ANYthing….and also cheap!  (as in FREE!)  This DIY pillow box is made from an empty cereal box and is the perfect wrapping for a gift card, jewelry or other small item. First, print this box template and trace it onto the cereal box after cutting it apart. Make sure you don't trace with a pen on the "outside" of the box or you will see the lines (learn from my mistake).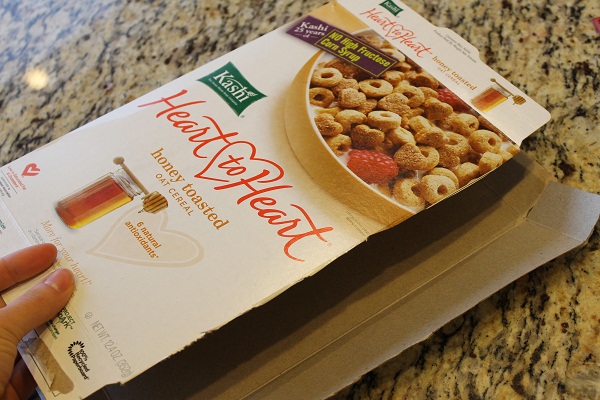 Cut out the box and then score the fold-lines to ensure easy folding using any pointy but somewhat dull object. (um, I used the tip of a meat thermometer because I couldn't find my actual scoring tool….watch out McGuyver!)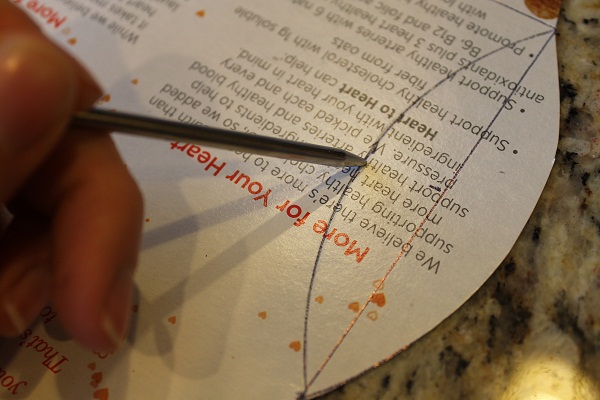 Fold the sides in and attach with glue or double stick tape.  Leave the top flap open in order to insert the gift into the box. This is a little tricky and takes some coordination!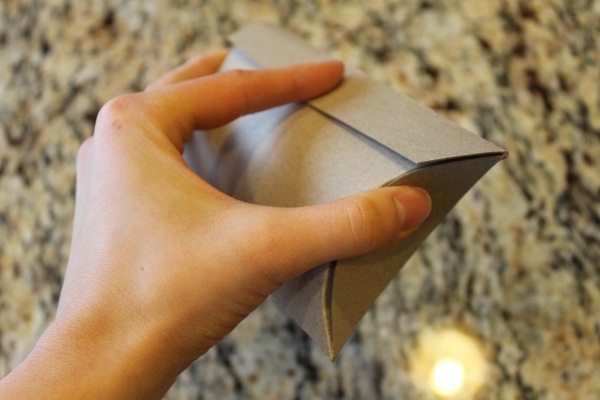 Wrap with ribbon or raffia which closes/secures the top flap.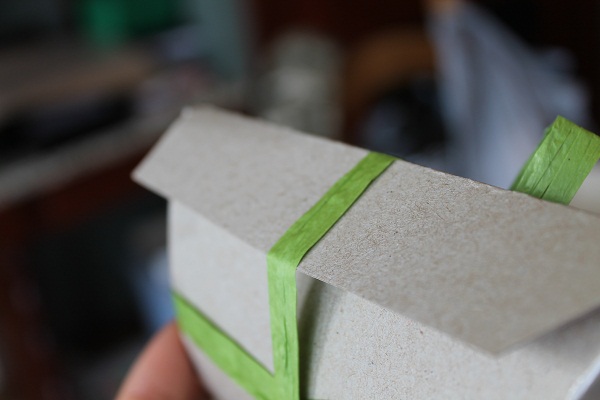 I made an "a" gift tag as this is for my sis-in-law Amber.  Cereal boxes are pretty sturdy, so this homemade pillow box can probably be used multiple times!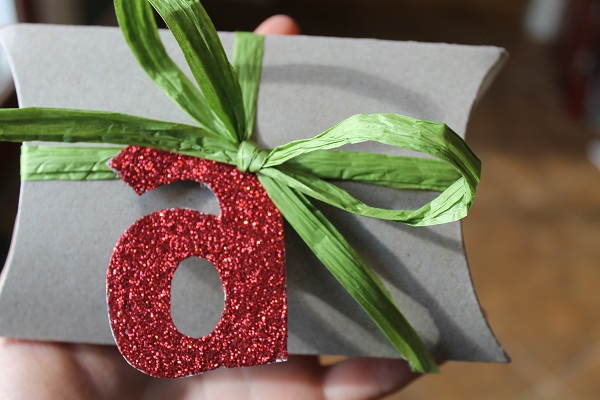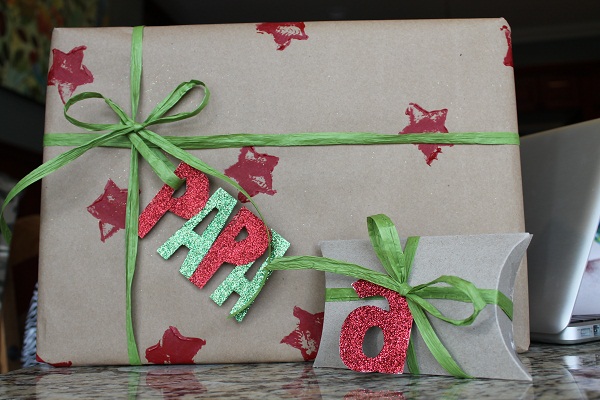 Okay, my wrapping situation is under control….how about Christmas cards? To end this post, I thought I would share two pretty cool places to buy eco-friendly Christmas cards.  First, check out paperculture.com where you can order beautiful, high-quality photo cards that are made from 100% recycled paper (25% off right now!). ALSO, the company will plant one tree with every card order you place. Check out a sample below.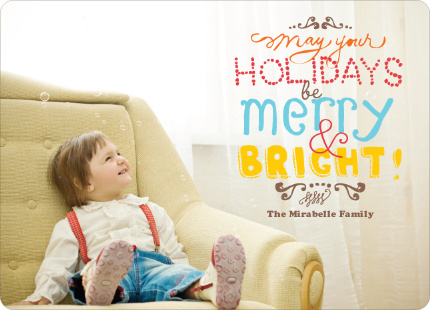 If you are short on time or have a friend who would appreciate a "green" gift, go to arborday.org, and send your loved one a Give-A-Tree E-card. For $5.95, you can plant a tree in honor of the gift recipient and also send him or her a fun animated e-card.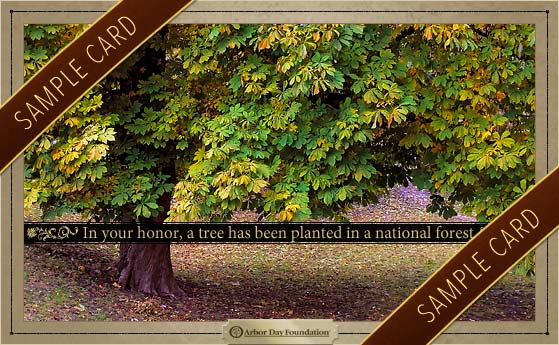 Wishing you a Green Christmas!