We want to provide ideas, inspiration, and information for moms everywhere as we look at the world around us through MomColoredGlasses...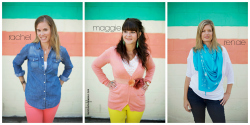 Popular Posts
Be Inspired
Not Found
Sorry, but you are looking for something that isn't here.
Be Whole
Not Found
Sorry, but you are looking for something that isn't here.
Be Informed
Not Found
Sorry, but you are looking for something that isn't here.
On Saturday mornings growing up, my mom would stick her head through my bedroom door and say (much too cheerily and much too early for a Saturday morning), "It's cleaning day, time to get up!" As I wandered around the house shuffling knick-knacks back and forth while I dusted, I remember my mom once proclaiming, "your house should always be clean and ready for unexpected visitors….what if the President of the United States popped in for dinner one night?" I'm sure I secretly rolled my eyes at this comment and then focused my attention on something more important….like how to get away with not cleaning every single pane of glass in the china hutch.
After I moved out and decided that Saturday mornings were for sleeping in and going out for breakfast, it seemed on those lazy weekends I could still smell wafts of Lemon Pledge and feel my pajama shirt sticking to my sweaty armpits like they did after pushing the vacuum cleaner around all morning. Ugh….Saturday cleaning day just won't stop haunting me! Don't get me wrong, I'm actually a pretty clean person. I've often had people compliment my "clean and organized house"…. but there are a few things you should probably know …
#1 – I'm a stuffer…meaning I stuff random items into random hidden places just to get them out of sight.
This junk drawer exhibits the epitome of my "stuffing" skills. I don't know how a pacifier, bottle of touch-up wood stain, candles that were favors from my sister's wedding reception (been several years now) and a PEZ dispenser all ended up in the same drawer, do you?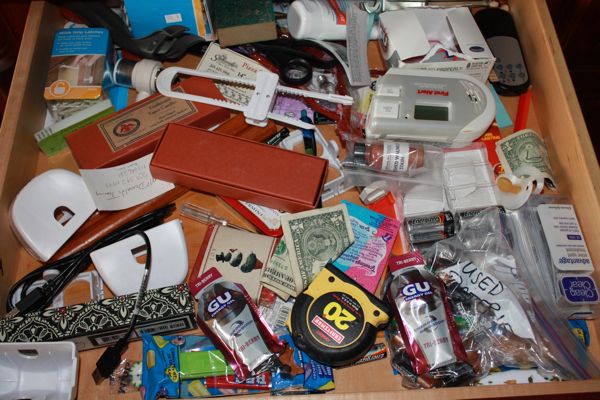 #2 – I turn into a frenzied crazy cleaning (and stuffing) woman if I know someone is planning to come over (I advise against speaking about this lovely quality of mine in front of my husband).
Basically, I hope that the only kitchen cupboard that is opened by my highly esteemed guests is my recently organized "medicine cabinet". Ahhhhh, how beautiful…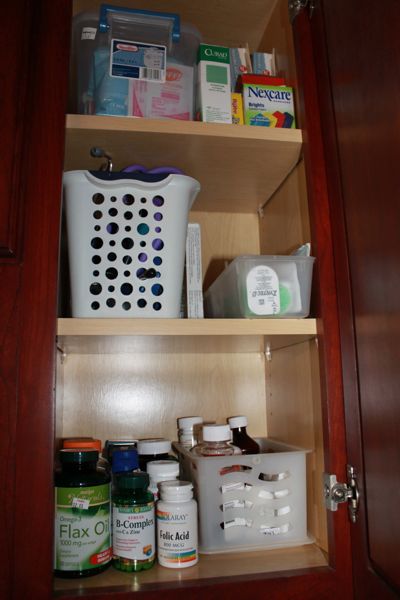 On the other hand, I would be horrified if anyone discovered where all my papers (and glue sticks and travel-sized toothpaste tubes?) end up!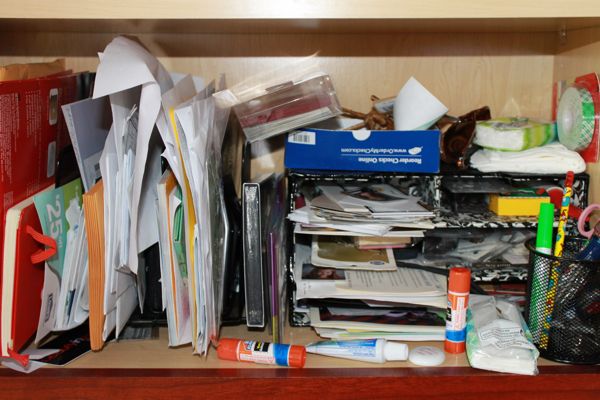 #3 – I get lazy and decide it's healthy to sometimes leave the dishes in the sink overnight…
….but, maybe I should finally do something with my wedding dress which is just hanging out in a white nylon bag (not even hanging up!….I'm a little embarrassed about this one….2012 marks the year of my 10-year anniversary) under the boppy pillow in this piled-up closet!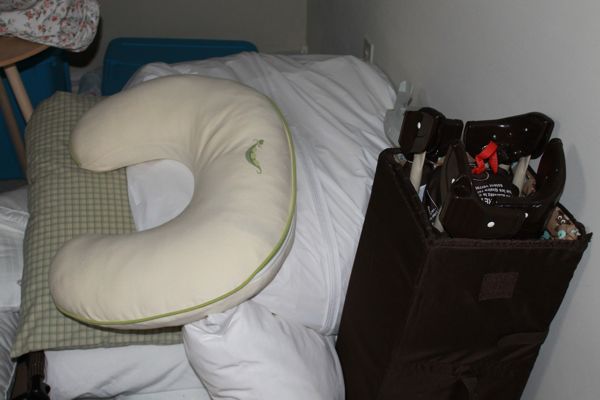 #4 – Despite my claim in #3, I hate waking up to dirty, smelly dishes in the sink and have a lot of angst and self-deprecation in general if my house doesn't live up to my standards.
The state of my make-up drawer doesn't make me very happy in the morning either.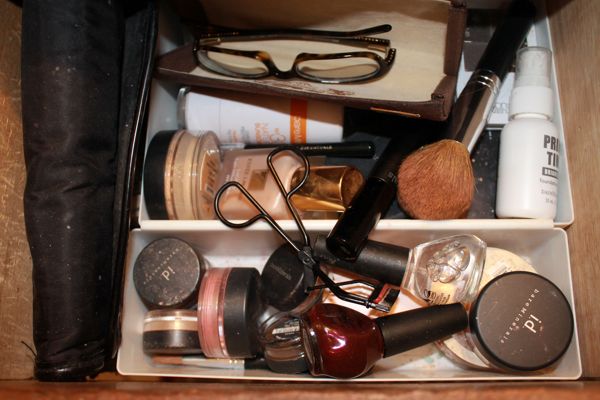 #5 – My house is not always in perfect condition for that impromptu Presidential visit….sorry Mom!
Okay, embarassing photos aside….I don't think there's anything wrong with having a clean house, being organized and striving to be a better person. In fact, I've done a lot of great organizing this year.
I've hung numerous hooks and shelves, organized my craft area, re-purposed an old TV armoir to hold bath linens, got some fun bins and baskets to hold toys, set up a family calendar on google, organized the basement (finally gave away Great-Aunt Hilma's bird clock wedding present…I would never hang it on my wall but couldn't bear to get rid of it until now!) and even found a handy cell phone app to keep track of how much money is in our checking account.
But….what is the motivation behind it all? I agree that having a clean house and well-working systems in place makes life simpler and much more comfortable. However, it's also easy to get caught up in appearances, striving for that picture-perfect, domestic goddess, mom-of-the-year ideal that is so unattainable. I have certainly caught myself sliding into discontent while scrolling through Pinterest or Design Sponge or the Martha Stewart website for home decor and organizing ideas. I find myself thinking "Why can't I be like that?" or even "Well, at least I can appear to be like that". Yikes! Who am I really trying to impress here and why do I feel the need?
Like everything….the art of being organized takes the art of balance. Sometimes we just need to hunker down and get the job done. Other times, cleaning the toilet or organizing the junk drawer can wait one more day…
So, in the spirit of camaraderie, authenticity and good belly-laughter, we would probably all be in a better place if we hung out our dirty laundry a little bit more. Life can be messy….having kids is always messy…..and when it's all said and done, there's nothing wrong with that!