We want to provide ideas, inspiration, and information for moms everywhere as we look at the world around us through MomColoredGlasses...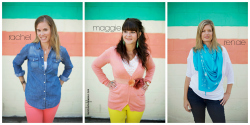 Popular Posts
Be Inspired
Not Found
Sorry, but you are looking for something that isn't here.
Be Whole
Not Found
Sorry, but you are looking for something that isn't here.
Be Informed
Not Found
Sorry, but you are looking for something that isn't here.
When Renae asked me if I would do a social media DETOX, I was hesitant. I know many people have serious issues with the self-loathing that comes from comparing ourselves with the mirage of social media, but I work really hard to keep it at bay. Even so, I know how it sneaks in and make you feel small and insignificant, and occasionally I let it beat me up too. (Seriously…how do all those moms get their kids to eat veggies, and I can't get mine to eat anything?)
And when I dug into what social media networks I go to on a regular basis, it didn't feel particularly toxic. I have an amazing accountability group on Facebook, I use Vine to #writetheword, Pinterest has been a lifesaver for party and meal planning, I just got back into counting my 1000 gifts, Ann Voskamp style, on Instagram (I'm on #579), and sometimes you just need to crack up at ridiculous clips on YouTube together. "How Animals Eat Their Food", anyone?
I was still willing to try…for one day.
My first obstacle was my notifications! I woke up to my alarm, reached for my phone to turn it off, and all these notifications started popping up on my screen! "AAHHH!", I yelped, half covering my eyes while I swiped furiously to try and turn them off.  This was more difficult than I expected, because even after I thought that everything was turned off, I still kept getting little messages at the top of my phone screen. So, I would close my eyes every time I unlocked my phone until the messages stopped scrolling. But NOT having any messages ding or pop up on my lock screen was fantastic! I didn't realize how annoying that was until it was gone…or almost gone. It reminded me of the thrill I had several years ago when I finally turned off the "ding" of my e-mail arriving.  I'm never turning them back on again…ever.
My second obstacle was that I didn't plan very well for what I would do instead of hopping on to get my social media fix whenever I had a spare minute. At the beginning of the day, I found myself still grabbing my phone to check…something…anything…and when I remembered what I was doing, I had to quickly reroute myself to weather or news. As the day went on, I started to just leave my phone alone and do other things. In the school pick-up line, I read a chapter in a book. While I was folding laundry, I just…folded laundry. What a concept!?! It felt more peaceful, less scattered, and more productive.
Since I had more time to think, I started to realize something. My reasons behind my use of social media were generally good (connection, inspiration, accountability, information), but I know those reasons can quickly deteriorate into not-so-stellar reasons (comparison, escapism, despair, narcissism). It can also become a "void filler" just like food, where we consume to distract ourselves from the emptiness inside. Distractions are dangerous; like C.S. Lewis says in the Screwtape Letters, "If we let ourselves, we shall always be waiting for some distraction or other to end before we can really get down to our work". I couldn't help thinking, "What part of God's work am I missing out on because I am too busy being distracted by what other people are thinking…doing…being better at?"

So. Here are a few action steps for us…the consumers of social media:
1. Evaluate your usage. Take a day (or a week) off so you can see how you are using your time online. It might surprise you how much free time you find as a result.
2. Understand the why. In your newly discovered time, take some time to figure out why you visit those social media sites. Are you using it for authentic connection or just to confirm your feelings of unworthiness? I am not a proponent of shunning it all, because I think there are tremendous opportunities to find real community, inspiration, and connection with people online. I mentioned my accountability group earlier; it is through Hello Mornings, and they are from all over – Canada, Panama, Alabama, Massachusetts, New York, Michigan – and we are able to share our struggles and joys on a daily basis through a Facebook group.
3. Readjust your reasons…or get off! If you come to realize that your time on social media is not positive, then find different ways to connect. Invite someone out for coffee to connect "in real life" or set a timer for how long you spend on Pinterest. If you can't find that happy balance, and you are only breeding discontentment and animosity? Get off! Life will go on without social media, and you might find that your days end up being better as a result!
I am glad that I took the plunge to figure out why I use social media and where I could scale back. Like I mentioned, my notifications are NEVER coming back, and I am being more conscious about not grabbing my phone to see the latest Instagram picture in my feed whenever there is a break in the action. It has made a honest-to-goodness difference.
Ready to join me? Let me know how it turns out; I would love to hear about it!