We want to provide ideas, inspiration, and information for moms everywhere as we look at the world around us through MomColoredGlasses...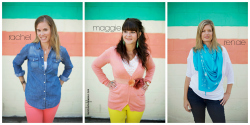 Popular Posts
Be Inspired
Not Found
Sorry, but you are looking for something that isn't here.
Be Whole
Not Found
Sorry, but you are looking for something that isn't here.
Be Informed
Not Found
Sorry, but you are looking for something that isn't here.
It's an understatement to say that I've been a little bit tired these days. My due date is just 8 weeks away and I'm in a full-fledged third trimester stretch of insomnia, fatigue and complete lack of energy. I feel like my eyes look tired and puffy….ALL the time! To make matters worse, beyond the sleeping issues, pregnancy itself can cause fluid retention and swelling around the eyes in general. As a pregnant woman, the last thing I want is something else to make me feel self-conscious about how I look these days. So, are there natural remedies for puffy eyes? Yes! Here are a few natural remedies to help temporarily bring down the swelling and give your eyes a little much needed TLC. I have tried all of them several times over the past few weeks and am happy to share my opinion (and slightly embarrassing photos) here with you.
By the way, these natural remedies are perfect for pregnant women who are urged to stay away from medications (even topical meds) except under the direction of a medical professional, but work well for all women. Also, if you have excessive swelling, dark circles or other eye symptoms that appear suddenly or don't improve with treatment, there may be an underlying medical cause for your problem. Contact your medical professional with further questions or concerns!
General Measures for Beautiful Eyes
First things first. You can't cause insult to your body and still expect to look great. Before  planting an acre of cucumbers in your backyard, investing in expensive eye creams or taking a trip to a cosmetic surgeon, take a look at your diet and lifestyle! Follow these general (and common sense) guidelines for ensuring your eyes look the best:
Get 7-8 hours of sleep every night
Stay well hydrated with plenty of water
Avoid salty, sugary and processed foods which can cause water retention and swelling
Eat a balanced diet with plenty of fruits, vegetables and lean protein
Avoid harsh chemicals and excessive rubbing around the eyes
Use sunscreen and other eye protection while in the sun
Sleep on your back with your head elevated (to help gravity keep the fluid moving down away from your eyes)
Before I describe my experience with these natural remedies, please know that they ALL work. How can I be so confident? Because all of these remedies involve putting something cold on your eyes. In general, cold helps to reduce swelling on any part of your body by constricting the blood vessels (like how an ice pack helps a sprained ankle). What I wanted to know is if any of these works better than a simple cool compress. Here goes…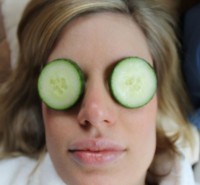 Natural Remedy #1 – Cucumber Slices
Cucumber slices are probably one of the oldest and most well known home remedies for eye puffiness. I've used cucumber slices on my eyes ever since I was a pre-teen reading Seventeen's latest and greatest beauty tips with a flashlight under the covers at night! Many sources claim that due to a cucumber's high water content and natural anti-inflammatory properties, it is the best natural choice.
To use: Place a cool cucumber slice over each eye for 10 – 15 minutes. 
My opinion: I LOVE this natural remedy! I always feel that cucumbers make the skin around my eyes feel soft, supple and much less swollen. I also feel that the earthy, freshness of a cucumber is invigorating and rejuvenating….it instantly brightens my eyes and makes me feel good in general. Plus, you can cut a few extra slices to eat for a healthy snack.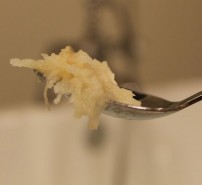 Natural Remedy #2 – Grated Potato
According to a random web search (not much in medical journals about potatoes reducing eye puffiness) potatoes have astringent properties that can help tighten the skin around the eyes.
To use: Grate or mash 1/2 cold potato and place paste on each eye for 10 minutes. 
My opinion: Given the potential for a mess, I attempted this remedy while taking a warm bath a few weeks ago. I was immediately struck by the strong potato odor that overshadowed the pleasant scent of my lavender bubble bath. Also, keeping the grated potato on my face in general was challenging and I kept having to replace it with more grated potato as shreds kept sliding into my bath water. Basically, I felt like I was literally soaking in a stew pot! The skin around my eyes did feel quite soft afterwards and somewhat less puffy, but the overall experience wasn't great. I won't be trying this remedy again in the near future! You may have better luck using potato slices instead of shreds, but again, if you're taking 10 minutes to relax who wants to smell potatoes?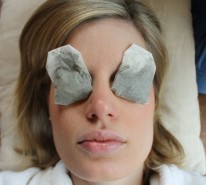 Natural Remedy #3 – Green Tea Bags
Green tea contains antioxidants, anti-inflammatory properties (found in the chemical EGCG) and a small amount of caffeine; this blend is supposed to soften, constrict blood flow and reduce swelling and inflammation around the eyes.
To use: Steep two green tea bags as directed in a small container and put the container in the refrigerator until cool. Place the cooled tea bags over each eye for 10 – 15 minutes. 
My opinion: Probably the most noticeable result I experienced from this simple, non-messy (and non-smelly!) remedy is that it really made the skin around my eyes feel much tighter. It wasn't quite as refreshing as using cucumber slices, but it did reduce my eye puffiness more effectively than a cool washcloth.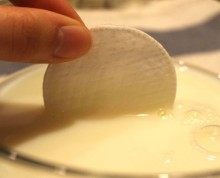 Natural Remedy #4 – Milk Compress
I can't find any reason why milk would work better than any other cool liquid in treating eye puffiness, but I thought that I would give this common home remedy a try. I did read some claims that milk "brightens" the eyes.
To use: Soak a cotton ball or pad in cold milk and place over each eye for 10 – 15 minutes.
My opinion: This felt like….I had cotton balls soaked in cold liquid on my eyes. It felt nice but I didn't notice my eyes looking brighter.  Overall, not too impressed.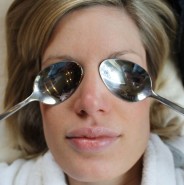 Natural Remedy #5 – Cold spoons
There is nothing magical about using cold spoons to reduce eye puffiness except for the fact that they fit nicely into the eye sockets and don't involve any sort of mess. Cold spoons treat eye puffiness by simply being cold.
To use: Place two metal spoons in the refrigerator/freezer or in a glass of ice water until cold. Place spoons over each eye until puffiness improves.
My opinion: It works, it's simple, it's perfect for a little help while you're rushing out the door in the morning.  A great tip to have in your back pocket in my opinion!
Not-so-natural Remedy #6 – Hemorrhoid Cream
Have you ever heard of using hemorrhoid cream for treating puffy eyes? I must admit, I have never tried this, and since I'm pregnant it's not safe to use the active ingredient in many hemorrhoid creams, phenylephrine, on my skin. But, does it work?  Phenylephrine  is a potent vasoconstrictor and is effective at treating the swollen blood vessels in hemorrhoids. By this logic, hemorrhoid cream probably does help treat puffy eyes, but I wouldn't recommend it for a few reasons. First, using hemorrhoid cream on the eyes is an off-label use for this medication, meaning it has not been approved by the FDA for this particular purpose. Further, it has the potential to give the user an allergic or other more serious reaction, especially as it was not formulated for use on the delicate skin around the eyes.
My opinion: Since your safety may be at stake, use hemorrhoid cream on your hemorrhoids, not around your eyes! If your eyes are that puffy, seek professional advice!
So, what's my ultimate natural eye remedy recommendation? It's old but it's good….cucumbers! 
What natural eye remedies have worked for you?
Written by Renae Wortz, NP-C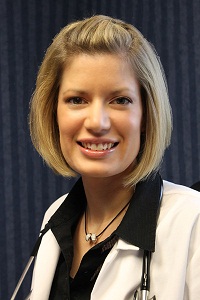 Renae Wortz is a Certified Adult Nurse Practitioner who currently works in a busy Family Practice Clinic. To learn more about what a Nurse Practitioner is and does click here. This article is intended for informational purposes only, it is not meant to diagnose or treat any illness. If you have any questions about your health, please contact your health care provider.