We want to provide ideas, inspiration, and information for moms everywhere as we look at the world around us through MomColoredGlasses...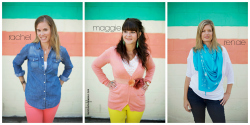 Popular Posts
Be Inspired
Not Found
Sorry, but you are looking for something that isn't here.
Be Whole
Not Found
Sorry, but you are looking for something that isn't here.
Be Informed
Not Found
Sorry, but you are looking for something that isn't here.
This past week it finally happened….I got a cold. And not just any old cold….a monstrous, no sleep, feverish, call-in-sick-to-work kind of cold. To top it off, I'm pregnant, so the usual arsenal of serious drugstore cold medicines were definitely off-limits. In fact, most herbal medicines are also off-limits during pregnancy.  What to do? I certainly wasn't able to sit glazed-over on the couch with tissues stuffed up my nose all week!
One particularly stuffed-up morning while I was mouth-breathing all over my son who was building a lego castle, I decided I needed to do something…how about a steam bath? Honestly, I don't think I could have gotten through the week without this simple natural cold remedy that REALLY works! I probably treated myself to a steam bath at least 3-4 times a day this week, and once at 2 am during an awful night of tossing, turning and dreaming about huge vats of NyQuil.
Here are instructions on how to make a homemade steam bath….no Swedish saunas needed! For more information about preventing and treating the common cold, read my previous MCG post on preparing for cold season (smoothie recipe included!) or check out my printable cold resource recently published at www.restorationliving.org.
First, fill your teapot with 2 cups of water and bring to a boil.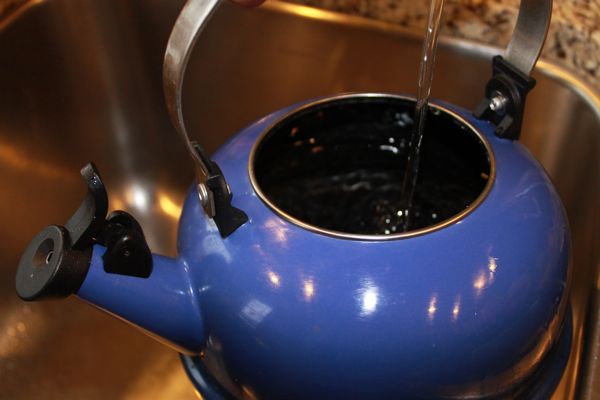 While you're waiting for the water to boil, find a medium-sized bowl (glass, ceramic or metal) and a large towel. Various herbs can be added to the boiling water for improved relief of nasal congestion as the herbal vapors are released into the steam. Herbs to try include Eucalyptus, Peppermint, Sage, Rosemary and Tea Tree Oil. Use fresh or dried leaves or add 2-3 drops of essential oil per 2 cups of water. I picked up some fresh peppermint leaves from the store and also plan on using them to make fresh-brewed tea. You can certainly omit the herbs if you want and will still get amazing results!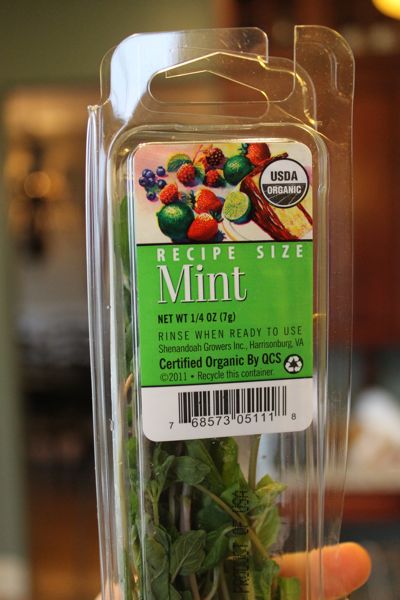 Once the water boils, pour it into the bowl.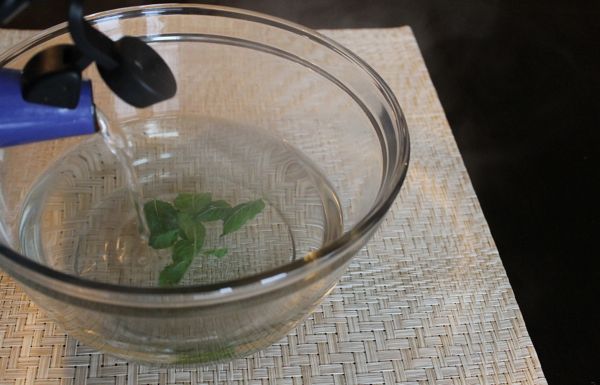 Quickly position your face about 8-10 inches over the bowl and cover your head with a towel to trap the steam. Please use care!  Boiling water and hot steam can cause burns…if the steam feels too hot on your face move back a few inches. Also, make sure you do this away from infants and curious toddlers to ensure their safety.
For the best results, cover your entire head with the towel, forming a small tent over the bowl to prevent steam from escaping. Inhale the steam deeply through your nose and exhale through your mouth for at least 15 minutes. Steam inhalation can help relieve nasal congestion, ease cough and soothe a sore throat. I was amazed at how much better I felt after each steam treatment….I actually felt like I could face the day!  Plus, it's also like getting a mini-facial…my pores and my nostrils are nice and clear after this week!
Thankfully, as the week ends, my cold is almost gone….good riddance!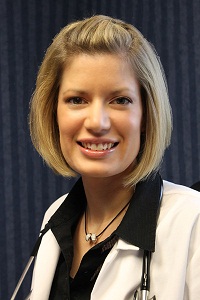 Renae Wortz is a Certified Adult Nurse Practitioner who currently works in a busy Family Practice Clinic.To learn more about what a Nurse Practitioner is and does click here.This article is intended for informational purposes only, it is not meant to diagnose or treat any illness.  If you have any questions about your  health,  please contact your health care provider.