We want to provide ideas, inspiration, and information for moms everywhere as we look at the world around us through MomColoredGlasses...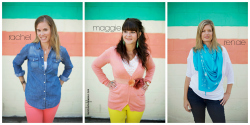 Popular Posts
Be Inspired
Not Found
Sorry, but you are looking for something that isn't here.
Be Whole
Not Found
Sorry, but you are looking for something that isn't here.
Be Informed
Not Found
Sorry, but you are looking for something that isn't here.
Courtney Bowden is back today sharing her perspectives on being a working mom, the books on her nightstand (French parenting, anyone?), and the defining moments that come from being a mom. She is someone that I would want to go have coffee with…and if you missed her post yesterday, check it out here!
What is the age/gender of your child?
I have a ten month old baby girl- Piper Jane. She's the spitting image of her dad, but her spunk is all me. The world is in trouble…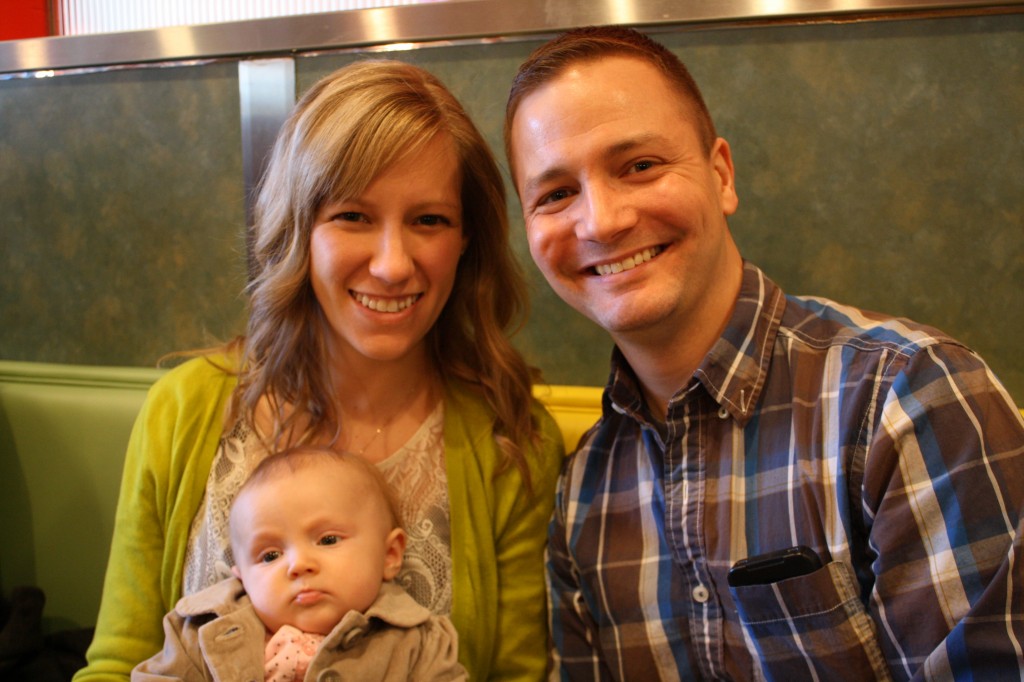 How do you spend your time?
I get up, nurse the babe and pray that she'll go back to sleep long enough for me to take a quick shower (I had no idea I would come to cherish five simple uninterrupted minutes so much). Then I spend the morning trying to get ready while making sure Piper doesn't break her neck with her crazy antics (a current fav is pulling up on the toilet and using the lid as a drum. Clean? No. Fun? You betcha.) I drop her off at daycare, and head to work- I'm a visual merchandiser for a retail company. I spend more hours there than I'd like to count sometimes, but I truly do love what I do, so it makes the time spent away from Piper worth it. My husband does the daycare pickup most days, and then we cook and eat dinner together. We have an hour or two to hang out as a family before bedtime, which is usually spent getting out all the toys, rolling around on the bed, and prying my iPhone out of tiny baby hands. After Piper is in bed we do all the boring tasks that come with being a grown-up – dishes, laundry, bills- and try to squeeze in some time to chat as a couple. Or maybe watch an episode of Real Housewives…because I may be a mom, but still have my priorities. 😉
 What has been one of the greatest joys of motherhood?
Watching Piper's unbridled enthusiasm for the simple joys in life. Swinging? Is awesome! Plastic solo cups? The best thing on earth!! An ibuprofen bottle that makes noise when you shake it?! Stop right now, it's too much to take in!! Everything is new to her, and hearing her sincere, hearty belly laugh in response to the silliest things reminds me how much joy there is to be discovered…everywhere.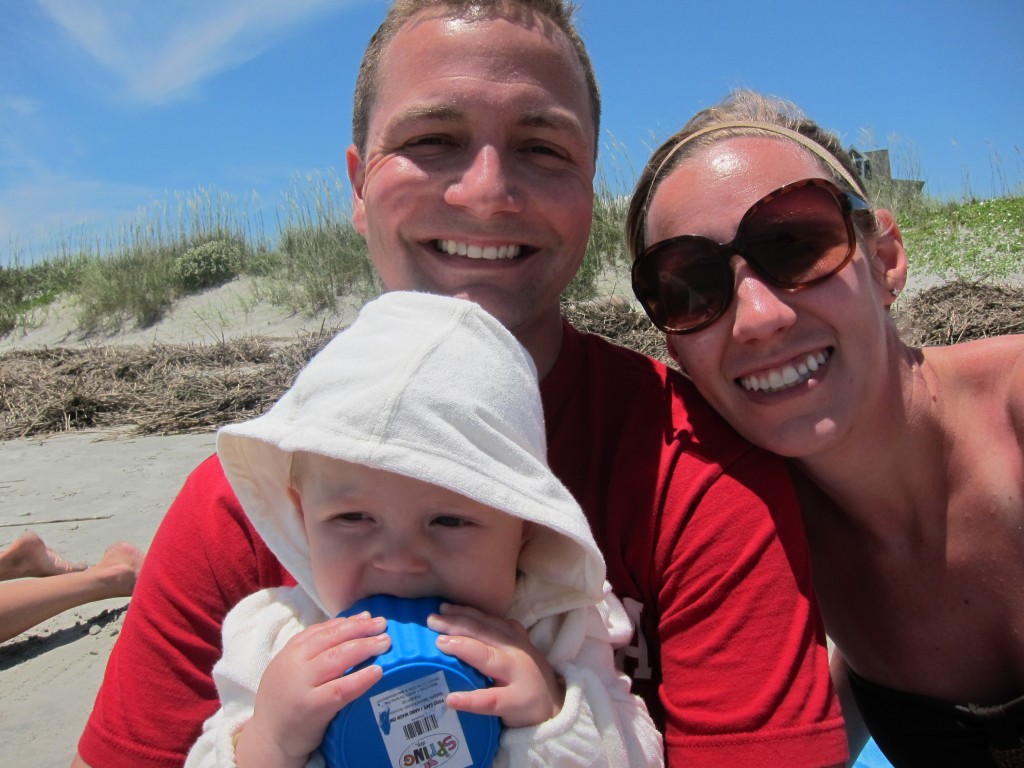 What has been one of the greatest challenges of motherhood?
Ugh. The dreaded mom cliché: balance. Doing it all. Having it all. There are days that end in tears (my own, not the baby's) because I'm torn down the middle between work and home, and feel like I'm failing on both fronts. But then there are days when I work on a project I'm proud of, and get some sweet snuggly time with my babe before bed when it feels like it's all going right. I don't think I'll ever feel like I've mastered the juggling act of life as a mom, but I sure am trying…and when it comes to motherhood I totally believe in A's for effort.
Finish the phrase, "I never thought I'd…"
Be so tired. I'd heard countless times that new parents don't get much sleep, but I wasn't prepared for how utterly exhausting parenting can be. The lack of sleep is a challenge of course, but it's the mental and emotional drain that often surprises me. Being a mom means you're always "on" (hats off to you single moms, and stay at home moms…I don't know how you do it!) So I'm not ashamed to take advantage of naptime for myself when I get the chance.
What toy do you wish would simply disappear?
At this stage almost everything is a toy- Piper is as content with a handful of my bracelets as she is with an expensive "activity center"- so I don't worry too much about it. That being said, there are a few items we've conveniently never found batteries for, figuring she never has to be the wiser….
What are your kids reading…right now?
Well, with a ten month old, it's often more "chewing" than "reading"…and recently she's been struggling to sit still long enough to get through more than a page or two, but we're still trying!
One favorite: The Hiccupotamus
 by Aaron Zenz (It's one of those cute for kids, but even funnier for the parents kind of books that I get a kick out of). And we recently fell in love with Cooper, the talking Hallmark bear (Check out Cooper's Big Bear Hug). It's the goofiest little gimmick, but watching Piper's confused face try to figure out how this bear is responding to the story just never gets old (plus his little bear voice and prerecorded catchphrases are hysterical. We quote him more than Will Ferrell…which in our house- is a lot).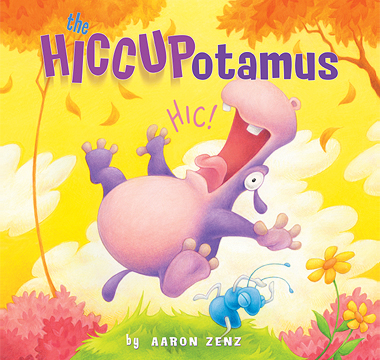 And what is on your nightstand…what are you reading?
Oh, it's always piled high with library finds…that I unfortunately don't always get to. But I participate in a couple of book clubs which help me to make reading a priority. Since becoming a mom I've been especially appreciative of the chance to lose myself in a good book for a little while, and doubly grateful for the chance to talk with other women about what I'm learning or enjoying. I just finished What Alice Forgot
 by Liane Moriaty (a novel about a women with memory loss) and I'm almost finished with Bringing Up Bebe
 by Pamela Druckerman (an interesting, if slightly generalized and romanticized view of French parenting). And maaaaaybe a portion of my summer was spent reading the first two "Fifty Shades of Grey" novels…you know, just to see what all the fuss was about.
Share one of your "defining moments".
In the first days and weeks of motherhood, everything seemed like a defining moment. I was a hormonal, dramatic, sappy mess (which may be putting it lightly…) and though those initial six weeks were filled with so much joy, it was also a tough time for me as I struggled to find my footing in my unfamiliar new life. But slowly the post-partum haze began to lift, and I started to settle into my new role a bit more, still very conscious of each and every stride I made, no matter how tiny. Getting both of us dressed and out of the house was cause for celebration. Managing to trek to the pediatrician on our own without crying was a win. The struggle to be self sufficient, and in control of my emotions was dramatically out of character for me, but it was through this process I learned a vulnerability and empathy for others that I had previously never known. And when Piper turned three months, my much anticipated milestone of  "one year" (nine months in, three months out), I vividly remember an overwhelming mantra repeating in my head and my heart:
We did it.
She's still alive.
We're still married.
We're happy.
We did it.
And seven months later, by the grace of God (and with the help of our families, and the love of our friends, and, and, and…the blessings go on!): we are still doing it. And we are happy.
 Written by Courtney Bowden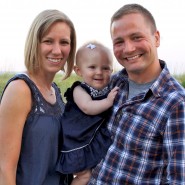 Read more about Courtney's life at Bowdenisms.