We want to provide ideas, inspiration, and information for moms everywhere as we look at the world around us through MomColoredGlasses...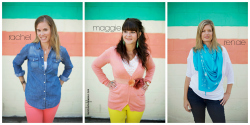 Popular Posts
Be Inspired
Not Found
Sorry, but you are looking for something that isn't here.
Be Whole
Not Found
Sorry, but you are looking for something that isn't here.
Be Informed
Not Found
Sorry, but you are looking for something that isn't here.
What are the ages of your children?
Wyndham (girl- age 5- our thin and graceful klutz who loves to sing, dance and be dramatic) Sophia (girl- age 2- our round and good-natured peanut who loves to suck her thumb and copy everything big sister is doing)
What has been one of the greatest joys of motherhood?
Watching miniatures versions of my husband and I discover the world is pretty awesome. It's amazing to watch your children and see pieces of your family right there in front of your face. Motherhood is a great reminder that God is the ultimate creator and we are made in His image….truly amazing.
What has been one of the greatest challenges of motherhood?
You read the books, you talk to friends, but no one can prepare you for the all-consuming role of being a mom.
I had been teaching for several years and kept a very busy schedule between school, meetings, events, festivals, musicals, field trips, etc. I was teaching right up until the day before I had Wyndham, and I truly didn't even know how to just BE at home. Between the sleep deprivation, worries about nursing and all of the other concerns you have in those first blurry months, I had to learn that the world was no longer just about me anymore….AND, even just taking a shower might be my "activity" for the day.
That was the challenge of the first 12 months….since then, parenting has taken on a whole new form. Now, I'm influencing another's person view of God, life, self-worth…a much trickier job. There are days when I yearn for that first year when I thought there was no light at the end of the burp-cloth-lined tunnel…now, I'm beginning to see that the tunnel is a lot longer and windier than I had once thought. Thankfully, I serve a great God who is daily helping to light the way.
How has your perspective changed since becoming a mother?
I always viewed parenting as something we were doing, for us….we wanted children, we were making the plans and calling the shots, we were going to raise children and bring them into our life. The funny thing is, children are not pets….they're not accessories (though they are very cute)…they are people, souls waiting to be shaped and nurtured.
I've learned that as important as I am to my children, I am only acting as an instrument, one being used for God's purposes. What plans does He have for my beautiful girls? I don't know, but I know that He has put me here "for such a time as this".
Additionally, parenting is just as much about me as is about what my children will become. God is using parenting to change me– to warm my cold and darkened heart as if to say, "This is how I view you my Child". When we open up our hearts to love a child, we're also risking the possibility of great pain. Living by faith is the only way we learn to rely on Him….which is why parenting is the most risky and rewarding job I'll ever have.
Finish the phrase, "I never thought I'd…"
…have enough love to spread to more than one child. I was so excited when we found out we were pregnant with Sophia, but I worried, quite a bit, that Sophie would always feel like a 2nd string child. Our whole experience had been with one little girl for almost 3 years…how could we possibly make room for more? It's a mysterious thing, but it happened. And now, the sense of family is stronger than ever….and the hand-me-downs are huge plus!
What is one kid-related item that you can't live without?
Sit and Stand Stroller. So great when you have 2 or more kids.
Oh….and Clorox Wipes….need I say more?
What is one toy you would love to mysteriously "lose"?
My Little Pony Bath toys….that plastic, tangled moldy hair just grosses me out!
How do you help your kids handle anticipation?
We have made countdown chains leading up to a special events. One link for every day leading up to the big day.
In relation to holidays, I've found it helpful to plan some preparatory activities leading up the big day as well- Advent is a wonderful way to celebrate Christmas all month long. Additionally, baking and craft projects help to speed the time. It seems to be a dance between distraction and just plain learning to be patient!