We want to provide ideas, inspiration, and information for moms everywhere as we look at the world around us through MomColoredGlasses...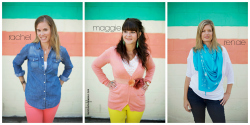 Popular Posts
Be Inspired
Not Found
Sorry, but you are looking for something that isn't here.
Be Whole
Not Found
Sorry, but you are looking for something that isn't here.
Be Informed
Not Found
Sorry, but you are looking for something that isn't here.
This week's mom profile is of Denise Dykstra, a recent MCG Guest Contributor who lives in Southwest Michigan with her husband and four boys on a hobby farm.  Read Denise's article, The Camping "Incident" to get a glimpse into the life of intrigue, adventure, and occasional embarrassment that follows her and the boys.
What are the ages/gender of your children?
Andrew is 11; he will be 12 in July
Isaac is  9
Eli is 6; he will be 7 in June
Abraham is 5
Where do you work?
Hahahaha! Full time job is here at home taking care of (feeding) my husband and boys and helping on the farm.  We grow a lot of vegetables for the farm stand in front of our house – asparagus, strawberries, tomatoes, squash, zucchini, peppers – and that keeps us all hopping.  Last year, I also began working part time at our local library – a job I thoroughly enjoy.  My husband never imagined he would be married to a librarian. I am also the coeditor of Praise and Coffee the Magazine, a job I love to do with creator and editor Sue Cramer.  We put out an online magazine from Sue's home office every season, with hopes that it will reach women in the moment of life they are at right now, and encourage them.
What has been one of the greatest joys of seeing your boys grow up together?
Seeing their personalities come out. I think of myself and how different I am than my brothers and sister (and my husband from his brothers and sister), but it still shocks me just how totally different they are and how they meld all those personalities together.  But otherwise, it is their creativity.  The absolutely wonderfully insane and brilliant and silly ideas they come up with – or conversations they have.  I wish I could have a video camera rolling all the time to hear their imaginations and minds working.
What has been one of the greatest challenges of motherhood?
Knowing what to do.  I'm always saying "I missed the class that told me how to handle _______ situation."  It's hard to know if what you are doing is the right thing, if the choices you are making for them or letting them to choose or what we choose not to let them do are the right ones.
How has your perspective changed since becoming a mother?
I am probably more laid back. Mud? It will wash off.  Flowers? They will regrow. Not that I don't like things to be nice, but sometimes I just have to say "does this matter in the long term?" Nothing much? Then let it go!
What is the funniest thing you have heard your kids say?
They say something funny…EVERY. SINGLE. DAY.  Abraham is the one who cracks us all up the most; he is a walking comedian, I swear. Recently, Abraham was helping Daddy plant better boy tomatoes and he said, "These are the gooder boys, right?"  Just yesterday, Abe told me, "I cannot pick any more but two rows of asparagus and I cannot sing songs on the sunny days, but I do love you, Momma."
But they all have their funny moments.  I try to jot them down in my momagenda or calendar…but I miss too many of them.
Finish the phrase, "I never thought I'd…"
Blog. I never imagined I would love blogging so much and that I would meet so many great friends. It truly makes the world seem a much smaller place.
What is one kid-related item that you can't live without?
Other than a constant stash of food?  Probably baby wipes.  I use them for their faces, in the suburban to clean up messes, to clean the bathroom sink…I can not imagine not having baby wipes around.
What is your favorite children's book?
For me? Little House series, Anne of Green Gables series, Little Women, the Secret Garden – books my boys will not read.
When the boys were little we read Hand Hand Fingers Thumb and Are You My Mother? constantly.
Andrew loves Gary Paulsen books (the Brian series).  Isaac is enjoying Jake Maddox right now.  Eli enjoys Henry and Mudge books.  Abraham loves anything I will read him.  I like reading Mercy Watson books to the boys, but I insist on reading it in a Southern accent.
What is the most challenging transition you have faced as a mom?
Watching them get older, without  a doubt.  It was really hard for me to realize we were done having babies.  And I will be honest with everyone right now, I bawled the last week of school realizing next year Abraham will be in kindergarten EVERY SINGLE DAY, all day.  And to have Andrew be a sixth grader next year – how is that even possible?  Andrew is nearly as tall as me now (reason enough to start investing in heels) and I have a hard time seeing them grow up so incredibly fast.  Growing up – that is unchartered territory and I am scared to death of it.