We want to provide ideas, inspiration, and information for moms everywhere as we look at the world around us through MomColoredGlasses...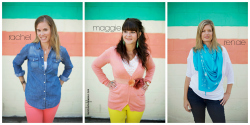 Popular Posts
Be Inspired
Not Found
Sorry, but you are looking for something that isn't here.
Be Whole
Not Found
Sorry, but you are looking for something that isn't here.
Be Informed
Not Found
Sorry, but you are looking for something that isn't here.
Yesterday, Ellie Grossman shared about her experiences as a mom of teenagers, with a big splash of humor. Today we are learning more about what has surprised her about motherhood, what she is reading right now, and even some organizational tips!  
How do you spend your time?
Well, if you ask my kids, they think I do nothing all day long since I don't work outside the home. As a freelance writer and stay-at-home mom who never stays home, everyday is a little different. Lately it seems like all I do is rinse and slice strawberries. I try to jump start each morning with a water aerobic class, which justifies my carb binge all day long. Then I run errands, do the wash, empty the dishwasher, shop for groceries, attend meetings, walk the dog, make dinner, drive to soccer, and I write. I write everyday, and the biggest challenge as a self published author is trying to manage the creative and business side of my career through speaking engagements, networking, and social media in the constantly evolving publishing industry.
What are the ages/gender of your children?
Jack is 17 and Sari is 13. My husband and I planned that on purpose so we wouldn't have to pay two college tuitions at the same time.
What has surprised you most about being a mom of teenagers?
Being a teenager today is challenging because they are forced to grow up too fast. They are independent and needy at the same time. Best of all, they are young adults with their own personalities, and they make my life fun and fast-paced with all their activities, sports, school, etc. My life would be boring without them, plus my teens inspire the domestic satire that I write about.
What character traits do you hope your kids inherit from you?
I hope they find the humor in life, even when circumstances get tough. I also hope they learn how to be self confident, take risks, and be compassionate of others.
What character trait do you hope your kids don't inherit from you?
I tend to second guess myself, so I hope they don't inherit my indecisiveness.   Also, I hope they don't worry so much about what other people think, which I sometimes let get in my way. Mostly, I hope they don't inherit my obsession with chocolate and the way I feel guilty about everything, which, unfortunately, is genetic for Jewish mothers.
What is one kid-related item that you can't live without?
Smoothie blender.
What is on your favorite book list right now…For you? For your kids?
If it wasn't for the diversity of my book club (we call ourselves "Reading Between The Wines" because we like books of all genres and a good bottle of Moscato), I'd be reading about dogs all the time. In fact, I had an embarrassing meltdown in Barnes and Noble while reading Nubs: The True Story of a Mutt, a Marine & a Miracle
, and the salesperson had to bring me a box of tissues and escort me to the psychiatric bookshelves.
Whatever I'm reading, I immerse myself in the story. One of my favorites, The Art of Racing in the Rain
, inspired me to channel my own apricot toy poodle Luci in my writing. Likewise, when I read The Help
 I had the urge to deep fry chicken in Crisco shortening, and The Immortal Life of Henrietta Lacks
 made me paranoid about my medical records.
As far as Sari's book list, she likes suspense thrillers with teenage characters, such as The Hunger Games
 and Dirty Little Secrets
Jack, on the other hand, is not a reader, but I stock his bookcase with subjects that appeal to him, such as anything to do with baseball biographies or the history of hip hop.
How do you keep your family schedule organized?
Now that my kids are older, I try to let them take on more responsibility by keeping track of their own schedules, especially when it comes to school, sports, and their social lives. Besides, they do a better job of remembering things that are important to them anyway. I might write down the dates, but I usually forget to look at my calendar, so it's useless.
What is your best organizational tip?
Don't accumulate stuff, whether it's in the closet, car, freezer, digital camera, or recipe box. Clean everything out once in a while, it's exhilarating, like losing two pounds.
As far as photos, I try to download them right away and organize them in the folders by date and subject in the computer and a backup CD, otherwise I'm printing photos of their first birthday and high school graduation at the same time. That's how fast time flies!
As far as recipes, I put my favorites in separate plastic page covers and collect them in a large three ring binder with subject tabs, such as drinks, appetizers, breads, chicken, etc. I make a separate recipe book for holidays and desserts.
Oddly enough, I never know what to make for dinner.
Known by her readers as the "Jewish Erma Bombeck," Ellie S. Grossman is the author of "Mishegas of Motherhood. Raising Children To Leave The Nest…As Long As They Come Home For Dinner," which is a collection of parenting humor columns that have appeared in newspapers, magazines, and blogs across the country.
As a freelance writer for more than 25 years and now a stay-at-home mom who never stays home, her stories offer a combination of wit and wisdom when it comes to modern issues facing today's families with chapters like, "Everything I Need To Know I Learned From My Dog,"  "Survival Tips For Work-at-Home Moms," "Answering The Big Question: Is There A God," "Teen Brain Baffles Parents," and the award-winning "Jewish Girls Don't Camp," which landed her in Hollywood and inspired an Internet-based sitcom starring comic actress Leah Remini.
Her book explores the oys and joys of raising children like no one else.