We want to provide ideas, inspiration, and information for moms everywhere as we look at the world around us through MomColoredGlasses...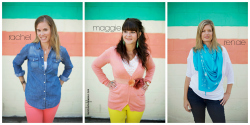 Popular Posts
Be Inspired
Not Found
Sorry, but you are looking for something that isn't here.
Be Whole
Not Found
Sorry, but you are looking for something that isn't here.
Be Informed
Not Found
Sorry, but you are looking for something that isn't here.
Yesterday, Emily shared a story about how doing something as simple as the laundry helps her to be thankful for the incredible gift she's been given in mother-hood.  Today, find out a little more about our newest mom-of-the-week!
1.  What are the ages and genders of your kids?
I have 2 little, very active boys. Jackson is 2 and a half and Cooper is 7 months.
2.  What has been the hardest lesson to learn about yourself since having kids?
I am a very natural worrier, in all areas of life, so having kids has been another huge area of life to learn to surrender to the Lord. Trusting their little lives to Him is, I know, the best thing to do, but definitely has been a tough lesson I've had to learn, and I'm sure I'll be revisiting this one over and over again as they grow!
3.  What aspect of your 'mothering' are you most proud?
Being a mother is such hard work, but a position I feel so grateful to be in. I think I am pretty proud of the intentionality I've taken in creating memories, teaching lessons, etc. Everything from reading the Toddler Bible and praying before bed, to planning and PACKING up a family day at the beach. It would be so much easier to just take things as they come, but I am proud of the fact that I've really invested a lot of purpose and planning into our lives and routine.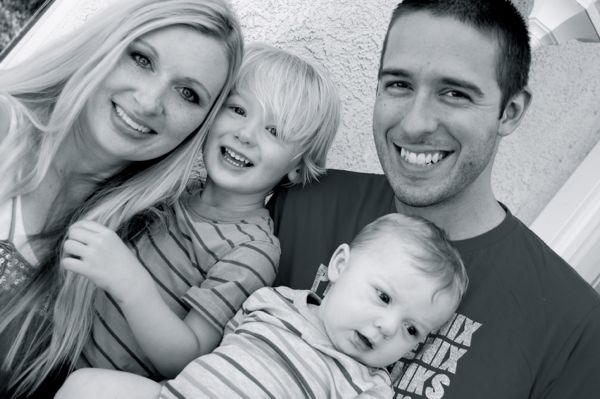 4.  Least proud?
I am least proud of my cooking skills ! I'm hoping to keep improving, but I am definitely not a natural in this department.
5.  What toy would you like to "lose."
Jackson has this one train that very loudly and repeatedly sings through the alphabet in both English and Spanish, and he loves it. We will probably not be replacing the batteries in that one though : )
6.  Who is your mommy role-model?
My mommy role model is definitely my mom. She was, and is a fantastic mommy role model to me and my sisters. So much of what I do I know I've gleaned straight from my own childhood experiences with her. She made little things special, made us kids feel so loved and important, but never more loved and important than daddy or Jesus. She's been a huge blessing to me and I want to be the same to my kids.
7.  What trait do you hope your kids inherit from your husband?
I hope my kids inherit my husbands love for people. He has such a natural ability to think of others, how he can help them or encourage them. He's considerate and sympathetic. He's hospitable. He just does a great job of not just caring for others, but doing it eagerly and joyfully. I've learned a lot from him in this area and hope my boys do too!
8.  And from you?
I hope my boys inherit my patience. I feel like it's kind of a bold thing to claim patience, but I've always been pretty easy going, and it takes a lot to get me really upset. I hope my boys can develop patience in their relationships and circumstances too.
9.  What would your oldest say is his favorite thing about you?
Well, I'll have to make this one up, seeing that my oldest child would probably say something like his favorite thing about me is "we play trains". But I'll go off of that and say their favorite thing about me is my silliness…we play together and laugh and tickle and snuggle and build forts and play pretend and make animal sounds. I think they both love that I have fun with them.
10.  Hands down, what meal makes everyone in your family the happiest?
Well, as mentioned above, I am not such a great chef. But, my family is happy when we have chicken squares for dinner. Basically chicken with some yummy sauce baked into a crescent role. Everyone downs this one pretty quickly! Jackson is in love with bread of all kinds, so he thinks he's eating a role for dinner, which is thrilling for him.
11.  What's the best thing about being a mom in Southern California?
Hmmm…well I'd say the best thing about being a mom of very active boys is the sunshine. We can go outside all year long…to the park, the beach, or wherever. I've noticed how nuts I go on rainy days and then how grateful I am that I rarely have to handle an inside play day! (Granted, I personally would love plat inside all day, but these little fellows of mine have made it clear they both feel the opposite)
12.  What's been your proudest accomplishment as a mom so far?
Well, so far, 31 months in, my proudest accomplishment might be just keeping these boys alive and well! My little guys are so active, we are constantly in motion, and sometimes just thinking back over the activities of one day are exhausting, so making it 2 and a half years, now with 2 little movers, feels like something to be proud of!
13.  Finish this phrase…..Looking at the world through mom colored glasses means………
……..viewing life moments through the lens of "how is this going to impact my child mentally, emotionally, socially, physically, and most importantly, in my opinion, spiritually?"  Guarding them from the wrong experiences, guiding them into the right ones, and teaching and loving them through it.