We want to provide ideas, inspiration, and information for moms everywhere as we look at the world around us through MomColoredGlasses...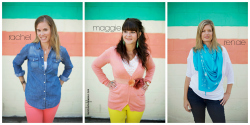 Popular Posts
Be Inspired
Not Found
Sorry, but you are looking for something that isn't here.
Be Whole
Not Found
Sorry, but you are looking for something that isn't here.
Be Informed
Not Found
Sorry, but you are looking for something that isn't here.
Get to know our most recent guest contributor a little bit more as she talks about having a sense of humor, the way she escapes from reality, and what simplicity means to her. And if you haven't read her post, "Weathering the Storms", make sure you do…it's a must-read!
Looking at the world through Mom Colored Glasses means…
Above all else, you're a mom – and those "mom blinders" never come off. Every decision you make is tainted by how it will affect your child.
How do you spend your time?
Now that both kids are in school full-time, I have more free time than I'm used to. Admittedly, I spend some of it catching up on sleep. After school and during the summer, the kids' schedules are full of therapies both in and out of the home, so I spend most of my time as chauffeur and secretary. I have also taken classes at the local community college, and I volunteer with a few organizations in the area including Autism Speaks.
What are the ages/gender of your children?
My daughter, Harper, is 7-years-old. My son, Gibson, is 6-years-old.
What has surprised you most about being a mom?
How isolating it can be, especially if your children don't fit the "norms". I also underestimated how much having children, especially special-needs children, would affect my marriage. More often than not, I don't have enough energy left to give to my husband and he probably doesn't get the attention he deserves.
What character trait do you hope your kids inherit from you?
A sense of humor. Life is full of challenges, but you can find laughter in every situation if you try.
What character trait do you hope your kids don't inherit from you? 
My stubbornness, especially when it comes to asking for help. It's very difficult for me to ask others for help even when I know I need it.
Finish the sentence, "I never thought I'd…"
I never thought I would quit my job and be a stay-at-home mom.

What is one kid-related item that you can't live without?
This probably doesn't count as a "kid-related item", but Harper and Gibson each have a voice-output device because they're both non-verbal. Providing them with a method to communicate has been life-changing for our family. But we also love our iPod/iPads. The kids, especially Gibson, are total techies.
What is on your favorite book list right now… For you? For your kids?
Honestly, I own a ton of special needs/autism books, but I seldom read them. I generally find them depressing… and unrealistic for our family. I do, however, read books with virtually no redeeming qualities except that they're fun to read, such as the "Harry Potter" and "Twilight" series. Everyone needs a break from reality once in a while.
This month we're focusing on simplicity. What does simplicity mean to you?
Nothing is "simple" in the Enyart house, but I work very hard to make it "easier". We have a regimented schedule and a relatively organized home. It might seem complicated to others, but it's necessary. The kids require a schedule. They need to know what's coming next otherwise transitions are very hard. Consistency, consistency, consistency. So although setting up systems takes time and seems difficult at first, it makes things less complicated!
Written by: Erin Clemons Enyart