We want to provide ideas, inspiration, and information for moms everywhere as we look at the world around us through MomColoredGlasses...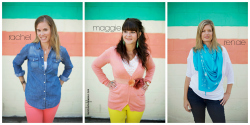 Popular Posts
Be Inspired
Not Found
Sorry, but you are looking for something that isn't here.
Be Whole
Not Found
Sorry, but you are looking for something that isn't here.
Be Informed
Not Found
Sorry, but you are looking for something that isn't here.
Yesterday, our newest recipe contributor, Heather, shared her
Kitchen Sink Salad
with us.  A fresh new take on everyday salad definitely puts us in the mood for summer! Read on to find  out a bit more about her as a mom to her two cute little boys, Roman and Colton (how great are those names?)!  Her mom profile interview is a fantastic one!  She has some great insight, practical ideas, and realistic expectations for both moms and kids.  We're so thrilled to have her as one of our newest contributors!
1. How many kids do you have? 
I have 2 kids.
2. What age and gender are they?
Both are boys.  Roman is 4 1/2 (and that's very important for you to know because he is very particular about it) and Colton is 10 months.
3. What's the best part of being a mom?
I love waking up to my boys smiling and ready to start the day.  I especially love when Roman wakes up because he is super-cuddly and being that he is 4 1/2 he isn't cuddly any other time of the day.  I soak it up like a sponge.  Our morning routine is great because we all get to have breakfast as a family just before my husband, John, leaves for the day.  I'm not saying we eat anything complicated…most of the time it's yogurt or cereal but it is a great way to get started off on the right foot.
4. What's the most challenging part of being a mom?
At the moment we are sleep training Colton.  It has been really difficult hearing him protest the crib so much.  Although I know we are helping him in the long run, I want to rush in the room and "save" him from the evil crib monster!  We never sleep-trained Roman so this is a new experience.  I wish I would have read "Solve your Child's Sleep Problems" by Dr. Richard Ferber sooner.  The methods introduced are easy to implement and after only the first night Colton is already doing well! With a little tolerance I know we will ALL be sleeping better.  Full night's rest HERE I COME!!!!
5. What has surprised you the most about being a mom?
I am shocked at how competitive moms are.  I think we would be so much more successful as parents if we supported each other instead of competing against each other.  I can't tell you how many times I've left a play group feeling inadequate as a mom just because of the conversation that took place.  I have recently avoided most play groups because of this phenomena.  One of the reasons that I love Mom Colored Glasses so much is because it is a supportive place for all moms that encourages them in times of struggle and joy.
6. What's something you couldn't live without as a mom?
As cliché as it may sound, I can't survive without coffee.  I stopped counting the number of months that it has been since I have had an uninterrupted night of sleep at 19 months!  Coffee is my saving grace when it comes to getting through the day.
7. What is a character quality you hope your sons inherit from you?
I hope that my sons inherit my compassion and willingness to accept people as they are.  I find that being an educator has refined my understanding that people are complex and have a whole host of past experiences that make them who they are when they are standing in front of me.  I have learned to accept people as they are and love them through their strengths and weaknesses.

8. How about your husband? 
I hope that my sons inherit John's drive and discernment.  In his life he has had many "cards stacked against him" so to speak.  He has accomplished much more than he ever thought.  When he has a goal he will do whatever steps are necessary to achieve it while discerning whether that goal is worth fighting for.
9. What's a character quality you hope they don't inherit from you?
I hope that my sons stand their ground.  I am really bad at letting people walk all over me.  I am a "yes" person…a people pleaser to the core.  I will go out of my way to make other people happy all the while feeling miserable about it *OH THE HONESTY* whew….that was tough!
10. What's a battle you don't fight anymore that you always swore you'd fight before becoming a mom?
When I was pregnant with Roman, I SWORE that my babies would NEVER sleep in bed with me.  John, on the other hand, was all for cuddling the baby all night.  I remember a heated discussion regarding the fact that I would not allow the baby in bed with us because I was terrified that John or I would hurt our precious child.  All that to say, the night we brought Roman home from the hospital, there he was, in the middle of John and I sleeping soundly…and I wouldn't have had it any other way; I guess I lost that one!
11. What's the toy you'd like to lose?
Roman is obsessed with wearing his Batman mask and cape EVERYWHERE!  It is the first thing he puts on in the morning and the last thing he takes off at night (he literally puts it on after he has taken his bath just before bed).  He wears it while riding his bike, to the grocery store, while watching TV, to the park.  He has even attempted to wear it at church (where I promptly told him to remove it because I didn't think Batman is appropriate in the sanctuary and that Jesus wants to see Roman…not Batman).  The mask is completely cracked near the nose because he wears it so much.  The cape is stained because he was wearing it while our house was being painted and, "Batman had to run near the wall to save someone," as Roman put it.  All that to say, if we lose the Batman mask and cape, I can't say I'd be very sad.
12. What's your pet peeve as a mom?
I hope I don't get into any hot water here but my answer is two-fold.  First, I cannot stand poor-mannered children.  If I hand a child a treat, they should say "thank you."  If they see me talking to another adult, and they need one of us, they should say "excuse me" and then wait until the adult conversation can pause.
If I am at a restaurant the children should sit in their chair, eat their food, and speak in an "inside" voice; not run around the restaurant like crazy people.  I am sure we can all list examples of poorly-mannered children and experiences we have had  that bother us.
Second, and hand-in-hand with number one, parents who don't discipline their children or follow through with their threats bother me beyond belief.  Don't get me wrong, I'm not a tyrant, and I don't believe that kids will always remember to use their manners, but I do expect that parents are vigilant about teaching manners and discipline.
13. Who is your mommy role-model?
My mom is an amazing woman and she is my beacon of light when I am in the dark.  My mom and dad got married when she was 16, and four months pregnant, and he was 18.  My brother  was born four days after my mom turned 17.  My mom finished high school on time despite being a wife and a mother.  She faced many challenges as she and my dad carved their path in life at such young ages.  My parents went on to have three more children.  When I was five, my mom began seeking her Bachelor's Degree.  She would work during the day at the family farm and then traveled 45 minutes to go to night school.  She maintained our house, grew a huge garden, canned vegetables, and played with all four of us.  Her stamina is something to be reckoned with!  She graduated with her Bachelor's Degree in Accounting in 1991.  The story doesn't end there.
While my brother, sisters, and I were attending high school and college she decided to pursue her Master's Degree.  She attended classes and completed in-depth assignments all the while raising four young adults who presented her with challenges of their own.  She persevered and graduated in 2002!  Despite the challenging circumstances with which my mom and dad were married, they will be celebrating their 40th anniversary in December.  My mom has shown me the value of true love and commitment.  She has shown me how to love my husband and children.  My mom is always there when I need her.  She encourages me through all of my challenges of both being a wife and mother.  She has been a constant in a world of ups and downs.  For these reasons there is no one else but my mom that deserves to be my "mommy role-model."
14. What do you do when you're not in full mommy mode?
When I am MOD (mom off-duty) I love to go to the beach, play volleyball and kickball with our church friends, run, read, cook, drink wine, go shopping at Ikea and other home decorating stores, and go on long walks at the marina with my husband.
15. Finish this phrase……."Looking at the world through mom colored glasses means…….."
seeing the world with double vision.  On one side you have to see the world through the eyes of a child.  You have to stoop to their level and relive the moments of exploration, adventure, and joy that childhood brings.  On the other side you have to see the world as a mom and learn how to love and care for another person who is completely dependent on you.  You have to sacrifice yourself but at the same time preserve yourself.  Wearing mom colored glasses is a delicate balance of double-vision.