We want to provide ideas, inspiration, and information for moms everywhere as we look at the world around us through MomColoredGlasses...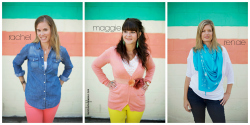 Popular Posts
Be Inspired
Not Found
Sorry, but you are looking for something that isn't here.
Be Whole
Not Found
Sorry, but you are looking for something that isn't here.
Be Informed
Not Found
Sorry, but you are looking for something that isn't here.
What are the ages/gender of your children?
My daughter Adele is turning 4 this month and my son Jack is 22 months.
What is your working situation?
I work as a freelance copy editor, so I get to do however much or little work I want, and I get to do it from home. I'm very grateful for it.
What has been one of the best parts of being a mom?
The motivation it gives me to be the person they think I am. I love how they assume the best of me. Might be totally different when they are teenagers, so I am enjoying it while it lasts.
What is one thing that you had to "give up" to be a mom?
The day my daughter was born, I gave up sleeping in; I just didn't know it yet! She's a morning person and I am definitely not.
What is one thing  you wish you would have known before becoming a mom?
How to handle little specific things. You can prepare yourself theoretically, but I get thrown for a loop when they cut their own hair, get croup, ask questions like "Why am I going to die?", and have an irrational fear of a certain checkout guy at a store.

How has your perspective changed since becoming a mother?
I've loved how parenthood has morphed and developed my perspective on home and family. Instead of home being a place to crash and get free food, it's now one of my favorite places, and I love what all goes on here. And instead of being the youngest of 4 and a daughter, I'm the wife and the mom – it's very empowering and daunting at the same time.
Finish the phrase, "I never thought I'd…"
find it absolutely impossible to be caught up on laundry and housecleaning at once. As soon as I get there, someone's shirt is covered in avocado or the dog sheds enough fur for a blanket or a little person decides to feed the fish himself, and I begin again.
What is one kid-related item that you can't live without?
No-brainer: our  children's books. We read a lot.
What is one toy you would love to mysteriously "lose"?
Adele's flute. Frankly, any musical instrument that comes without volume control.